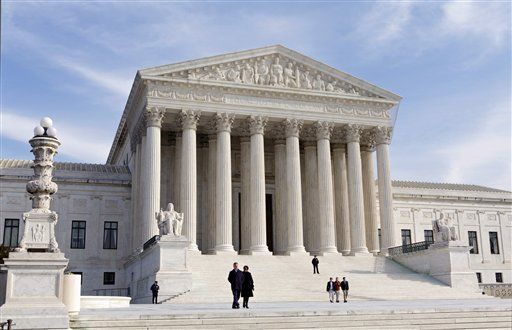 State lawyers defending Wisconsin's 2011 redistricting plan, which was called an unconstitutional partisan gerrymander by a federal court panel, filed their opening brief Friday with the U.S. Supreme Court, arguing that the high court should reject the lower court ruling and throw out a lawsuit brought in 2015 by a group of state Democratic voters.
The Supreme Court in June announced that it would decide the case, and later set oral arguments for Oct. 3.
The group of Democrats charges that the 2011 plan was designed to heavily favor Republican candidates in state legislative races, giving them a built-in advantage to retain a large majority of seats in Wisconsin's legislative houses, despite statewide vote totals in presidential races that typically split nearly evenly between Republicans and Democrats.
The group said it has devised a means of measuring partisan gerrymanders, which the Supreme Court in the past has said was missing. Its measure, called the "efficiency gap," shows how cracking (breaking up blocs of Democratic voters) and packing (concentrating Democrats within certain districts) results in wasted votes — excess votes for winners in safe districts and perpetually inadequate votes for the losers.
In its brief, the state argues that the Supreme Court has never found that any state legislature has engaged in unlawful partisan gerrymandering, and that the Democratic group has given the court no new redistricting principles or test.
You have free articles remaining.
"They have, instead, recycled arguments that this court has already rejected, while attacking a plan that complies with traditional redistricting principles and is strikingly similar to the immediately prior, court-drawn plan," lawyers from the state Office of the Solicitor General wrote. "Given the jurisdictional and merits-based deficiencies in plaintiffs' claims, their lawsuit must be dismissed."
The state also argues in its brief that the plaintiffs in the case lack standing to challenge a statewide redistricting plan, when their only concrete concern is within the individual districts where they live.
The group that organized the lawsuit disagrees.
"A federal court ruled the legislature's map-rigging was unconstitutional because it violated the rights of Wisconsin citizens, and we're confident the Supreme Court will uphold that decision," said Sachin Chheda, director of the Fair Elections Project, which organized and launched the case on behalf of plaintiffs, including the lead plaintiff, retired UW-Madison law professor William Whitford.
The Whitford group has 30 days to respond to the state's brief. "Friend of the court" briefs, filed by groups that have expressed an interest in being heard in the case, are due a week later.
Initially, the three-judge panel had ordered Wisconsin to redraw districts by Nov. 1, 2017, in time for the 2018 elections, but in June the Supreme Court stayed that order until after it decides the case.
In a statement Friday, state Attorney General Brad Schimel said the stay "brings me additional confidence in the sound legal arguments we are advancing."