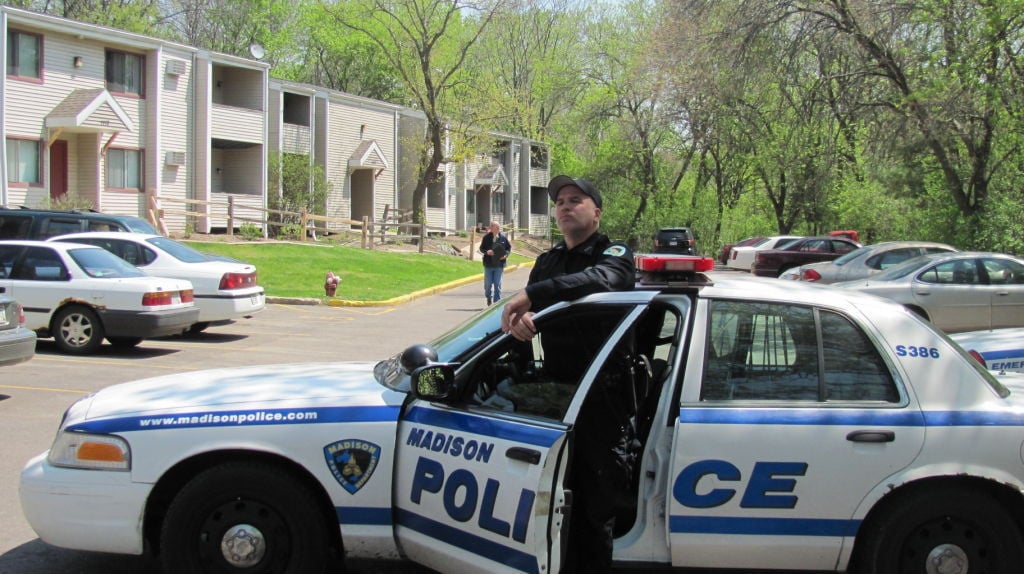 A former Madison police officer testified in a federal courtroom Tuesday that stress hormones caused him to "jerk the trigger wildly" as he and another officer shot a suicidal woman who had emerged from her bedroom pointing a gun at her head.
Justin Bailey, as well as Madison police officers Carey Leerek and Gary Pihlaja, each described the chaotic events that led to the shooting of 26-year-old Ashley DiPiazza at her Far East Side apartment in May 2014. The three face a federal trial stemming from a civil lawsuit filed against them by DiPiazza's family.
DiPiazza, a former military veteran, was shot while suffering an emotional crisis following the breakup with her live-in boyfriend, who called police to report she was drinking and locked herself in their apartment bedroom with his 9mm handgun. She was shot about 45 minutes later despite not making any verbal threats or pointing the gun toward anybody but herself.
The lawsuit claims that Di- Piazza's constitutional rights against unreasonable searches and seizures were violated when Bailey and Pihlaja shot her 11 times inside her small apartment in the 1100 block of MacArthur Road. The lawsuit also alleges police negotiator Leerek did nothing to stop them.
An internal review by Madison police determined that the officers did not violate departmental policy.
District Attorney Ismael Ozanne also cleared the officers of any criminal liability following an investigation by the state Department of Justice.
But during testimony Tuesday, attorneys for DiPiazza's family questioned why the officers didn't follow department procedure in such a situation, such as ensuring they had protective cover.
The officers also were questioned about why they didn't create or follow a plan during the approximately 30 minutes after DiPiazza first appeared at the door of her bedroom with a gun to her head.
When DiPiazza first came out, on-site supervisor Sgt. Jason Sweeney, who had just entered DiPiazza's apartment with Bailey and Pihlaja providing cover, abruptly ordered the officers out and told nobody to re-enter. He also told Leerek to take his place as the negotiator with DiPiazza.
You have free articles remaining.
All three officers testified that DiPiazza never made a verbal threat or aimed or fired her gun at them after she re-emerged, so she didn't pose an imminent threat.
Situation seen as 'improving'
Leerek testified that she began building rapport with DiPiazza despite a communication problem as the distraught DiPiazza hid behind her bedroom door while Leerek talked to her from the hallway.
Eventually, DiPiazza opened her bedroom door a crack and talked to Leerek about wanting to see her father and boyfriend again just before emerging a second time.
"I felt like I was improving the situation," Leerek said.
Leerek testified that people going through an emotional crisis can repeat actions, but she didn't discuss with Bailey and Pihlaja about what to do if DiPiazza re-emerged with a gun pointed at her head. Unlike Sweeney, she did not order Bailey and Pihlaja to retreat when DiPiazza emerged from her bedroom again.
When asked by DiPiazza family attorney Andrea Ferrell if there was enough time for her to order the retreat between when DiPiazza re-emerged until the shots were fired, Leerek said, "That thought never occurred to me. It would be conjecture on my part."
Bailey, who lives in California and is no longer a police officer, testified that he was in a tactically ready position near the door to the apartment with no protective cover when DiPiazza re-emerged.
Bailey, who fired his 9mm handgun first, testified that he fired after DiPiazza ignored orders to drop the gun and took several steps out of the bedroom. He said he was "jerking the trigger wildly" because "I was shooting under stress."
Pihlaja testified his finger hit the trigger to fire his AR-15 assault rife at almost the same time. He also said DiPiazza ignored commands to drop the gun and took one or two steps away from her bedroom door.
He also testified that he had heard Bailey later say, "I had no cover" and that he responded by saying, "We did what we had to do."