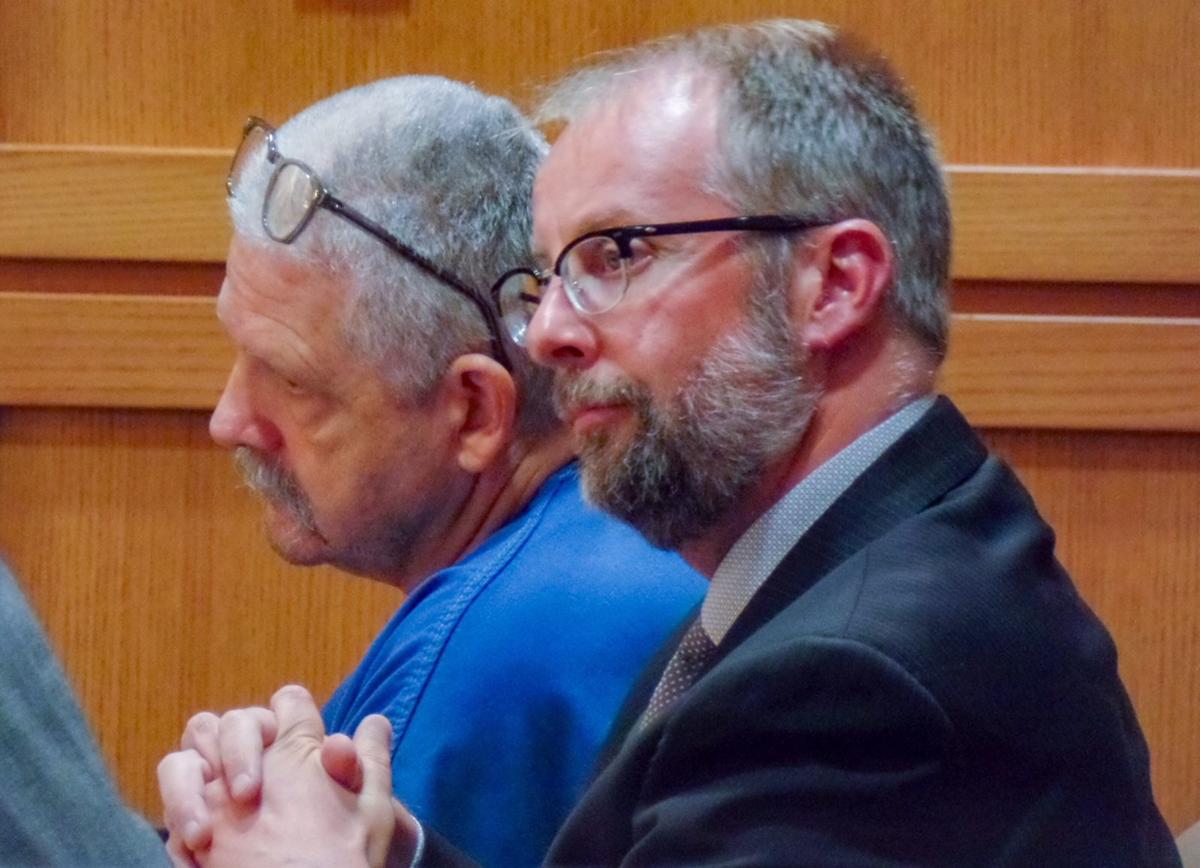 Steven Pirus, who blew up the home he shared with his wife on Madison's Southwest Side to cover the fact that he had killed her weeks to months earlier, will die in prison, a judge decided Friday.
"It's the life that you deserve," Dane County Circuit Judge Nicholas McNamara told Pirus, 60, who admitted that he shot his wife, Lee Ann Pirus, to death, then later created a gas leak that caused their home to explode on Sept. 13. "It's the place you need to be. There should never be a time that you come back here."
Pirus pleaded guilty on April 30 to first-degree intentional homicide and was immediately sentenced to life in prison. The question McNamara had to answer Friday was whether Pirus would ever have a chance to seek release from prison on extended supervision. At a minimum, Pirus would have had to spend 20 years in prison before he could ask, and that's what his lawyers, state Assistant Public Defenders Jon Helland and Ben Gonring, sought.
Deputy District Attorney Matthew Moeser, who had agreed not to ask that Pirus never be eligible for release, asked that Pirus spend at least 36 years in prison before seeking release, when he reached his mid-90s.
But McNamara said he wanted Pirus to have no opportunity for freedom.
"You have earned that, you deserve that," McNamara said. "Our community deserves that. Nobody should wonder if you're ever coming home again."
The explosion that destroyed the Pirus home at 7806 Stratton Way caused chaos for many of Pirus' neighbors, whose homes were also damaged. In letters, some describe still having nightmares and flashbacks because of the explosion. A proposed restitution order seeks $299,091 from Pirus.
It's still unclear when Pirus shot Lee Ann Pirus, 50, and why. When he was interviewed by police after his wife's body was found in the rubble of their home, Pirus first said that his wife had killed herself about a month earlier. But a short time later, he told detectives a different story, that Lee Ann Pirus had begged him to kill her to end the suffering that mental illness and depression had made her endure.
In a video played in court, Pirus tearfully described to Detective Matt Nordquist his wife begging him, repeatedly saying "Please, please, please, please" to him, until he shot her in the head.
But after what should have been an emotionally difficult experience, Moeser said, Pirus carried on with life normally, attending motorcycle rallies and engaging in online flirtations. Moeser showed McNamara photos found on Pirus' phone — one of Pirus holding a photo of a Russian woman called Olga, the other of a woman who was supposedly a nurse in Africa.
Moeser said investigators believe that both were not who Pirus believed them to be, and instead were romance scams. Pirus had been sending large amounts of money to someone abroad.
At one point, according to court documents, Pirus had been having text conversations with "Olga" in which it was said that she would come to the U.S. and they would be married.
Pirus left his wife's body in the basement area of the home where she died, he said. Her body was partially consumed by the Pirus' pets, Moeser said.
Helland told McNamara that he believes that based on the evidence, Lee Ann Pirus died in March 2017, and "Olga" didn't come along until June, so that was not the motive for Lee Ann's death.
He said that Pirus, an Evansville native, married Lee Ann Pirus in 1988. She began to exhibit signs of mental illness around 2004 and went on Social Security disability in 2005.
Later on, Helland said, the couple's marriage was "on paper only," as both Pirus and his wife saw other people, and both knew about it. Lee Ann Pirus lived for a time with a man in Illinois, he said. Jealousy wouldn't have been a motive for the shooting, Helland said.
Pirus didn't speak in court when given the chance, telling McNamara only that he had "said enough to you already" in a letter written in April.
In that letter, Pirus wrote that he regrets his wife's death.
"Never in my wildest dreams did I ever think anything like this would happen," he wrote. He said his wife was "sinking deeper into her black hole" and that he wished he better understood her pain and loneliness.
"I am not the cold-hearted killer I have been made out to be," Pirus wrote. He loved his wife, he wrote, "with all my heart and soul and will have to live with the last moments of her life etched in my mind forever. This will haunt me until the day I die."
Pirus asked that his letter be kept from the public to spare his wife scrutiny, but despite initially sealing it, McNamara allowed it to become public.
A niece of Pirus, Catherine Arbegust, wrote to McNamara that Pirus was once her "funny uncle," the one she always looked forward to seeing.
"That all changed that day in September 2017," Arbegust wrote. "The day that changed my life and my family's life forever. The day the truth came out. The day we all found out that my Uncle Steve killed her. The day we found out he'd been living his life like nothing was different while she had been dead in the basement for weeks to months. That day changed me and my family forever. The day he decided to do the most selfish and evil act, he made so many lives a living hell. He devastated and destroyed so many people."
If Pirus had loved his wife, McNamara said, and killed her out of love to end her suffering, he would have allowed her family to mourn her, not left her in the basement.
He would have remembered the exact date that he killed her, McNamara said, not some vague range of time, and would remember that date each year on its anniversary.
"This was not an act of love. You were not a victim of her depression," McNamara said. "You are not a hero."
"...That day changed me and my family forever. The day he decided to do the most selfish and evil act, he made so many lives a living hell.
He devastated and destroyed so many people." Catherine Arbegust, niece of Steven Pirus