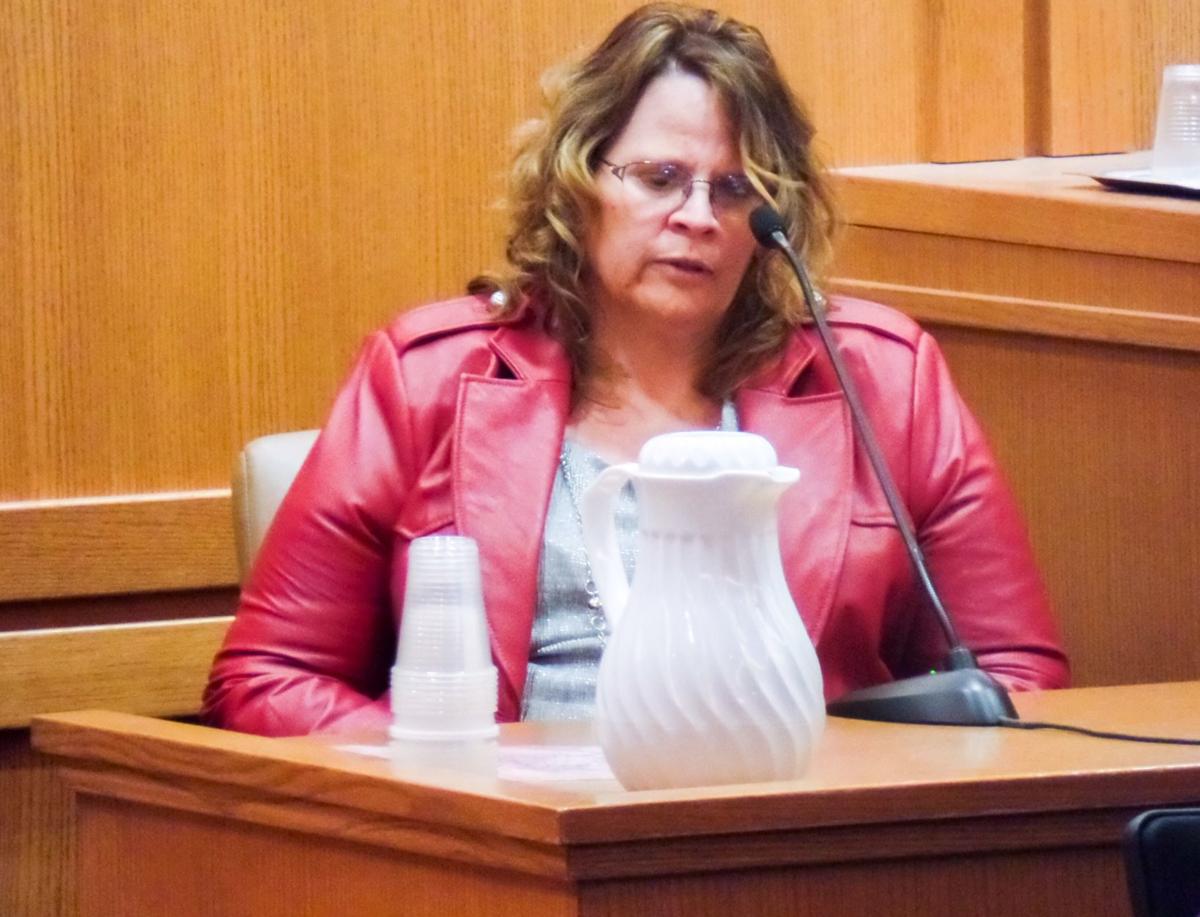 The longtime girlfriend of a man charged with shooting and killing another man last year testified Wednesday that her boyfriend, Daniel Lieske, drank a lot of beer that night and had snorted cocaine not long before the shooting.
Meichelle Goss, 52, called to the witness stand in Lieske's first-degree intentional homicide trial, said she was testifying because she wanted to take responsibility for remaining silent when she knew that Lieske had killed Jesse Faber, 21, who was missing and was being sought by family and friends. He was last seen early the morning of Jan. 16 at the home Goss and Lieske shared just outside Marshall.
"A person died in my home and I didn't do the right thing immediately," Goss said, "but I've been taking responsibility for that and I'm sorry for anything that happened to the victim and his family. I want to take responsibility and set things straight as far as I know."
Last month, Goss pleaded guilty to hiding a corpse to conceal a crime. Lieske has also pleaded guilty to hiding a corpse.
The night of Jan. 15, she said, she and Lieske had stayed home, where Lieske drank a 12-pack of Bud Light and they both snorted cocaine.
About 10:30 p.m., she and Lieske went to break up a drinking party at the next-door unit, where her son and daughter live, and before going over, Goss testified, Lieske strapped on his gun. She said she didn't see why he needed a gun, and was concerned because "accidents happen with weapons."
Goss drove most of her son's friends home to Marshall, but because of bad weather, Faber, who lived in Sun Prairie, stayed behind.
When she arrived home from Marshall, she testified, Lieske and Faber were drinking beer in an unoccupied apartment unit that adjoins the one where she and Lieske live.
As she watched TV in their apartment, she testified, Lieske came back over and they each snorted another line of cocaine. Lieske then went back to Faber in the other unit. Sometime after 1 a.m., she said, she heard what sounded like someone crashing into the other side of the wall, in the adjoining unit.
The source of the noise was not clear. On cross-examination by Lieske's lawyer, Dennis Burke, she was reminded that at one time she had previously described the noise as sounding like a fight, but she would only say Wednesday that it sounded like a "rumbling" in the wall. She didn't hear any voices.
Thinking it was odd, she went over and "witnessed Daniel Lieske holding a weapon on Jesse Faber." Faber was on the floor on his back, she said. She said she noticed that the bathroom in the unit was in disarray, with the shower curtain pulled down.
Lieske repeatedly said that Faber had attacked him. But Faber repeatedly denied that, Goss said. On cross-examination, she said Lieske told her that Faber choked him and tried to grab Lieske's gun away from him. She said he was "freaked out" and "very rattled." She had never seen Lieske pull a gun on anyone before, she said, "even playfully."
She said Lieske kept telling Faber not to move. At one point, she said, Lieske asked her to hold the gun on Faber while Lieske went to the bathroom. Goss told him, "No way," she said.
On cross-examination, she said Faber seemed to be trying to get up from the floor, or trying to get his hands under his body, but she didn't see him with a weapon, such as a knife, as Faber was known to often carry.
Goss left and went back toward her bedroom, she said, when she heard four or five gunshots. She ran back to see Faber on the floor, rolling from his side onto his back, blood around him. She didn't see Lieske.
She said she was in shock and didn't know what to do. Goss said she went back to her bedroom, and a short time later Lieske came in and reloaded his gun, then went back to the other unit.
He returned with Faber's jacket, boots and ID cards and asked Goss to help him move Faber's body.
"No way," she told him. "I didn't want anything to do with it at all."
She said she could hear plastic and tape being used next door, and Lieske later returned and said Faber was no longer in the house. Goss said she later noticed that a large area rug was missing from the next-door unit.
Later, she said, she followed Lieske in another vehicle as he parked a van that contained the rolled-up rug, with Faber's body inside, in a shed on a nearby farm owned by Lieske's employer, the Lee Merrick Foundation.
If police came, they agreed, the story would be that Faber stepped out for a cigarette but apparently left.
They also discussed what to do with Faber's body, Goss testified, either burning it in a woodpile or burying it in the floor of a shed. No decision was made.
Goss said she didn't report the shooting because "I was afraid. I was afraid for our livelihood. I regret not following through and reporting it. I'm just so afraid. I didn't know what to do. And I'm so sorry for what I did and did not do that night."