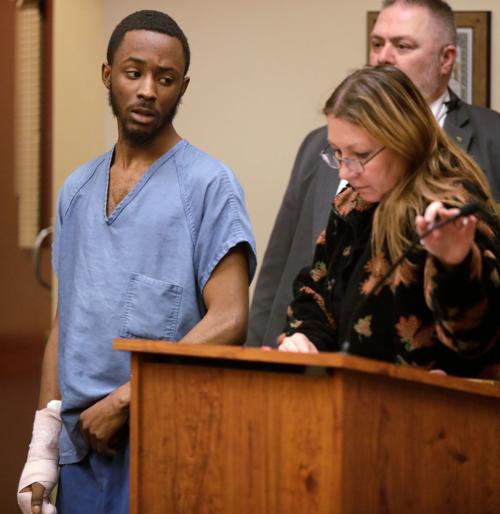 A blood sample taken from the kitchen floor of a man who was stabbed to death last week was matched by DNA to the man charged Monday with the killing, according to a criminal complaint.
Darrick E. Anderson, 23, of Columbus, was formally charged Monday with first-degree intentional homicide for the death of Andrew G. Nesbitt, 46, who was found stabbed to death on March 27 in the bedroom of his North Butler Street apartment.
But the criminal complaint, filed in Dane County Circuit Court, provides no detail about how Anderson and Nesbitt met one another that night. It does not state what happened in the moments that led to Nesbitt's stabbing, nor what might have been Anderson's motivation for killing him.
Among Nesbitt's wounds, the complaint states, were apparent defensive wounds to his hands, as he possibly tried to ward off an attack. He died from wounds to his head, neck, torso and extremities, the complaint states.
Anderson was also charged with two counts of misdemeanor retail theft, three counts of misdemeanor bail jumping and one count of obstructing police.
Anderson was jailed on $250,000 bail after appearing in court. State Assistant Public Defender Svetlana Taylor, appearing in court with Anderson, denied that Anderson was homeless, and said that his address was his mother's home in Columbus. She said that up until about three weeks ago, Anderson worked at a sandwich shop.
Anderson will be back in court for a preliminary hearing on April 11.
According to the complaint, the blood sample was collected as police processed evidence at Nesbitt's apartment after a roommate came home and found him dead. Anderson was identified as a suspect on March 28 and later that afternoon was arrested after an apparent shoplifting incident at East Towne Mall.
After Anderson's arrest he was taken to Meriter Hospital, where a DNA sample was taken from him. Police also looked at heavily bandaged cuts to his right hand, consisting of apparent cuts to the undersides of his four right fingers, which had been treated and sutured.
Dane County Medical Examiner Dr. Vincent Tranchida, looking at photos of the injuries, said they were consistent with "a knife sliding in a person's hand as the knife was being used," the complaint states.
As he appeared in court Monday, Anderson had a large bandage still covering his right hand.
The DNA sample taken from Anderson at Meriter was found to be a match to a DNA profile developed from blood taken from the kitchen floor of Nesbitt's apartment, the complaint states.
The complaint details how police tracked Nesbitt's movements late on March 26 and early March 27 from a South Side bar to West Washington Avenue convenience store, where he was apparently joined by Anderson, eastward toward Nesbitt's apartment at North Butler and East Mifflin streets.
According to the complaint:
Nesbitt's roommate, who had known him for years but started living with him about three weeks earlier, came home after a weekend away and found Nesbitt dead on his bed. Her daughter had contact with Nesbitt on Facebook the night of March 26, and he posted that night that he was going out.
Nesbitt's birthday was March 27.
Police spoke with people who saw Nesbitt that night at Club 5, at 5 Applegate Court. One person said he left the bar very intoxicated, shortly before it closed.
Among the items police found in Nesbitt's apartment were a small package of M&Ms candy, along with a half-full half-gallon of milk next to an empty plate.
Also found was a receipt for a purchase of M&Ms at Kelley Williamson Mobil, 636 W. Washington Ave., at 3:30 a.m. on March 27. The clerk who made the sale told police that he recognized Nesbitt from a photo that police showed him, and described Nesbitt as being "drunk as hell."
Another purchase, made at nearly the same time, was a half-gallon of milk and a donut, the cash register receipt history showed.
Police obtained surveillance video from Kelley Williamson and saw Nesbitt make his purchase, and saw Anderson approach him just outside the store's front doors.
Using footage from city street cameras, police then traced the movements of Nesbitt and Anderson as they walked east toward Capitol Square.
By 4:30 p.m. on March 28, police had sent Anderson's name and photo to patrol officers.
Officer Tucker Braunschweig was sent to Gordman's at East Towne Mall for a shoplifting complaint after a man had put on clothing and left the store wearing it, without paying for it. When employees looked in the dressing room, the man's old clothing had been left behind. An ID card for Darrick Anderson and a Pawn America receipt fell out of a pants pocket.
Braunschweig recognized Anderson's name, and with other officers, went to look for him. Anderson ran from police after he was spotted in the mall, but surrendered just inside the exterior doors to Dick's Sporting Goods.