LAKE MILLS — Character has defined Rock Lake's eastern shore.
The first commercial boat livery was established in the 1870s, there was a dance hall constructed in 1922 out of surplus barracks from Camp Grant in Rockford and for more than five decades, August and Edith Bartel made a life here catering to lake-lovers.
Their two-story boathouse was home to a concession stand, changing rooms, bathrooms and a dance hall. A 20-foot-long concrete tank held minnows for anglers, there was a gas pump and boat rentals. In the winter months, Augie would spend much of his time constructing wooden boats on the second floor of the 66-foot-long and 22-foot-wide building wedged between the lake and South Ferry Drive.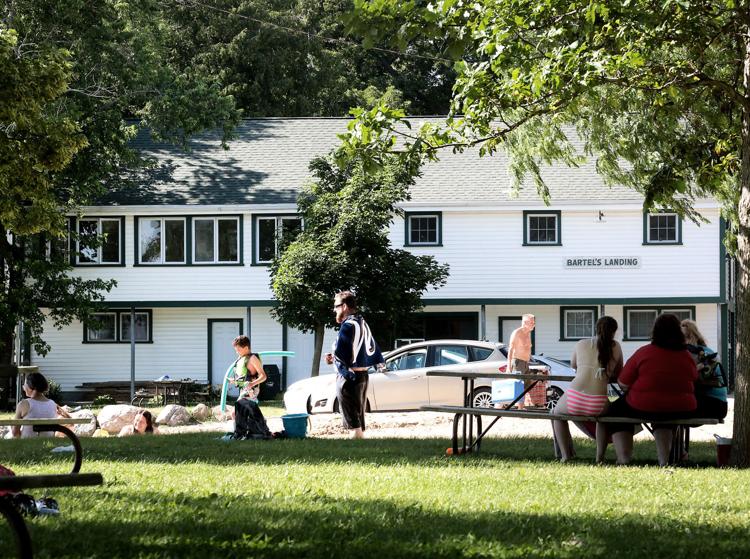 The boathouse, constructed in 1931 and nearly destroyed by fire in 2002, has survived. And now, after being rebuilt by Phil Manley and Laura Pennington, who use most of the building for storage and living quarters, concessions are being sold out of the side of the building that faces the city-owned Bartel's Beach for the first time in over 25 years.
Business has been somewhat slow since the opening on Memorial Day weekend as many visitors to the free beach bring their own drinks and snacks. But Manley and Pennington are hopeful that as word spreads, more people will come to use the concession stand that sells ice cream treats, prepackaged hot dogs and hamburgers, soda, chips and candy. A shaved ice machine could be added next season.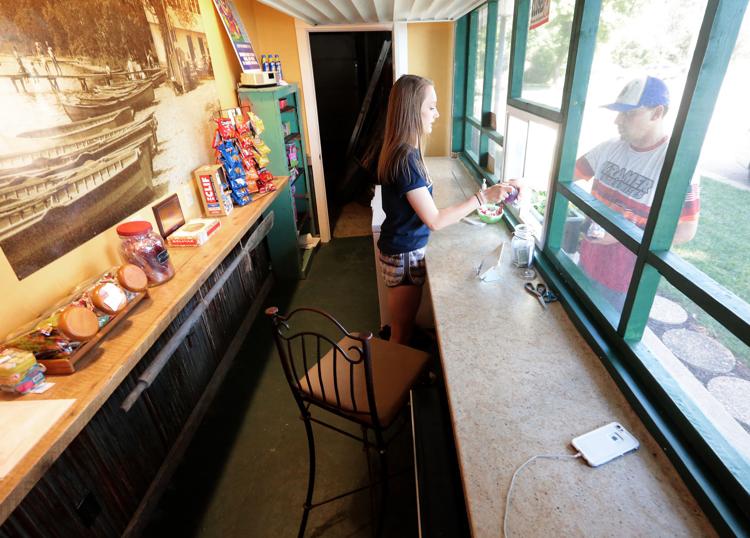 "The cool thing about this is that we already use this space, and the concession stand doesn't take up a big amount of space," said Manley, who grew up in Illinois and has spent virtually every summer of his life in Lake Mills. "We're hopeful that we don't lose money and if we make a little bit, great. The community likes it, and people like reminiscing about the old days."
Manley, 58, and Pennington, 57, bought the boathouse and the adjacent 1,000-square-foot lake home in 1994 from Edith Bartel, but almost passed on the property because of the small size of the house and condition of the boathouse. The couple moved to Lake Mills full-time last year and spend much of their free time doting on the boathouse and managing their two black labs, Shadow, 13, and Domino, 9.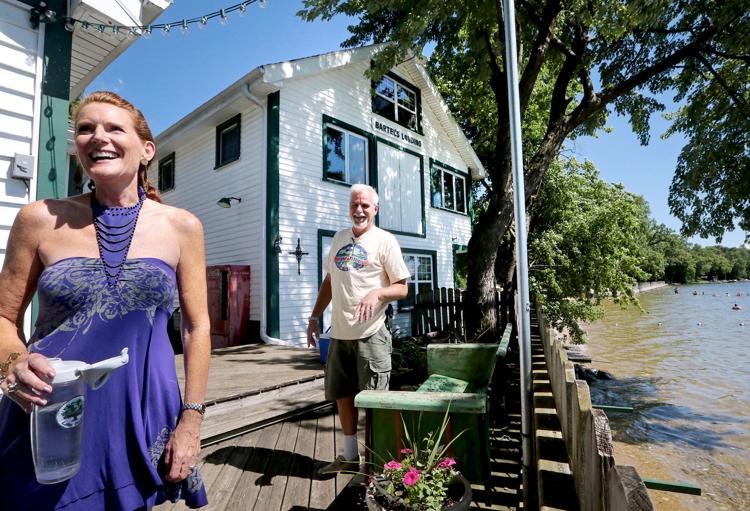 The restored boathouse fits in well in this Jefferson County community that has a pretty good handle on historic preservation. The city is home to dozens of historic homes, including the Fargo Mansion Inn. An old downtown gas station has been converted into a winery, the former city hall building is now a pottery shop, and Commons Park is anchored by a gazebo-style bandshell. It's located across the street from the L.D. Fargo Library, a stately stone structure finished in 1902, ravaged by fire in 1980 and rebuilt.
But the reconstruction of the boathouse wasn't easy or cheap.
Pennington, a consumer products consultant, and Manley, a contractor, were encouraged by the city to tear the building down after the fire. But because they wanted the storage space, separation between their house and the public beach, and had an affinity for history, they battled city hall and spent $40,000 in legal fees. Their victory led to thousands more in construction costs, but Manley did the majority of the work himself.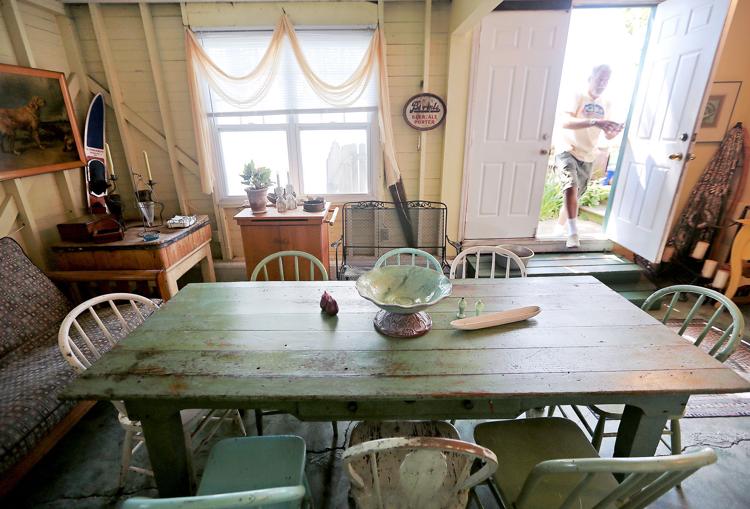 You have free articles remaining.
Register for more free articles
Stay logged in to skip the surveys
The end product includes a first-floor bathroom and summer dining room with a vintage farm table, while the second level is a 1,450-square-foot family room complete with a home theater, bar, pool table and spare bedroom. Windows line the building's second-floor south side, while a double door on the west end of the building brings in more views, light and cooling lake breezes. Accents include strings of old fishing lures, a vintage fishing boat hoisted into the loft and collectable beer trays that rim the walls, including one from Bartel's Beer Co., a defunct brewery in Pennsylvania.
Wood trim and some paneling were made from old wood that Bartel had used to dry-dock boats, while one of the few things salvaged from the fire was a Bartel's Landing sign. However, Manley and Pennington lost virtually everything that was stored in the building, including a 1950 Cadillac that was being restored, a fishing boat, jet skis and water-skiing equipment.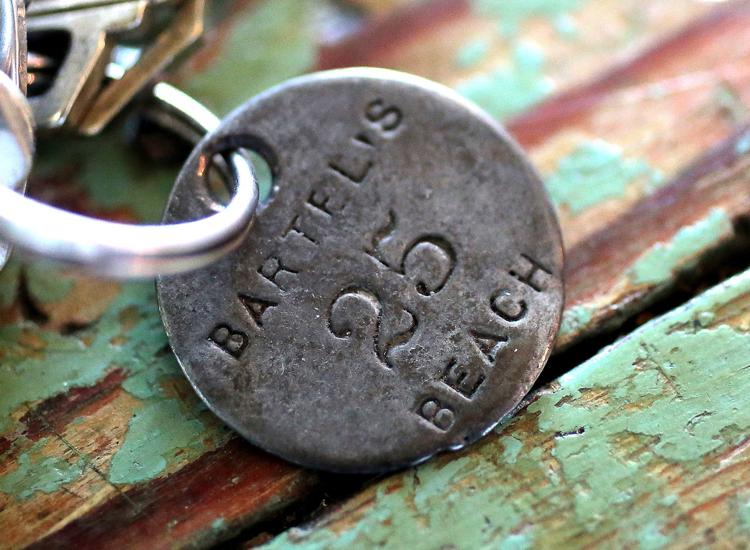 "When you stand up here and you watch the sunset from up here and you see the beauty of the lake, we knew that we didn't want to take it down," Pennington said. "There is a noise factor (at the beach) and this is a buffer."
Pennington and Manley initially had conversations with Pat Doyle to sell prepackaged hot dogs, brats and Polish sausages out of the concession stand space, but they couldn't reach an agreement. Doyle founded Doyle's Dogs in 2008 as a simple hot dog cart operating in the city's downtown on Saturdays and Sundays. In 2011, he moved to an old gas station property and has expanded to Jefferson, Fort Atkinson and the outlet mall in Johnson Creek. He now buys hot dogs by the pallet, but knows how challenging it can be restoring a building and running a seasonal food business.
'Memories going back generations'
Despite the obstacles, like a limited audience, its location off the beaten path and visitors who are accustomed to bring their own food, the idea of a resurrected concession stand at Bartel's Landing appeals to Doyle.
"That is memories going back generations at the beach," he said last week. "It's incredible what they're doing and I know they have a passion to bring that back for the community. But the food business is not an easy business."
Adding to the challenge is that Bartel's Beach isn't the only game in town. Sandy Beach is a larger city beach on the lake's southeast shore and offers more parking, a larger beach, volleyball courts, a concession stand and a restaurant. Season passes to Sandy Beach are free to city residents but non-city residents 12 and up pay $4 for a daily pass and those 11 and under $3 a day, although family season passes can be had for $60.
Bartel's Beach is free, quaint and near the city's downtown. The boathouse offers a glimpse to the past in a time when many bars, restaurants and resorts on Wisconsin lakes have been replaced with condos and other housing projects.
Since opening the concession stand, Pennington has spoken to customers who remember coming to the boathouse years ago when it was being operated by the Bartels. Some even ask about the changing rooms, which no longer exist but have been replaced by the city with a small public bathroom building in the park.
"So many people remember walking up to the window and buying candy and changing in the changing room," Pennington said. "We're just offering a little slice of that."