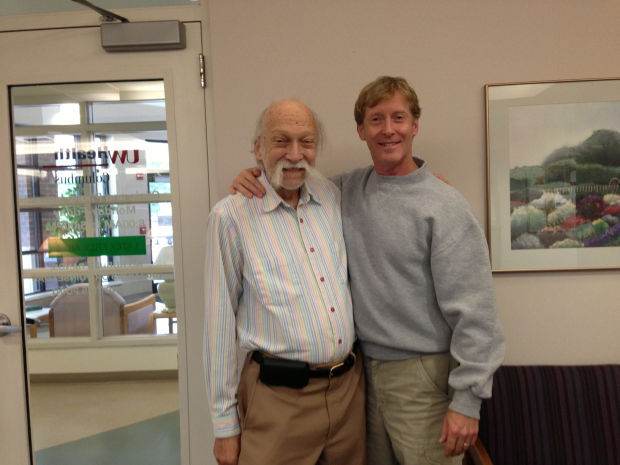 It was at lunch in Houston in June when it happened. It was a big table, seating six or eight, a mix of ragtime musicians and fans.
"Very good beer on tap," Danny Coots recalled recently.
Coots, 56, was in Texas to play a house concert. He's a drummer who lives in Nashville and is in constant demand at jazz and ragtime festivals. Coots has played professionally in more than 90 countries. Last year, the Jazz Bash by the Bay, in Monterey, Calif., named him musician of the year.
Danny Matson, 76, was at the table. He was in Houston to attend the house concert and hang with the musicians he travels to see at festivals around the country. Matson grew up in Madison and lives in Columbus. His late dad, Roy Matson, was once editor of the Wisconsin State Journal.
The two Dannys first met at a ragtime festival in San Antonio in 2009. They bonded over their shared first name and more. "Some fans stand out more than others," Coots said. Matson, with a passionate intelligence about the music he's loved since boyhood, stood out.
They saw each other on the festival circuit after that first meeting, sharing stories, amused to find out how much they had in common.
Matson brought it up to the group at the lunch table in Houston last June. He and Coots were about the same height and weight. Even the inseams on their pants were identical.
Somebody said, "How about blood type?"
"B negative," Matson said.
It's a rare blood type, but Coots smiled and nodded. "Me, too."
"Holy cats," Matson said.
And then, without missing a beat, Coots said, "How can I give you a kidney?"
Matson was diagnosed with kidney failure several years ago. When he traveled to music festivals, which often cover three days, Matson would have to miss one day of music to undergo dialysis.
"I knew he had health issues," Coots said.
Still, his immediate response to the news about their blood types — "how can I give you a kidney?" — was extraordinary.
"I hadn't fully thought it through," Coots said last week. Yet he was absolutely serious, and the more he thought about it, and the more he learned of the procedure — being a living kidney donor — only increased his resolve.
His wife in Nashville — they have three children — was skeptical at first, but eventually came around. She drove Coots to Madison for the procedure earlier this month, driving instead of flying so he could bring a drum set along.
Coots, who has taught martial arts, said he regarded the opportunity to help his friend Matson as no different from what he would do if he saw an innocent person being attacked in the street.
"I'd defend them," he said, "with the realization that there are no guarantees."
Matson became emotional when he was asked recently his reaction to the offer by Coots to donate his kidney. After a few moments, when he could speak, Matson said quietly, "Danny made it seem right."
Coots flew to Madison to undergo a day of tests at the University Hospital, where the transplant would be performed.
When word of what he was going to do spread, seemingly everyone had a question. Was the recipient a family member? "He's a friend," Coots replied. Others wondered about the wisdom of donating a kidney to someone of Matson's age, though it's also true that his age would likely have prevented him from ever receiving a cadaver kidney.
Coots answered that one by saying, "I'm not trying to make the best business deal." For the drummer it was about being given an opportunity to step up, to act in a manner that would honor his own best image of himself.
"If the worst happened," Coots said, speaking of Matson, "and he died on the table, at least at the end of his life he knew he was loved." And if the worst happened to him, Coots said, well, his last action would have been a meaningful one, and a lesson of value for his children.
The surgeries, Dec. 11, went wonderfully well. The procedure on Coots, obviously enough, was first, though Matson's, with a different surgical team, followed immediately after. Coots asked his surgeon to take a photo of the donated kidney with his phone in the few moments it sat outside his body on a table.
Coots pointed to the photo last week, and said, "I understand if it sees its shadow, we have six more weeks of winter."
Coots and Matson are recuperating together at a home owned by the Matson family on the Far West Side. There is humor in their conversation and great affection. Both are doing well. Coots has been practicing his drums in the morning. He has a full tour schedule in 2014, beginning next month.
First up is the Eau Claire Ragtime Festival, Jan. 10-12. Coots will stay with Matson until then. The two friends will drive up together, the drum set in the back.
Contact Doug Moe at 608-252-6446 or dmoe@madison.com. His column appears Monday, Wednesday, Friday and Sunday.