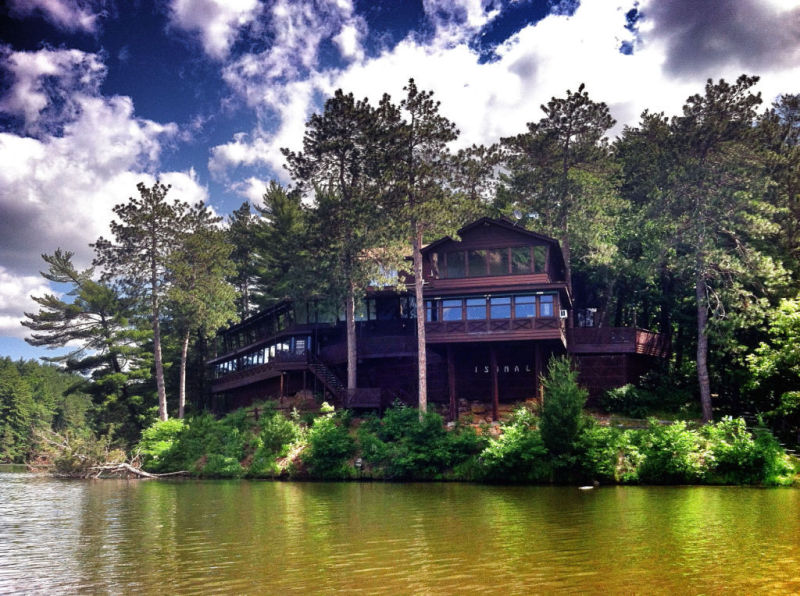 The easy lead on this story would be to say that when Frederick "Bob" Hoffman died in Madison last month at 95, it marked the end of an era.
Hoffman was the last surviving brother (of nine) of one of the city's most famous restaurant families. Another brother, Cosmas Hoffman — Cos — died in March, on his 90th birthday.
The two deaths had longtime Madisonians fondly remembering the Hoffman House restaurants that operated in the city, and beyond. They started in 1946, and ended well, that's where this story takes a turn.
Shortly before Bob Hoffman died in April, he was visited in Madison by two friends who share a long Hoffman House history that continues today.
The three men told stories and recalled some of that history. "He was so proud and grateful that we are carrying on the tradition," Robert Prosser said last week, remembering Bob Hoffman.
Prosser and his business partner, Dale Vogel, each started with the Hoffman House in 1973 — Prosser in Wausau, Vogel in Janesville — and today they operate the one remaining Hoffman House restaurant, in Rockford, as well as a catering business and Ishnala, the famed Wisconsin Dells-area supper club started by the Hoffman brothers in 1953.
Prosser, 56, who lives in Roscoe, outside Rockford, comes close to having the Hoffman House in his blood.
Prosser grew up in Wausau, and the morning of his 16th birthday, in August 1973, he rode his bicycle to the city's Hoffman House restaurant to apply for a job as a busboy.
The manager said, "If you can start tonight, you've got a job."
Prosser started that night, and in the teenager's mind, it was a big deal. "I was so proud to be working for the Hoffman House," he said.
No question, the name had cachet. A year earlier, in 1972, an Associated Press story about the restaurants ran in several papers around the Midwest. The headline in the Fond du Lac Reporter read: "Family Starts Modestly; Owns Restaurant Chain."
The brothers were the offspring of Fred and Florence Hoffman, who lived on Van Buren Street in Madison. The AP story said Fred ran one of the first self-serve groceries in Madison, a business "nearly wiped out" by the Depression, according to Charles Hoffman, one of the siblings who was interviewed for the article.
Charles said that the brothers — eight of whom served in World War II (one, Sylvester, known as Bud, was killed in action) — decided upon getting out of the service to open a restaurant.
"We wanted to do something that would keep us together," Charles said.
The first Hoffman House opened in 1946 at 514 E. Wilson St. — "an old shoe store," according to the AP story — and the current site of the Essen Haus. It started small, just 48 seats.
"The take our first day was $28.35," Charles said.
They quickly expanded, to 300 seats, and added what may have been the state's first salad bar. The expansion continued beyond Wilson Street. The brothers purchased the Ishnala property in 1953, then added restaurants in Rockford and on Madison's East and West sides. They also sold bottles of their salad dressing. By the time the brothers sold to Green Giant, in 1976, they had 12 restaurants around the Midwest. Green Giant, in turn, was soon bought by Pillsbury.
Bob Prosser, who began with the company busing tables in 1973, had by 1977 worked his way up to an assistant manager position at the Rochester, Minnesota, location, with some time off to attend classes at UW-Oshkosh. He was torn between finishing school and committing fully to the Hoffman House.
Prosser wrote a letter to Fran Hoffman, who stayed with the restaurants after the sale to Green Giant, explaining his situation, and asking advice. Hoffman wrote back, encouraging Prosser to go back to school and get his degree.
"You have a job waiting for you when you get out," Hoffman wrote.
Prosser, much appreciative, changed his major to business — he'd been studying criminal justice — and spent summers with Hoffman House, dividing his time between several of the restaurants. On graduating, as promised, a job was waiting.
Prosser hasn't been with the company ever since — he detoured to another restaurant corporation for a few years — but in 1985 he returned as general manager of the Rockford Hoffman House. He and Dale Vogel — who had been Hoffman House executive chef — bought the Rockford restaurant and Ishnala in 1999. They still own them today, along with several other restaurant-related businesses.
Thinking about the Hoffmans, Prosser said, "They were a tremendous family with a great work ethic." He is honored by his association. "I'm as proud now as when I was 16," he said.
Each spring at Ishnala (the restaurant is open from May 1 to Nov. 1), Prosser addresses the staff and says, "You are now working for Wisconsin's favorite supper club." Not much has changed, either there or in Rockford. People talk about the prime rib, and — in Rockford — the salad bar.
Prosser always invited the brothers up for the opening of Ishnala. Cos in particular liked to come, with his family. A few years ago, Cos was asked by the Mirror Lake Association — families who live on that beautiful lake — to speak to their group about the history of Ishnala.
"It was a joy for all of us," Prosser said. The brothers are gone; their spirit endures.
Contact Doug Moe at 608-252-6446 or dmoe@madison.com. His column appears Monday, Wednesday, Friday and Sunday.
Be the first to know
Get local news delivered to your inbox!