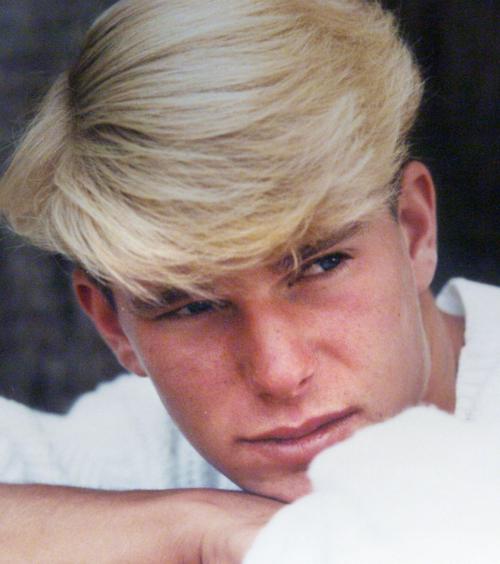 A letter came the other day, a thank you note from my friend Dolly. She owed me no thanks but wrote it anyway, that's how she is. She mentioned a pending anniversary. I asked if she wanted to get a cup of coffee.
Events 25 years ago this week first put me in touch with Darla "Dolly" Maurer. The circumstances were the worst imaginable. On May 21, 1990, Chad Maurer, a 19-year-old Madison La Follette High School graduate, the son of Dolly and her then-husband, John Maurer, was found dead in a garage on the South Side of Chicago.
John answered the phone that night in their Monona home.
"This is the Chicago police," a voice said, and John immediately asked if Chad was in jail.
"Your son is dead. Carbon monoxide poisoning. He killed himself."
A brutal statement, almost certainly not true.
I was writing stories for Madison magazine back then, and was introduced to the Maurers later that year, 1990. Dolly thinks it was a mutual friend, Mari Anne Lichtfeld, who brought us together. I wrote a long story. Chad looked like a teen heartthrob in the photo on the cover. I was emotionally invested in the story, but years passed, decades. When Dolly and I met again last week, she had to remind me what month my story appeared. May 1991, the first anniversary.
For Dolly, of course, it has never gone away, and she would not let it if she could.
At 69, she looks good. Dolly has operated a home cleaning service for 35 years. She enjoys the work, and counts her clients — many of them longstanding — as friends. "I love my people," she said. Dolly and John divorced eight years ago. That's never easy, but all things considered, she is doing well.
This time of year, the anniversary, is always difficult. "May is bad," Dolly said. She has coping mechanisms. She will make Chad's favorite foods. A friend in Minnesota, whom Dolly met 16 years ago through the organization Parents of Murdered Children, sends her a postcard every other day for the entire month.
Some people, those presumptive enough to instruct others on how to deal with their grief, have for a quarter-century now told her she needs to find a way to move on. That will not happen. Dolly's car license plate is CHAD M. She keeps a photo of Chad — the magazine cover shot, the shock of blond hair — in the car's rear window, and on her key chain. People see it, and some tentatively inquire. "Is that...?" She's glad they remember.
The day after I saw Dolly, I went to the Madison Public Library and found a copy of my 24-year-old story. Some old feelings — bafflement, anger — surfaced.
Around noon on May 19, 1990, Chad came home for lunch from his job at the Village Pedaler bike shop in Monona. He liked mountain-biking, skateboarding, too, and was working to save money to move to Colorado. That noon he got $20 from his dad to put gas in the car — his dad's Mustang — on the way back to work.
Chad never made it back to the Village Pedaler. Instead, he either drove, or conceivably was forced to drive, the Mustang to Chicago. The call from the Chicago police, informing them of Chad's suicide, came two days later, May 21.
Once Chad's body was returned to Madison, his family and Dane County authorities recognized serious discrepancies between what they'd been told by Chicago police, and what they could see with their eyes.
A Chicago police report included this: "No foul play is suspected. There was no apparent trauma to the subject."
This paragraph is from my magazine piece: "While researching this article, I was allowed to view photos from the Dane County authorities' examination of Maurer's body, as well as from the actual crime scene where Chad's body was found sprawled inside his father's car. The photos are gruesome. Chad's face and the back of his T-shirt are covered with blood. His face and hands have multiple severe bruises and he had deep bruising in the groin area."
To some extent, the Madison authorities were stymied. It was Chicago's case, and they had closed it. But after several shots were fired into the glass door of the Village Pedaler, Dave Bongiovani, a Dane County sheriff's deputy assigned to the city-county narcotics unit, became involved.
Those shots were soon determined to not be connected to Chad's case, but Bongiovani stayed on anyway, making several trips to Chicago, forcing his cop colleagues there to revisit it. He did research on carbon monoxide. A level of 50 or 60 percent is indicative of a car suicide. If someone was already unconscious — say beaten and dumped in a running car — the breathing would be slower and more methodical, the level higher. Chad's carbon monoxide level was 74 percent.
In late 1991, Chicago police changed Chad's cause of death to "undetermined," and there it has stayed, for nearly a quarter century, the case still open.
Dolly recently wrote a remembrance of her son that will appear soon in the State Journal. We hugged when we said goodbye.
I was struck by something Dolly said a few moments earlier, talking about her clients, her friends, all the people over the years who have taken an interest in Chad's case, and in her.
Contact Doug Moe at 608-252-6446 or dmoe@madison.com. His column appears Monday, Wednesday, Friday and Sunday.
Be the first to know
Get local news delivered to your inbox!