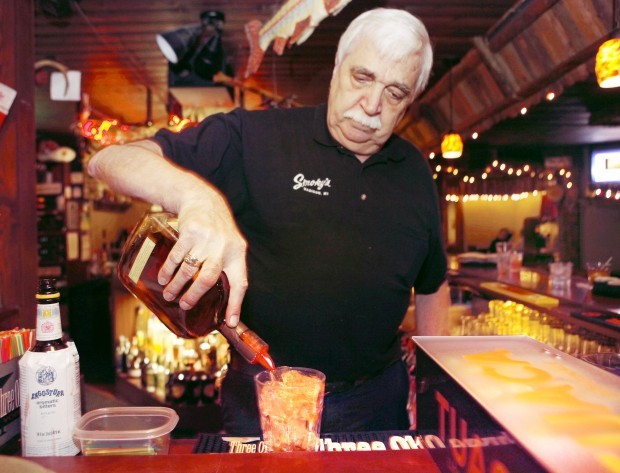 Smoky's Club has such a colorful history that even the people who owned it before it was Smoky's are legendary.
It has been Smoky's for 60 years — the last 44 in the present location, 3005 University Ave. — and the significance of that, six decades of famous steaks and hash browns, brings a celebration later this month.
On Wednesday, June 19, from 4 to 7 p.m., Smoky's will host an open house with reduced prices, music from Michael Hanson's jazz trio, and a book-signing by Chicago author Dave Hoekstra, who is just out with a terrific new volume, "The Supper Club Book," in which Smoky's plays a featured role.
The man who gave the restaurant its name, Leonard "Smoky" Schmock, will not, alas, be in attendance. Smoky died in 2001. Smoky's is now run by his sons, Tom and Larry Schmock. Their mother, Janet, Smoky's widow, still stops by occasionally. She is pictured with a group of women on the cover of "The Supper Club Book." They're sitting at the bar of the old Smoky's restaurant — a half block east on University Avenue — in 1956.
Smoky will be there in spirit. In later years he liked to sit on a stool behind the bar at one end and tell stories. He knew some dandies. I once got him going on Marion Roberts, a flamboyant, check-grabbing, champagne-drinking entrepreneur who in the 1960s flashed across Madison like a comet.
"Marion Roberts!" Smoky repeated, when I mentioned the name. "If anyone ever had fun, it was him. I've never seen anyone like him, before or since."
Roberts rode in limousines and on private jets, and brought celebrities including Mickey Mantle and Rocky Marciano to Madison. Tom Schmock still has a photo of his dad with Marion Roberts. Standing between them is Sammy Davis Jr.
Roberts was a little vague on the source of his wealth, for good reason. He was a con man.
"He called me up one day," Smoky recalled, "and said, 'We're going to Colombia.' I said, 'What for?' Marion said, 'I want to check out an underwater gold mine.'"
Even the federal agents who eventually caught up with Roberts ate at Smoky's when they came to Madison. By then — 1970 — Smoky's was the place to go. A year earlier, it switched to its current location, taking over the old Justo's Club, owned by Jennie Justo Bramhall and her husband. Jennie knew a little about federal agents herself.
The Schmocks were forced to move by an expansion of University Avenue. Years earlier, the couple met, fittingly, in a restaurant. Janet was a waitress at Hoffman House on East Wilson Street and Leonard was a bartender. His nickname, Smoky, came from the way his last name was pronounced around his native Bloomer — "Schmoke."
The first Smoky's, in 1953, was at 2925 University Avenue. Smoky and Janet bought a place called Hogan's Club and renamed it. The family lived above the restaurant and the kids — Larry, Tom and their younger sister, Barb — helped out.
The move to the new location in 1969 only increased the popularity of Smoky's. It replaced Justo's, which did a bustling business. Jennie Justo grew up in Madison's Greenbush neighborhood. In 1932 she was busted for operating a speakeasy out of her home, and a national publication called her "Queen of the Bootleggers." Angus McVicar took a famous photo of Jennie's mother hugging her as Jennie left for a year in prison.
But Jennie made a triumphant return, eventually marrying a star athlete, Art Bramhall, a former Chicago Bear, and opening Justo's. A magazine described its success: "The famous and the infamous, athletes and stage performers, students and alumni, if they came to Madison, they came to Justo's Club."
Smoky's inherited and expanded on that legacy. The sports crowd has always loved Smoky's. It's well known that Indiana basketball coach Bob Knight would bring his coaching staff in for dinner when the Hoosiers played in Madison. Less well known is that Purdue coach Gene Keady would bring not only his coaches, but his players.
They came for the bustling atmosphere, the eclectic artifacts on the walls, but mostly they came for the steaks. The Knife and Fork Club of America listed Smoky's in its top 10 steak houses in the country several years running, a huge boost when one of the other restaurants named, the Chicago Chop House, printed the list as an advertisement in numerous airline magazines. In August 1988, Midwest Living magazine named Smoky's the best steak house in the Midwest.
For some, the hash browns are the draw. Their secret? Tempered steel pans, seasoned with beef fat.
In recent years, the martini has made a big comeback at Smoky's, courtesy of bar manager "Martini Bob" Perry. There are some 300 on the menu, and Perry's martini club has more than 2,300 members.
At the event June 19, it's the Old Fashioned that will be on special, a nod to Hoekstra's appearance with "The Supper Club Book."
No doubt everyone who comes to celebrate will bring their own memories. Being around for 60 years will do that, though I have to say my favorite Smoky's memory is quite recent. Mrs. Moe had her wedding dinner there in February 2012. Martini Bob got so carried away he named a drink for her husband.
Contact Doug Moe at 608-252-6446 or dmoe@madison.com. His column appears Monday, Wednesday, Friday and Sunday.