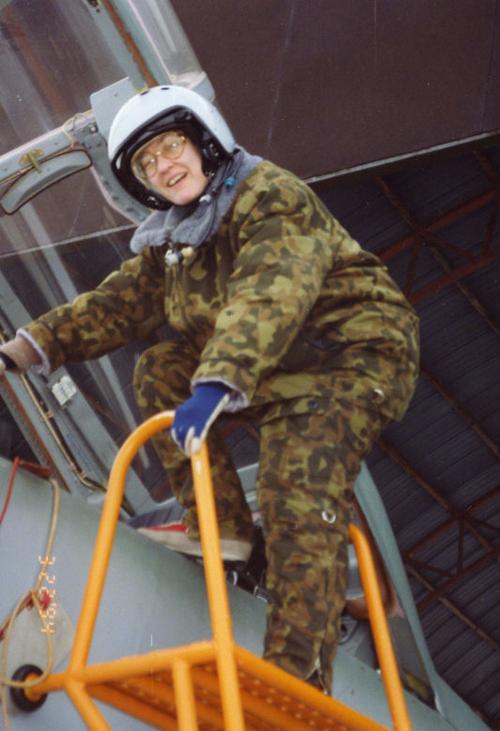 One thing you recall after 20 years is that it happens in a fury of sound and speed, so fast and thrilling that the senses can't keep up.
Lynn Van Campen, in the rear cockpit, remembers the roar and looking over her shoulder to see the ground dropping sharply away. An instant later, they hurtled through the clouds into a great blue vastness. Van Campen glanced at the altimeter. It was winding so fast she thought it must be broken. Then they leveled off, and the instrument, which was working fine, told the story. They had climbed nearly eight miles in less than 40 seconds, ascending more than 1,000 feet per second.
From the front cockpit, a Russian voice: "How are you, Leen?"
How do you put the thrill of a lifetime into a sentence?
Twenty years ago this month, in March 1994, Lynn Van Campen became one of the first Americans to fly in a Russian MiG-29 fighter jet airplane. Van Campen had answered a travel-adventure advertisement in the New York Times. It eventually led her to an airbase southeast of Moscow. A Russian pilot was on board, in the front cockpit, but he let Van Campen do much of the flying. She paid $14,000 for the privilege. Afterward, on the ground, still exhilarated, Van Campen thought, "They could have charged twice as much."
Today, Van Campen is 66, living in Madison, retired from the Zeeh Pharmaceutical Experiment Station in the UW-Madison School of Pharmacy, where her husband, Dexter Northrop, is a longtime faculty member.
With the 20th anniversary of her adventure at hand, Van Campen recently spoke about the experience. Her face brightened with the memory. She still flies — she has a Cessna 182 at Morey Field in Middleton — but the MiG-29, well, that was something else.
Van Campen is originally from Pennsylvania, and after college in Virginia, she came to UW-Madison for graduate school, earning a master's and doctorate in pharmaceutics.
It was while she was in graduate school in Madison that Van Campen fell in love with the idea of flight. She took a Hoofers ski trip to Sun Valley, Idaho, and when there was insufficient snow for skiing, Van Campen flew a glider. "I just adored it," she said.
Later, while working for a biotech company in Boulder, Colo., Van Campen took glider lessons. She sought glider havens in her travels and became licensed as a powered-flight pilot, too.
In 1994, she was living in Connecticut and working for Boehringer Ingelheim, one of the world's leading pharmaceutical companies. She went hang gliding regularly with a few colleagues.
One of them, knowing Van Campen's passion for flying, sent along an ad that appeared in the New York Times and several other major newspapers under the headline: "Fly a MiG-29 at Mach 2.5 in Moscow (no, really)."
Van Campen was at her desk at work. She studied the ad, puzzled at first, but then increasingly excited. Why shouldn't she? The company behind the ad, MiGs Etc., was based in Sarasota, Fla. Van Campen picked up the phone.
When she flew to Moscow in March 1994, Van Campen was around the 50th customer of MiGs Etc., which was founded in October 1993. The fall of the Soviet Union had opened up entrepreneurial opportunities in Russia, where officials were eager for both cash and the chance to show off their prized jets.
Van Campen's package included five nights at the Metropol Hotel in Moscow. She soaked up the history. Rasputin had shouted from that balcony, someone said, pointing. The first night, Van Campen and the four others in her MiGs Etc. group — all men, three Americans, one French-Canadian — walked to Red Square. A spotlight shone on the clock tower of the Kremlin. There was a rumble of thunder, and snow began to swirl.
The trip included flying beyond the MiG, as well. On her first day at the Zhukovsky airbase — some 30 miles southeast of Moscow — Van Campen had the opportunity to fly a Czech jet trainer aircraft called the L-39. (The day after the MiG, she flew a helicopter.)
She was assigned a Russian test pilot, Vladimir. Courteous and soft spoken, he had flown MiGs and other jets in air shows across Europe. As would be the case the next day in the MiG, Van Campen climbed into the rear cockpit of the L-39, Vladimir the front. They spoke by radio.
"Leen, ready to start engine?"
"Yes, Vlad. Ready to start engine." Van Campen caught a glimpse of the red star on the plane's wing. "I'm actually in Moscow," she thought, "on my way up in a Russian jet!"
That day's flight was memorable, but the real payoff came the next afternoon, when Van Campen flew the MiG. After the thunderous takeoff and race to high altitude, they performed aerobatics and at one point exceeded the speed of sound. In the jet itself you don't actually hear the boom associated with breaking that barrier. The shock waves are behind you, like the wake of a boat.
In 2001, seven years after her Russia trip, Van Campen wrote an account of her MiG flight. She called it "Soaring Supersonic," and she dedicated it to Vladimir, who, she was saddened to learn, died in a test flight accident a few years after their MiG flight.
Van Campen's piece is a testament to his kindness and her excitement. One morning, referring to the day's flight, Vladimir asked, "What do you want to do, Leen?"
Contact Doug Moe at 608-252-6446 or dmoe@madison.com. His column appears Monday, Wednesday, Friday and Sunday.