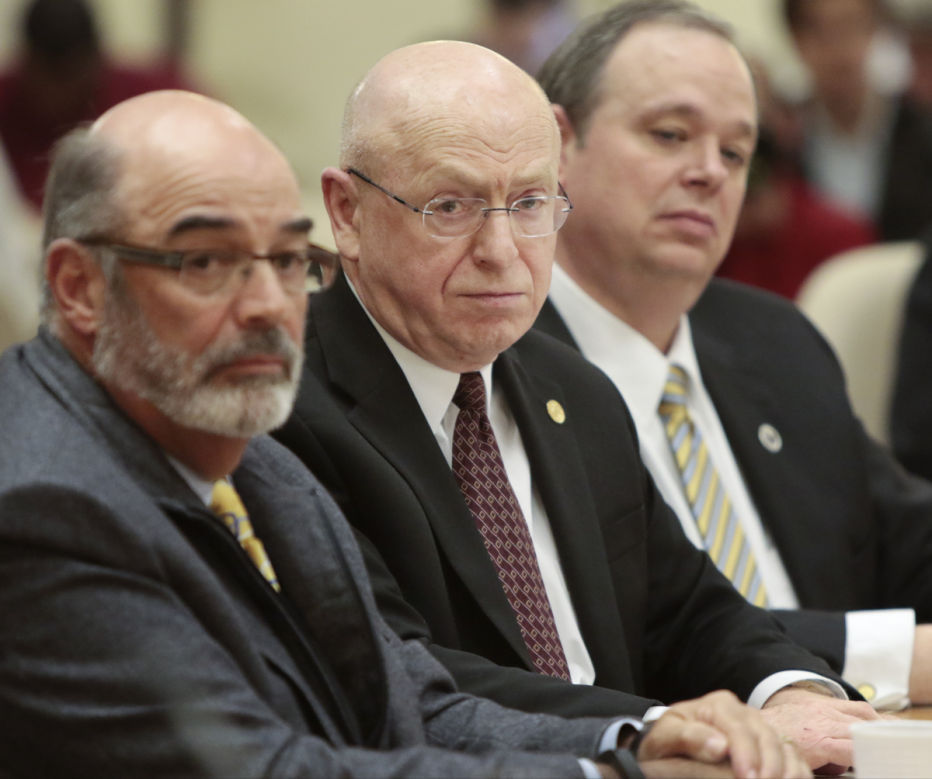 What happened last week at UW-Milwaukee is a good example of what can happen when two entrenched, self-interested and powerful forces clash in today's partisan political environment:
The guy trying to bring the two sides together is asked to publicly promise he will resign if he fails to accomplish something he has little to no control over.
In this case, the forces are the University of Wisconsin System and Republicans in control of state government, and the guy is Ray caught-in-the-Cross-fire.
I don't usually feel bad for highly placed, well-paid officials, but I felt bad for System President Ray Cross when a UW-Milwaukee English professor was able to extract the resignation promise during his Wednesday Q & A.
The professor, Richard Grusin, and other faculty are understandably worried about Republican Gov. Scott Walker's $300 million proposed cut to the UW System, as well as the potential loss of tenure and their voice in the functioning of the workplace, known as "shared governance."
It's also fair to bring these concerns to Cross, who, by any measure, is not having much success addressing them.
What they don't seem to consider is the hand Cross was dealt.
Cross took over for Kevin Reilly, who resigned in December 2013 after a spat earlier in the year between Legislative Republicans and System officials over revelations that the System had been raising tuition while sitting on hundreds of millions of dollars in cash reserves.
Smartly, Cross set out to repair relations with Republican lawmakers. They were likely to remain in control of the Legislature for a while, after all, because of the way they gerrymandered legislative districts back in 2011.
Then the question was whether Democrat Mary Burke would deny Walker a second term in the Nov. 4 election, as she could have at least provided a counterweight to some of the antipathy today's GOP has for academia.
Unfortunately for the System, Burke lost. Unfortunately for everybody, the state's Legislative Fiscal Bureau reported less than three weeks later that the state was facing a $2.2 billion budget hole for 2015-17 (one that, incidentally, Walker and his fellow Republicans helped create by passing $2 billion in tax cuts since 2011).
Add in Walker's presidential ambitions — and his associated need to pander to budget-cutting, anti-intellectual primary voters — and the chances were pretty good the System was going to get squeezed in the 2015-17 state budget.
So what did Cross do? He played about the only card he had left.
Cross worked behind the scenes with Walker to propose the System be released from state oversight and become a so-called "public authority." The idea was that this would allow the System to achieve efficiencies it needed to offset some of the cuts. Plus, once Walker's proposed two-year tuition freeze expired, the System would have the power to jack up tuition.
The problem is that Republicans in control at the Capitol have grown dubious of the public authority model, and Walker — who's traveling the country in preparation for his likely presidential run — seems less than interested in lobbying his fellow Republicans to support it.
Not that faculty and the Board of Regents haven't helped dig the hole they find themselves in.
Assembly Speaker Robin Vos soured on giving the System more autonomy as faculty lobbied to preserve tenure and shared governance under a public authority model, and the board passed a measure asking the Legislature to allow it to do just that. Tenure and shared governance are common in higher ed, but Cross has said Wisconsin is unique in enshrining them in state law.
For Vos, the board's vote was a sign that the System wasn't interested in using any new flexibilities to make major changes — so why bother giving it the power to change things?
Besides, when the vast majority of workers don't have any idea what it's like to have the near-iron-clad job protection of tenure, losing tenure isn't likely to inspire a lot of sympathy. And shared governance? That makes sense in a co-op, where employees share ownership. The System isn't a co-op, though; it's owned by the taxpayers of Wisconsin.
Given that Cross' office said he was too busy for an interview and Grusin didn't respond to my requests for comment, this is about as much sense I can make of how Cross ended up having to face an audience of higher ed supporters happy to publicly scold him for struggling to do a near-impossible job.
Although I suppose there are always other possibilities.
Maybe Cross agreed to be the fall guy in Walker's plan to hobble the UW System and its left-leaning faculty in return for a position in the Walker White House.
That would at least explain why he's so willing to quit his current gig, even if it sounds like rank conspiracy to think a 67-year-old, longtime academic would suddenly throw his lot in with a college drop-out, conservative Republican.
One good thing about conspiracy theories, though, is that they can be a welcome alternative to having to face some hard realities.