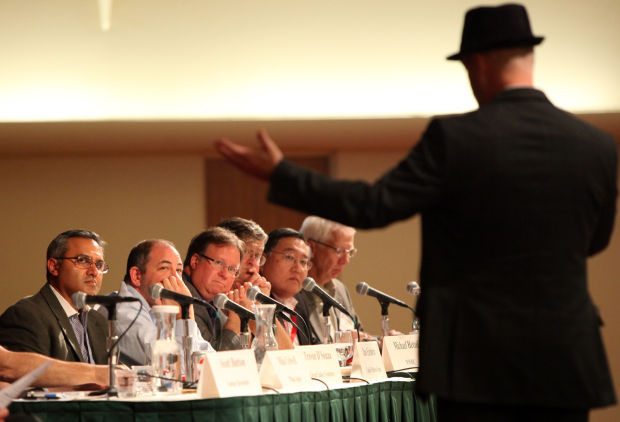 Perhaps it's because I work for a company that started up 175 years ago, but I do grow weary of the hype surrounding (more recent) startups and the hand-wringing when the startups stop — like in Wisconsin, which the Kauffman Foundation ranked 50th in the United States for startup activity.
Yes, the entrepreneurial spirit is something worth celebrating, and its decline strikes at the heart of what made America great (or at least at the heart of what many Americans think made America great).
There are plenty of other metrics by which to judge the economic health of the Badger State, though, and some might even suggest a state that's not only economically healthy, but mentally and environmentally fit as well.
Consider the status of some of Wisconsin's legacy industries: manufacturing, agriculture and tourism.
A report released last month by the Federal Reserve Bank of Chicago showed Wisconsin second among the five states it covers in non-farm business activity in April. Manufacturing activity was up only slightly, but at least it wasn't down as it was across the region.
Agriculture did well in 2014, with farmers seeing incomes rise and the amount of ag exports hitting $3.6 billion, or 13.6 percent more than in 2013.
Tourism's contribution to the Wisconsin economy was also up in 2014, to $18.5 billion in 2014 from $17.5 billion the year before, according to the state tourism department.
If one reason Wisconsinites aren't starting a lot of new businesses is because the old ones are doing pretty well, the chairman of the board of a Madison entrepreneurs co-working space suggested another reason might be that Wisconsinites are a little too tight-fisted with their investment dollars.
"People with capital in Wisconsin are extremely conservative fiscally," Michael Fenchel of 100state told this newspaper, "and not really open to taking risks."
As if that's a bad thing. You know what else is conservative fiscally? Paying your mortgage on time, socking a little away and staying out of debt.
According to RealtyTrac, there was one foreclosure for every 1,296 housing units in April in Wisconsin, less than the national average of one for every 1,049.
The only data I was able to find on personal savings was put out a decade ago by the former A.G. Edwards investment firm, which ranked Wisconsin in the top 10 in saving for retirement.
It wouldn't surprise me if those figures were still generally accurate, given that a 2014 study by the Urban Institute showed Wisconsin better at staying out of debt than the rest of the country.
Older and maybe wise enough to know that while entrepreneurship is sexy, it's not always successful.
Estimates I found on the rate of startup failure ranged from 75 percent to 90 percent. Olszewski said that about half of new firms fold within five years.
Wisconsin also hasn't come upon huge natural resources — like, say, oil and natural gas — that are almost certainly driving the majority of startup activity in the state, North Dakota, that had the most startups per 100,000 residents.
That's right. A thoroughly 21st century, Millennial-chic category of economic activity is being driven, in part, by a finite, 19th century resource that fouls the air and warms the planet. That kind of economic development in Wisconsin would have Gaylord Nelson rolling in his grave.
Wisconsin's entreprenuerial shortcomings don't seem to be making its residents any less happy or sane, either. We're the 18th "happiest" state, according to a Gallup-Healthways poll, and had lower-than-average rates of adult mental illness in 2011-12, according to one federal survey.
None of the preceding is to defend Republican Gov. Scott Walker, whose enemies have been using the Kauffman report as the latest stick to beat the dead horse of his economic record.
Governors don't have as much power to shape the economy as they and their detractors like to think. That said, Walker hasn't excelled at his own economic initiatives: creating 250,000 private-sector jobs in his first four years (he didn't) and the Wisconsin Economic Development Corp., which has been beset by mismanagement and scandal.
But neither is it clear that being 50th in startups is a big deal. Kauffman research analyst Arnobio Morelix said 5.85 percent of employer firms in Wisconsin are startups. The national average is 8.15 percent.
What Kaufman couldn't provide is the size of the startup sector, in dollars, relative to the rest of the state's economy.
Olszewski said "you always are going to need ... these newer companies," because eventually the old ones die. He likened it to a forest: It can have a lot of great old trees, but if it's going to survive, it needs some new ones, too.
Personally, I'm happy writing on some dead — well, recycled — trees for an old, proven and reliable antithesis of the startup: the local newspaper.
I'm a Wisconsinite, and that's just how we roll.
Be the first to know
Get local news delivered to your inbox!