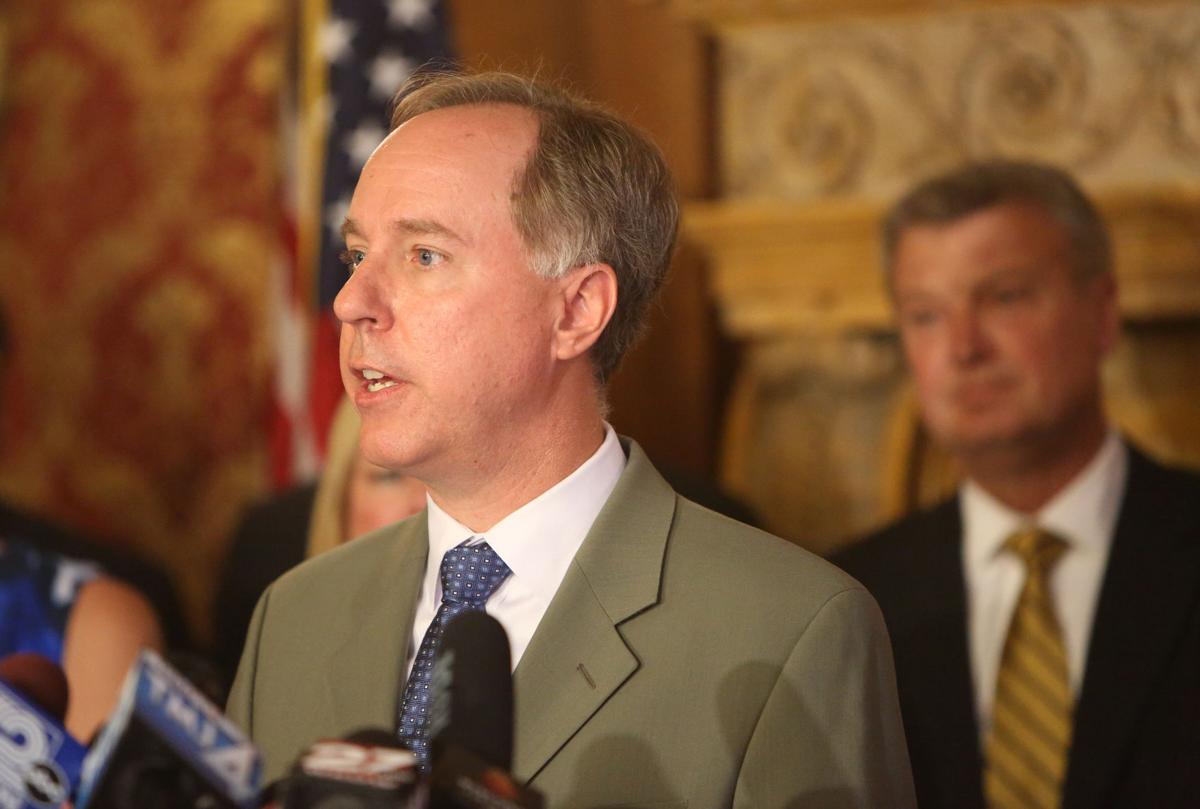 If Wisconsin Republican Assembly Speaker Robin Vos had ever served in the military or in law enforcement, he might know what an actual terrorist — foreign or domestic — looks like.
So when he called three senators "terrorists" for hatching a backroom budget deal with Gov. Scott Walker, what he probably meant was that they engaged in some "terrible" government.
This is something Vos does know something about, although he'd look a bit hypocritical accusing someone else of engaging in it.
Four GOP senators initially said they couldn't vote for the $76 billion 2017-19 state budget the Assembly passed on Sept. 13. That was just enough of them to kill the measure. So Walker reportedly promised Sens. Duey Stroebel, Chris Kapenga and Steve Nass that in exchange for their yes votes, he'd use his partial veto powers to make the changes they wanted to the budget.
Vos is right that the pet concerns of three senators shouldn't hold up an entire two-year spending plan.
This is the document that appropriates basic funding, after all, for everything from schools to economic development to Medicaid.
But Vos has been far less distressed about terrible government when it's promised to benefit his political fortunes.
You have free articles remaining.
He supported the effort in 2011 to create new legislative and congressional redistricting maps in secret, at a GOP-friendly law firm, and with vows from fellow Republicans that they wouldn't talk about the effort.
All of the cloak, dagger and gerrymandering had its intended effect: The GOP has won big majorities in the Legislature, despite statewide vote totals that suggest the state's voters, as a group, are much more purple than red.
To add insult to injury, Vos and Senate Majority Leader Scott Fitzgerald have authorized spending more than $2 million (and counting) to defend the maps all the way to the U.S. Supreme Court.
Then in 2015, Vos was discovered to be a major driver behind an attempt to eviscerate the state's open records law by way of an anonymous, 11th-hour amendment to the 2015-17 state budget. Public outcry killed the effort, but that didn't stop his office from later drafting legislation that would have had the same effect. He ultimately backed off that, too.
If Vos was really that upset about budget changes made possible by backroom dealing and Walker's veto pen, he had ways to retaliate that are more substantive than name-calling.
For one, he could have brought the measure up in his chamber to override Walker's vetoes. Assembly Democrats, at least, would have jumped at that opportunity.
He also could have called for new limits to the governor's partial veto power. Wisconsin got rid of the so-called "Frankenstein veto" — by which governors could delete words and cobble together sentences to create new budget provisions — in 2008. But "Wisconsin's governor still has an unusually powerful veto pen," said Dennis Dresang, a UW-Madison professor emeritus of political science.
Vos apologized for the "terrorist" jab on Monday, and it's probably best to reserve the label for those who kill and maim people.
If not, it would prove pretty easy to find terrorists in state government.