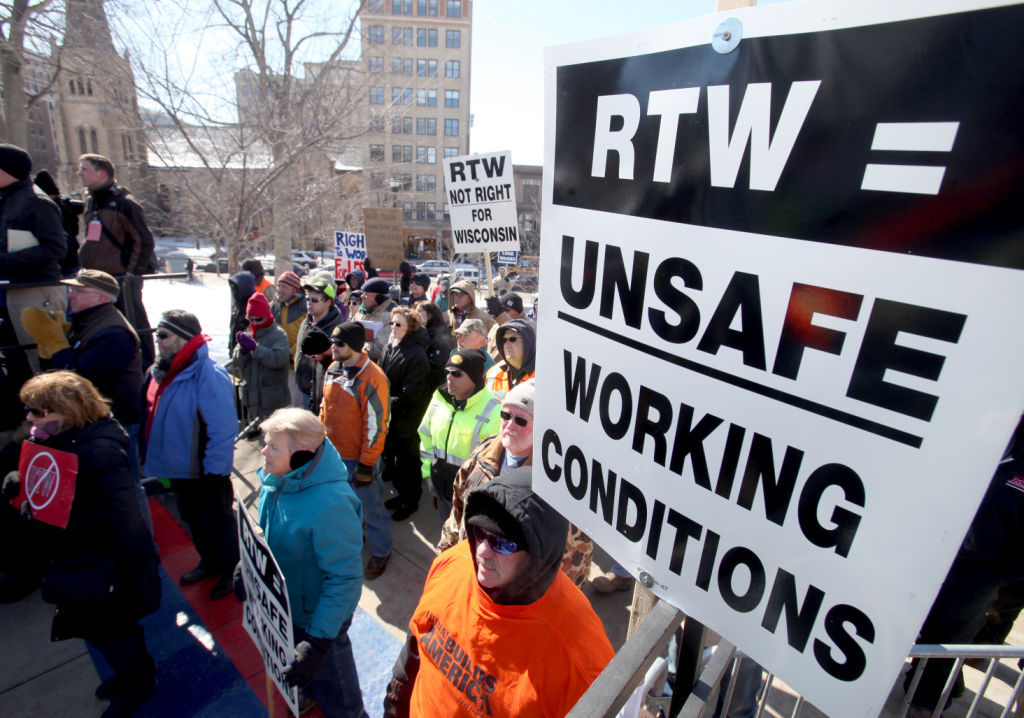 No one should be surprised when in a few months or years from now, the conservative-dominated Wisconsin Supreme Court upholds the state's right-to-work law.
Politics is politics, after all.
Legal types don't really dispute that federal law requires unions to represent all workers in a workplace where a union has been voted in — even workers who choose not to join the union.
In states that don't have RTW laws, those non-union members pay "fair share" fees that go toward the union's cost of representing them. It's illegal for such dues to go toward the kind of (usually Democratic) political advocacy regular union dues can go toward.
Weirdly enough, federal law also allows states to adopt RTW laws that make it illegal to require fair share dues — without also freeing unions from the requirement to represent all workers at a union work site.
This creates the "free rider" problem Foust refers to in his ruling: "the ability of non-members to refuse to pay for services unions are compelled to provide by law."
But it's as much about the law or politics or unions as it is about commerce. In the real world, if you take something you don't pay for, it's called "stealing." In the courtroom, a law that legalizes stealing is called an unconstitutional "taking."
Pro-RTW folks don't deny the free-rider problem, but they do try to come up with excuses for why it's not unconstitutional.
He also points to laws requiring developers to undertake environmental safeguards or provide low-income housing — "in effect, requiring them either to not offer the goods or services or to offer them on terms that they do not prefer."
All of this is true, but the reasons for requiring lawyers and doctors to work for free is that in the absence of such requirements, innocent people might go to prison and sick people might die. Laws forcing developers to hew to environmental safeguards and provide low-income housing are aimed at ensuring we have clean water and air and preventing homelessness. These are high-stakes concerns, in other words.
RTW laws, by contrast, combine with federal labor law to effectively require an organization — the union — to provide free services that, while important, aren't exactly the difference between life and death.
National union membership data show unionization rates are lowest in RTW states, suggesting RTW laws hobble unions. Whether that's good or bad depends mostly on one's politics. Whether it's fair, though, shouldn't be in dispute. It's not.