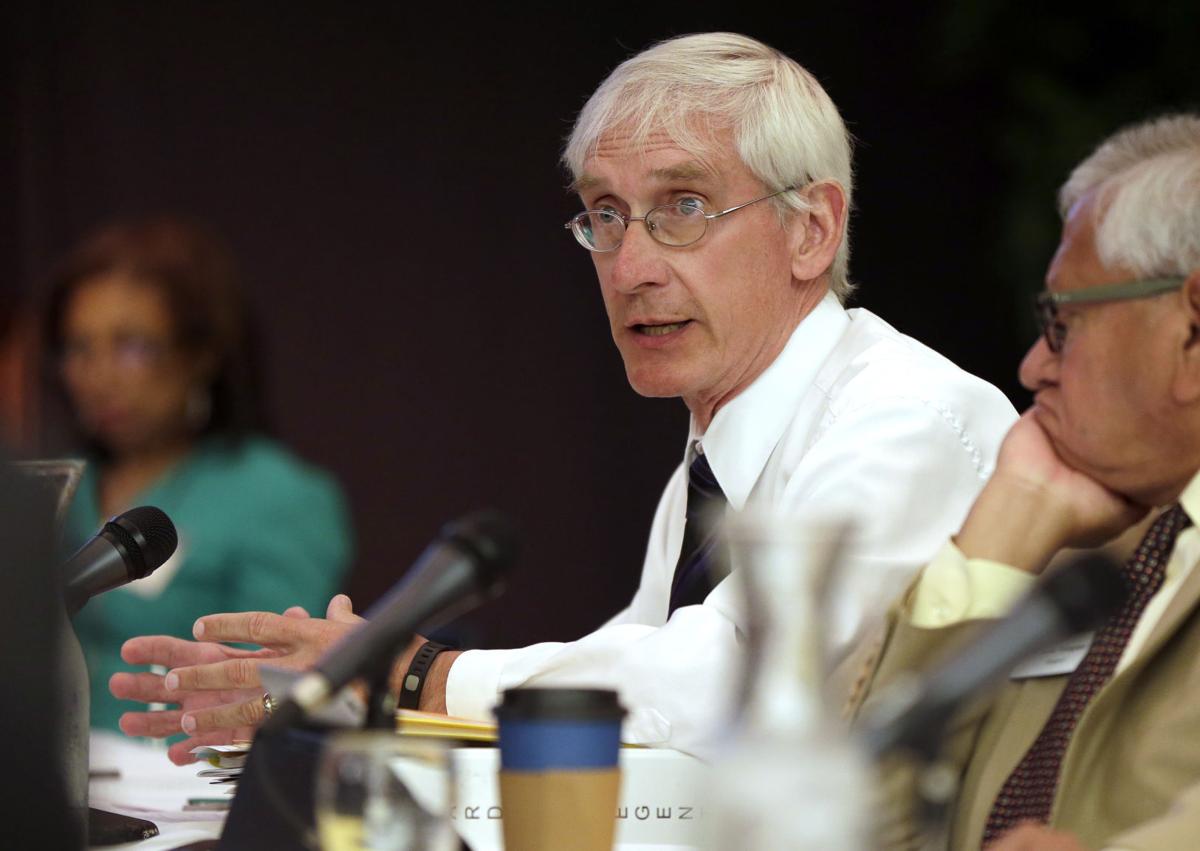 It was only a couple of years after he was elected state superintendent of public instruction that he found himself in the unenviable position of not only having to accept, but implement, policies he opposed — such as the public-sector-union-busting Act 10 and private school vouchers.
Now he's in a court battle to preserve what little input he has into policy-making as Republicans — apparently not satisfied with controlling all three branches of government — search for ever more ways to assert their influence.
The case heard by the state Supreme Court on Tuesday pits Republican Gov. Scott Walker's administration against Evers and public education backers who object to the 2011 Act 21. That law gave the governor power to approve or reject the administrative rules state agencies create to implement statutes.
A court blocked the law from applying to Evers' Department of Public Instruction in 2012, ruling that it unconstitutionally elevated the governor's authority over the state superintendent's. An appeals court agreed in February. Lawmakers continue to review rules as they did before the law was signed, but they have not had the power to reject them without passing a law to that effect.
As you might imagine, administrative rule-making doesn't usually come with the high political drama that lawmaking does.
It was controversial when Republicans, as part of their drive to root out (practically nonexistent) voter fraud, passed a law requiring voters to show photo IDs at the polls. The Government Accountability Board's subsequent work on rules related to whether student IDs qualified as photo IDs was merely the icing on an already pretty cruddy cake.
Apparently, though, the icing can be pretty important when you occupy a position as unique as Evers'.
Of the four state agencies led by people the voters (as opposed to the governor) get to pick, only two aren't led by Republicans, and only one of the two — Evers' Department of Public Instruction — has any real power or deals with an area as politically fraught as public education.
The Secretary of State's office, led by Democrat Doug La Follette, and the Treasurer's office, let by Republican Matt Adamczyk, have been stripped of most of their duties over the years, and Walker spokeswoman Laurel Patrick said neither promulgates administrative rules.
The Department of Justice is powerful, but led by a Republican. Superintendent of Public Instruction, incidentally, is the only statewide elected position elected on a nonpartisan ballot, with the exception of Supreme Court justice.
To be clear, it's not like Evers has the power to use the rule-making process to shape laws to his liking. He can't write rules for a statewide voucher program, for example, that effectively eliminate statewide vouchers.
And when I asked representatives for Walker and Sen. Tom Tiffany (R-Hazelhurst) — who were behind the effort to give the governor veto power over administrative rules, for examples of rules that were so botched they cried out for a governor's oversight, neither produced any.
"This legislation was introduced as part of Gov. Walker's focus on reforming government and improving our business climate by cutting red tape and improving the rule-making process to protect businesses from being subject to unauthorized and burdensome regulations," Patrick said.
Republican Rep. Joe Sanfelippo (New Berlin) — who earlier this year introduced a constitutional amendment that would make the superintendent of public instruction a governor's appointee — also didn't respond when I asked him what mistakes the superintendent has made that could be remedied by putting the position under the governor's thumb.
Attorney Rick Esenberg, who argued before the Supreme Court on behalf of pro-voucher interests and other groups that support gubernatorial oversight, said it's not that the law's proponents can point to specific instances when DPI didn't follow the Legislature's intent in creating a rule.
"The fault line here ... is a sort of a view that DPI tends to be slanted toward the vested interests in public education," he said, and "unfriendly toward school choice."
Well, yeah, of course it is. But being sympathetic toward teachers unions and opposed to vouchers isn't the same as using a nonpartisan elected office to stymie state statutes by intentionally twisting the rule-making process.
There was probably a time when, in the absence of any evidence to the contrary, people elected to nonpartisan positions could be presumed to do their jobs in a nonpartisan way.
Evers might be a throwback to that time.
Then there's the state Supreme Court, where justices backed by conservative and Republican interests hold a 5-2 majority.
If it overrules two lower courts and sides against the constitutionally protected powers of Evers' office, it will only solidify its reputation as the wave of the future.
Be the first to know
Get local news delivered to your inbox!