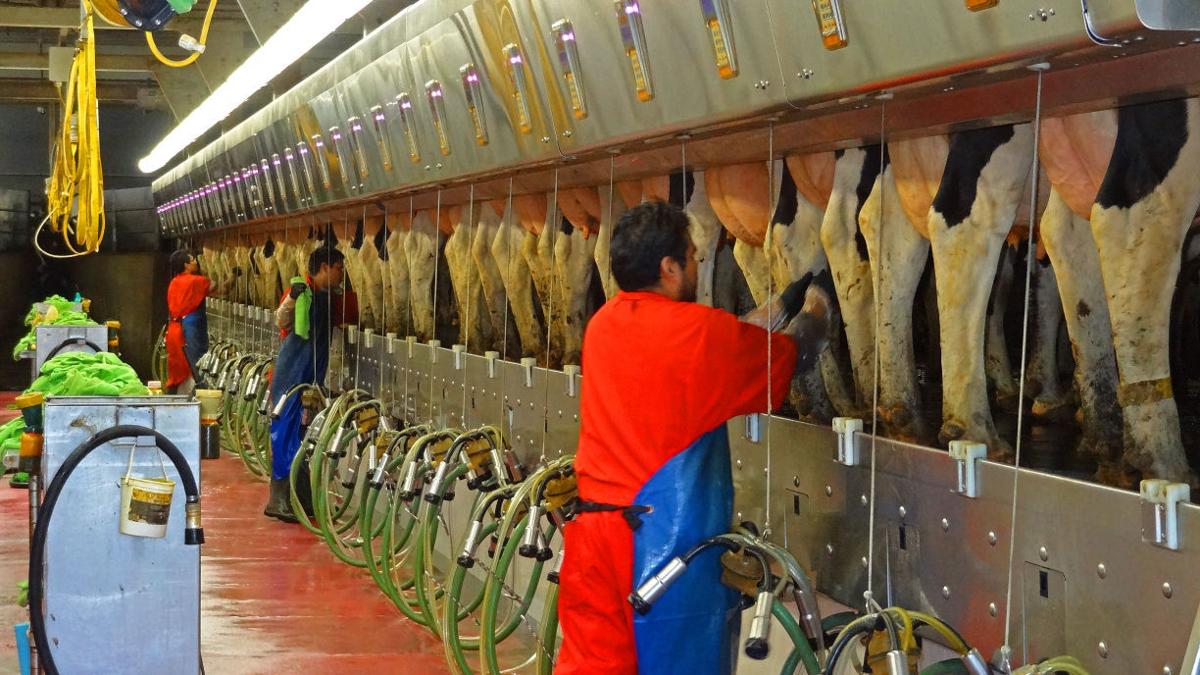 Speaking on Wisconsin Public Radio Monday, Wisconsin dairy industry executive John Holevoet estimated that 50 percent or more of the state's dairy workers are immigrants, and some sizable number of them are probably in this country illegally.
It's also illegal for dairy operations to employ undocumented workers, he said, but dairy farmers risk breaking even more laws if they press immigrant employees for further information about their legal status.
That everybody already knows much of dairy labor is illegal labor is apparently not reason enough for dairy employers to take a closer look at specific immigrant employees.
Welcome to the bizarre world of immigration, Badger State style.
Holevoet, government affairs director for the Dairy Business Association, told me dairy employers have been penalized for "asking for additional documentation" when going through the federal procedure employers use to verify that prospective employees are allowed to work in the U.S.
"Additionally, businesses can face fines and/or litigation if they make additional inquiries because of someone's ethnicity, national origin, etc.," he said.
It's not hard to see why.
The Department of Homeland Security lays out a pretty stern-sounding list of do's and don'ts for employers verifying passports or other documents job applicants use to prove they're legal.
"If the document a worker presents 'reasonably' appears valid, they have to accept it," said Stacy Taeuber, a law professor and director of the Immigrant Justice Clinic at the UW-Madison Law School.
You have free articles remaining.
Knowing that many applicants are probably just presenting really good fake documents is not reason enough to question any one applicant's document, in other words.
The dairy industry is also not required to verify legal status through the federal government's online system, known as E-Verify, according to DBA public relations director Jamie Mara.
I couldn't find a research-based estimate of how many Wisconsin-hired dairy workers are in the country illegally. A 2009 UW-Madison briefing estimated that more than 40 percent of them are immigrants. A 2015 Texas A&M University study found that, nationwide, a majority of dairy operators had doubts about their immigrant workers' legal status and worried about federal immigration enforcement.
Whatever the exact number, there are some pretty powerful reasons that it's significant.
"Politicians do not want to anger the politically influential dairy industry," said immigration law expert Ed Fallone of the Marquette University Law School, "and, in addition, there is no one else to do the work on these rural farms."
There might be more people clamoring to "work on these rural farms" — and thus more incentive to crack down on undocumented workers — if the hourly pay were significantly higher than the mid-teens range Holevoet mentioned on the radio the other day.
Bringing wages up to what they should be when you work out in the middle of nowhere, more or less chained to the lactation schedules of hundreds of cows, would obviously come with a pretty hefty spike in the cost of dairy products.
The Texas A&M study found that "eliminating immigrant labor would reduce the U.S. dairy herd by 2.1 million cows, milk production by 48.4 billion pounds and the number of farms by 7,011.
"Retail milk prices," it continued, "would increase by an estimated 90.4 percent."
Those kind of changes might be enough to take the "dairy" out of American's Dairyland.
And I'm not sure even the most virulently anti-illegal immigration Wisconsinites want to pay nearly twice as much for their beloved cheese.