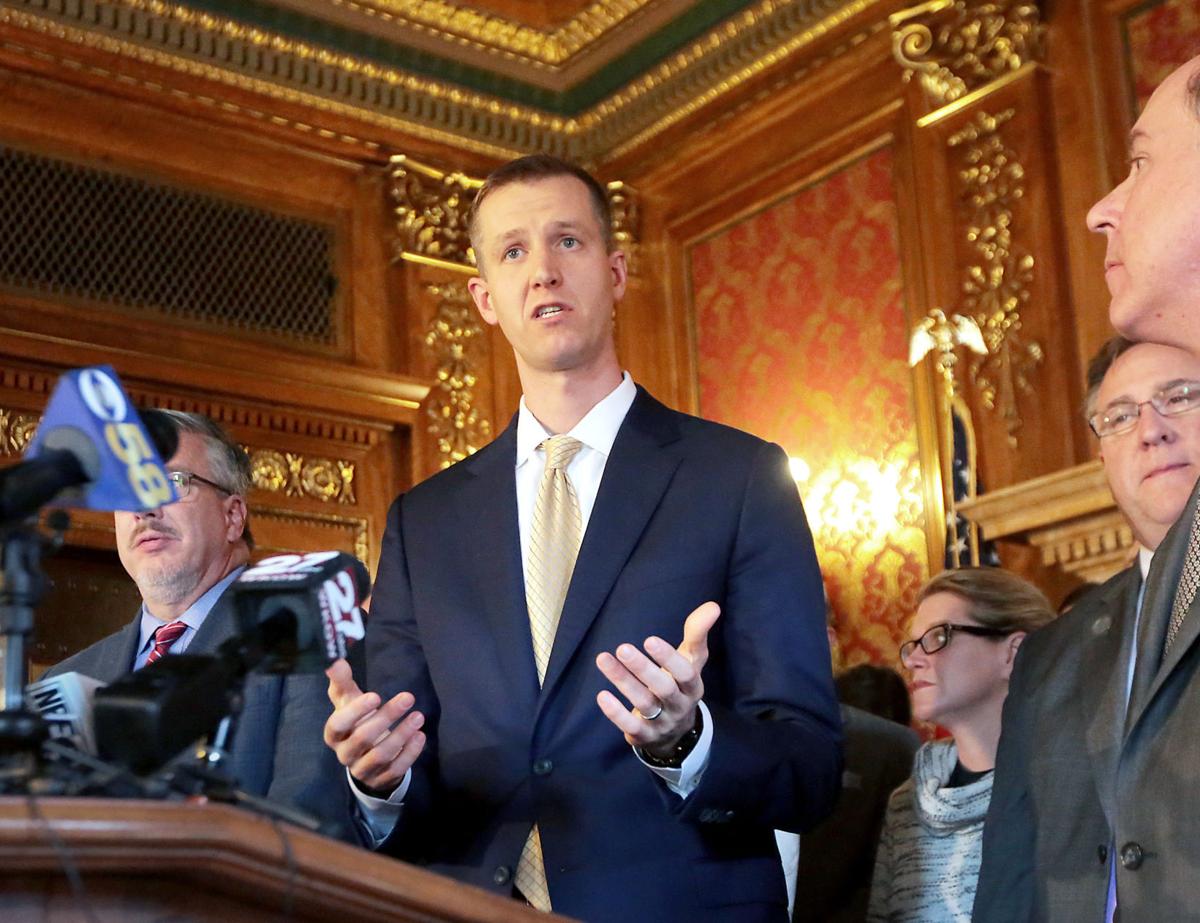 In a tax proposal with as many moving parts as that old children's game Mouse Trap, Republican Gov. Scott Walker sees simplicity in a flat income tax.
It's going to take a lot more than a flat tax to make the state's income tax system simpler, though, and in an era of rising income inequality, a flat tax promises to take a bit of the progressivism out of a tax system known to be one of the more progressive in the country.
Rep. Dale Kooyenga's plan, introduced Thursday, takes a lot of detours on its way to what had seemed like a pretty straightforward destination: more money to fix Wisconsin's ailing roads. One of those detours is the elimination of the state's current progressive income tax rates.
On Wednesday, as the plan's details were starting to leak, Walker told a conservative Green Bay radio host that "I'd love to have not only in Wisconsin but nationally a flat tax where you just pay a fixed percentage and you can fill it out on a postcard or one click on your phone or your computer and you don't have to worry about everyone in the world getting a thousand different loopholes and exemptions. Just make it simple."
Kooyenga's plan would eventually move the state away from an income tax system in which tax rates rise with rising levels of income to one in which, by 2028, everyone would pay the same "flat" 3.95 percent rate, no matter their income.
And while it eliminates a handful of state "exemptions and loopholes," the plan leaves most of them be. Besides, according to Todd Berry, president of the nonpartisan Wisconsin Taxpayers Alliance, it's the differences between federal and state law that are responsible for much of the state tax system's complexity.
You have free articles remaining.
Moving from a handful of tax rates to one rate "is not where you find simplicity," Berry said. "Get rid of a lot of the detritus in the law and use those savings to get the tax rate down."
How many of us have the stamina to know any better?
A flat tax still requires richer people to pay more in total dollars, and Berry said that the biggest factor contributing to the progressivism of the income tax system is one Kooyenga isn't touching — the standard deductions from taxable income that decline as your earnings increase.
But a flat tax obviously isn't as progressive as making richer people pay higher rates, like they do under the federal income tax system, and that matters if you're troubled by rising income inequality.
A report last year from the left-leaning Wisconsin Budget Project and UW-Madison-based Center on Wisconsin Strategy found that incomes, adjusted for inflation, for the top 1 percent of earners increased 120 percent between 1979 and 2013, and by 4 percent for everyone else.
Clearly, the rich already have ways to get richer. For the meager simplicity it provides, the flat tax doesn't need to be one more of those ways.
Be the first to know
Get local news delivered to your inbox!