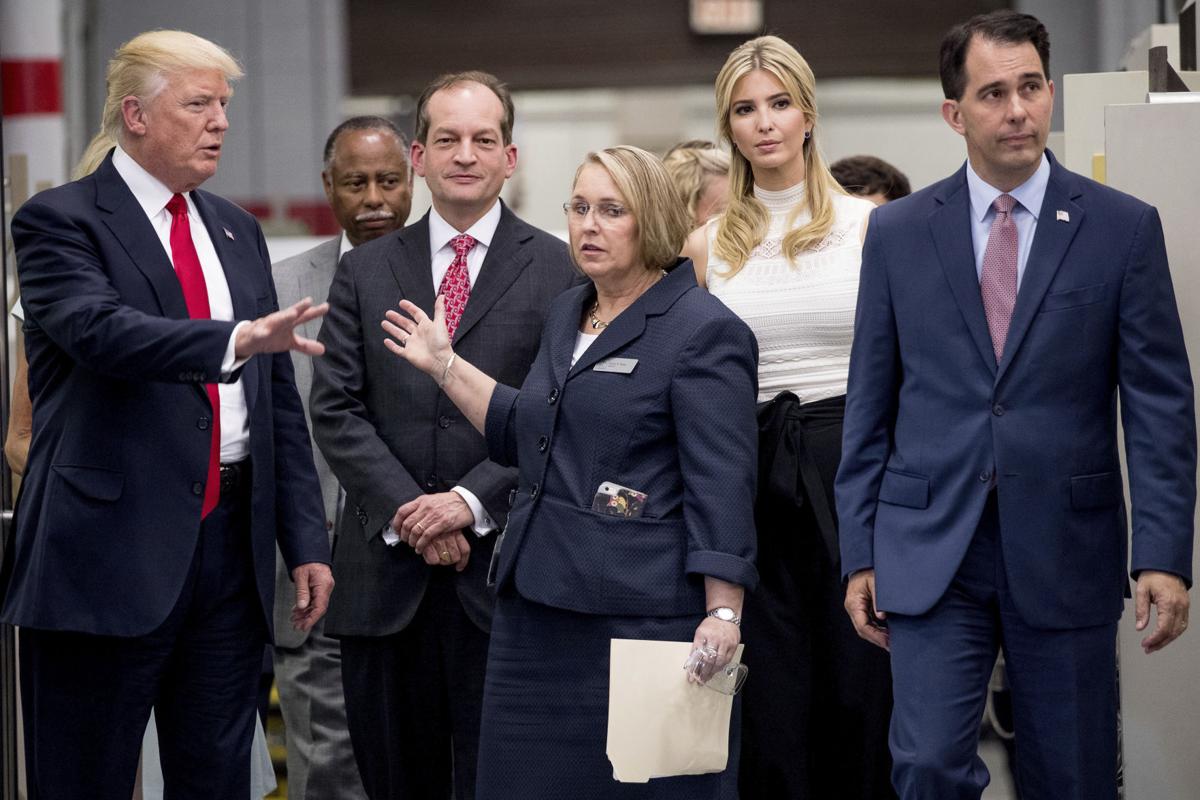 The billionaire businessman-turned-president and a Wisconsin governor whose campaigns have been fueled by millions in donations from the business community were at Waukesha County Technical College on Tuesday to bemoan the shortage of trained workers and to talk up government's role in training them.
Then they retired to a Milwaukee hotel for a fundraiser for the governor. Attendees, who included many business bigwigs, paid $1,000 per person and $10,000 to have a photo taken with the president.
It's all just a little too convenient.
Donald Trump and Scott Walker's purpose was to draw attention to the tens of thousands of jobs going unfilled in Wisconsin because of a shortage of skilled workers and to the state's 106-year-old apprenticeship program to turn people into efficient worker bees for business.
Given that there are a lot of stellar employees out there whose only job-training was on-the-job training (after they were hired and while they were getting paid), I've always thought employers could do way more to solve their own worker-shortage problems without appealing to the government or requiring that applicants have already paid for their own tech-college training.
The key questions about Wisconsin's apprenticeship program are who's paying, how much and for what?
There are about 11,000 people currently in the program who get paid by participating employers to work and to take classes at Wisconsin Technical College System campuses, according to Karen Morgan, director of the Department of Workforce Development's Bureau of Apprenticeship Standards. The program gets about $1.8 million annually from the state for administration.
Companies in the program are not required to pay for their apprentices' tuition and books, Morgan said, and she wasn't able to provide any hard data on how many of them do, but her feeling was that it was the "majority of employers."
For those who aren't reimbursed by their employers for classroom learning, Walker signed a bipartisan bill into law in 2013 that provides reimbursement of up to $1,000 in taxpayer dollars per apprentice to cover educational costs. DWD says the program has paid out about $795,204 since it was started.
Meanwhile, the apprenticeship program is the beneficiary of two federal grants totaling $6.5 million that go toward getting more people into apprenticeships — including women and minorities — and to expanding apprenticeship programs and developing curricula for new industry sectors, like information technology, Morgan said.
Worth noting is that building contractors have long relied on the unions to train their workers. So it's strange that after he and his fellow legislative Republicans pushed for the state's right-to-work law and other policies that make it harder for unions to thrive and provide worker training, Walker is now sounding the alarm on workforce development.
I couldn't help but wonder how many people could be trained with the $1 million or so Walker's fundraiser reportedly raised. But then again, they kind of are.