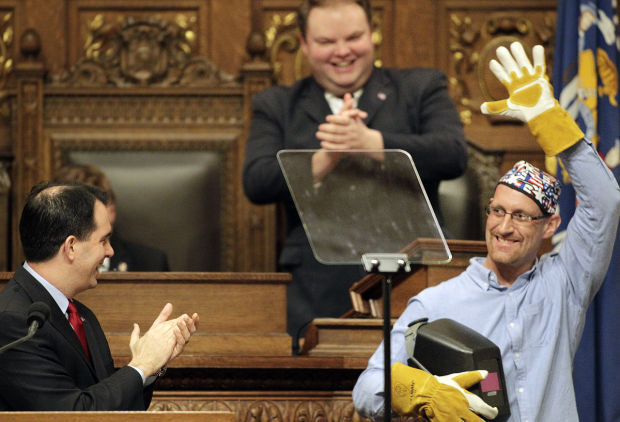 A Cap Times story Thursday about a character-reference letter written for a sex offender by one of Gov. Scott Walker's likely Democratic opponents reminded me of a similar sex offender-related embarrassment Walker suffered the last time he ran for re-election, in 2014.
Although unlike Walker, at least state Sen. Kathleen Vinehout knew who she was dealing with.
Vinehout wrote the letter to the judge who was presiding over David L. Lovell's case in Dane County Circuit Court. Lovell, a former legislative staff attorney, pleaded no contest in June to five felony counts of possession of child pornography.
Aside from this very big black mark on his character, Lovell sounds like a decent enough person, and had no prior criminal record in Wisconsin. He also accepted responsibility for his crimes and is serving a three-year prison sentence.
If Lovell is on the road to rehabilitation, Christopher Barber had already reached it when he appeared on stage with Walker during his 2014 State of the State speech as an example of the kinds of people Walker's policies were allegedly finding jobs for.
Barber, a welder, had completed a training program with Ariens Co. and had been working there for more than a year. What Walker and his handlers were surprised to find out — but could have known easily enough by visiting the state's online court records system — was Barber's status as a registered sex offender convicted in 2005 of third-degree sexual assault of a 15-year-old girl.
Vinehout wrote in her Nov. 11, 2015, letter that she was "shocked and disturbed" to learn about what were then allegations against Lovell. Nevertheless, Lovell had "taken responsibility for his actions and has deep remorse for his mistakes," and she pointed to positive qualities she'd seen in him when the two worked together.
Walker had a very different response when informed that he'd publicly lauded a sex offender: "Obviously, if we had been aware of this individual's prior convictions, he would not have been invited to participate," the governor's spokesman told the Milwaukee Journal Sentinel at the time.
Since it was the state GOP that went on the attack against Vinehout when her letter surfaced, I asked its spokesman, Alec Zimmerman, whether his group had uncovered the letter and whether his scolding of Vinehout was any different than the scolding Walker took from his 2014 Democratic opponent, Mary Burke, over Barber's appearance.
He declined to answer the first question but on the second said, "Vinehout knowingly used her public position to endorse the character of a man guilty of possessing child porn. That kind of poor judgement and reckless decision-making has no comparison."
Burke and Zimmerman are not the only ones to play holier-than-though.
While other Democrats seeking to run against Walker next year didn't attack Vinehout, they didn't step up in her defense, either.
Proving once again that politicians from both parties are usually far less concerned with doing the right thing than about how they'll look to that small minority of simple voters swayed by gotcha politics.
Be the first to know
Get local news delivered to your inbox!