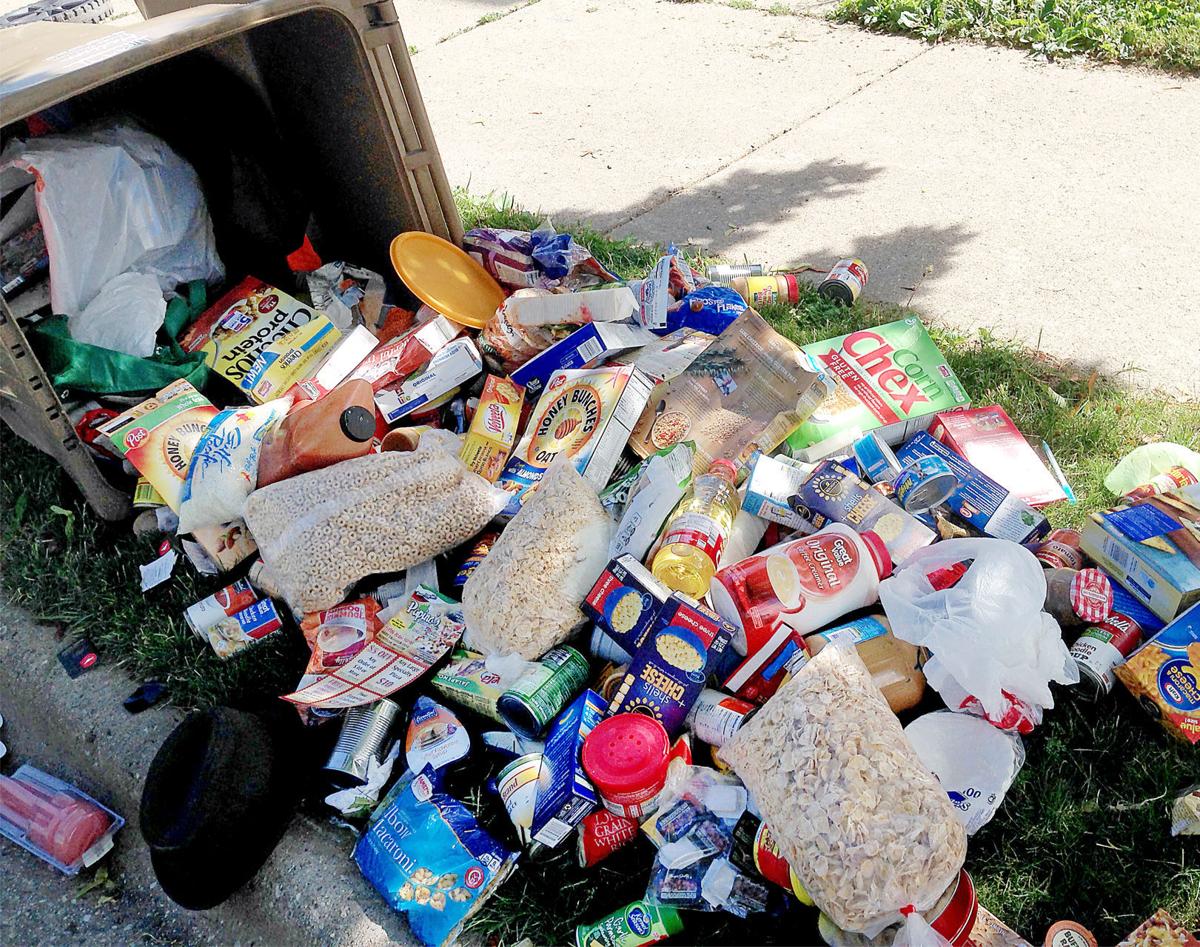 So I'm walking the family dog Monday morning in my East Side Madison neighborhood and stop to deposit a plastic bag of her, um, deposit into one of those city-issued, 95-gallon garbage carts that has been pulled to the curb in anticipation of garbage pick-up the next day.
I open the lid and, to my surprise, find the cart is filled to the brim with what appear to be perfectly edible, unopened packages of food.
Now, to be clear, this is not a column about the relative morality of throwing your dog's bagged droppings into someone else's trash — which I'm told is, for some especially sensitive East Siders, a line you're not supposed to cross.
This is a column about the relative morality of throwing out enough food to stock a soup line in a city that's keen on helping the poor in a country where food drives are perhaps the second-most-popular form of charitable giving.
After bringing the dog home and getting the kids off to their summer activities, I went back to the three-unit where I found the cart and dumped its contents out onto the terrace.
Sure enough, it was maybe three-quarters full of food, including bagged rice and cereal, pasta, pancake syrup, Hamburger Helper, mac and cheese, plastic jars of peanut butter, and lots and lots of canned goods, largely from the chili, soups and sauces families.
Some of the food was a few months expired, but some of it wasn't. And do canned chili and bags of rice ever actually expire?
Before dumping someone else's garbage cart all over the terrace, I had knocked on all three front doors of the three-unit and found people behind two of them.
"We don't have a lot of food," 21-year-old Anthony Rivera told me. "We go shopping in small amounts of food" and "we generally don't waste anything."
You have free articles remaining.
Shannon Lott, 25, who lives in the upstairs unit with her husband and young child, was as surprised as Rivera to find out about the garbage cart of food in front of their home.
But after talking to them and a representative for the property's owner, Pioneer Property Holdings of DeForest, it appeared the food belonged to a man moving out of the home's third, garden-level apartment unit.
The man — who, perhaps for obvious reasons, didn't want his name to appear in the paper — told me he'd lived at the three-unit for two years and collected much of the food over the course of about five years from a local food pantry.
He'd "always been working," he told me, but he "didn't make a lot of money" and was sometimes faced with deciding to either buy food or pay the bills.
Apparently, the choice wasn't as stark as he had assumed, because much of what he got for free remained, uneaten, in his apartment.
The pantry, though, doesn't take returns once they've expired, he said. So later Monday he told me he'd return to the scene of his food-wasting crime and retrieve it himself, then texted me later to say he had done just that.
He can still eat many of the expired items, he said. "I've been eating it this whole time."
"I'm a good person," he said. "I feel terrible about this."
I don't doubt any of that. But it's probably safe to assume he doesn't feel quite as terrible as those who go to bed hungry.
[Editor's note: This column has been updated since it was first published to correct the date references. The incident described occurred on Monday.]