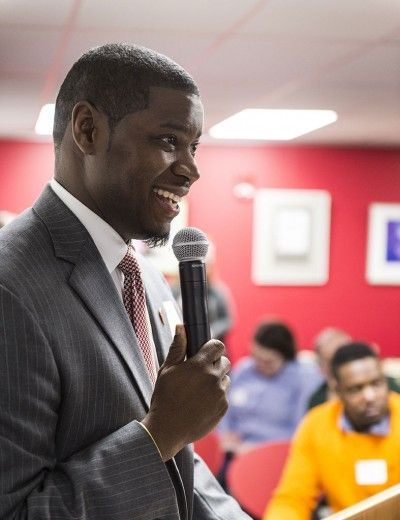 As a UW-Madison administrator, pastor in a church that embraces the gay community, and former Dane County prosecutor, Everett Mitchell seems to have the kind of resume voters in this liberal-leaning part of Wisconsin could embrace.
He's also a local activist in a Black Lives Matter movement that's grabbing headlines across the country — proof that not only can he mobilize people, he's got a ready-made voting constituency to boot.
So why isn't Mitchell running for the Legislature?
What Mitchell is running for is a seat on the Dane County bench, which seems odd given that he has no experience as a judge and his only full-time law gig was a two-year stint as an assistant district attorney.
The two candidates for two other soon-to-be vacant Dane County judicial seats, Valerie Bailey-Rihn and John Hyland, have 24 and 26 years of experience, respectively, as attorneys. And Hyland has been a Waunakee municipal court judge since 2008.
As a leader in Madison's Young, Gifted and Black Coalition, Mitchell's politics have also been on display for at least 11 months now, and it's generally smart for officially nonpartisan judicial candidates and judges to avoid taking strong political stances in public. It can lead people to think that maybe justice isn't blind after all.
Running for this particular judicial seat does come with the advantage of not having to run against an incumbent — or maybe anybody at all.
You have free articles remaining.
Mitchell announced his candidacy for the seat now held by Amy Smith the day after Smith announced she was retiring. So far he's the only one running.
Running for the Legislature would be a much stickier wicket politically, even if Mitchell probably would be a pretty good lawmaker.
Perhaps more importantly for a county political establishment steeped in identity politics, Mitchell, who is black, would add some diversity to what is now an all-white crop of Democratic lawmakers in a county with some of the worst racial disparities in the nation.
The problem is that Mitchell's Assembly and Senate districts are represented by two longtime Democratic incumbents, Rep. Gary Hebl and Sen. Mark Miller. Miller said he plans to run again in 2016. Hebl similarly expressed a desire to continue serving.
As no Republican has any chance of winning a legislative seat from Dane County in the these highly partisan and gerrymandered-district days, mounting a campaign for either of their seats would require the kind of messy, expensive, internecine primary challenge that the two major parties usually seek to avoid.
Mitchell told me he had been planning to run for a judicial seat regardless of whether a sitting judge stepped down. As for running for the Legislature, he told me, "you're the first one to bring it to my attention." He also said past Dane County judges have had levels of legal experience similar to his when they ran, although he didn't name any.
None of this says anything about whether a Judge Mitchell would be a fair arbiter of the law.
It's just that a county looking for action to improve the prospects of its residents of color might be better served by more black lawmakers.
Contact Chris Rickert at 608-252-6198 or crickert@madison.com, as well as on Facebook and Twitter (@ChrisRickertWSJ). His column appears Tuesday, Thursday, Saturday and Sunday.