The lowest temperatures of the year and increased power use caused a nearly three-hour power outage Monday morning at the Dane County Regional Airport.
The outage, which started at about 5:20 a.m., resulted in about a dozen flight delays and hundreds of passengers scrambling to make new connecting arrangements. No flights were canceled due to the outage, said airport spokesman Brent Kyser-McHenry.
Madison Gas and Electric restored power at about 8 a.m.
All passengers affected by the outage boarded their flights within two hours of power being restored, Kyser-McHenry said.
Monday morning's low temperatures, which hit 13 degrees below zero, caused power use to spike and affect the airport's electrical equipment, Kyser-McHenry said. Repair crews fixed the problem to avoid it happening again, he said.
"We don't anticipate any additional problems," he said.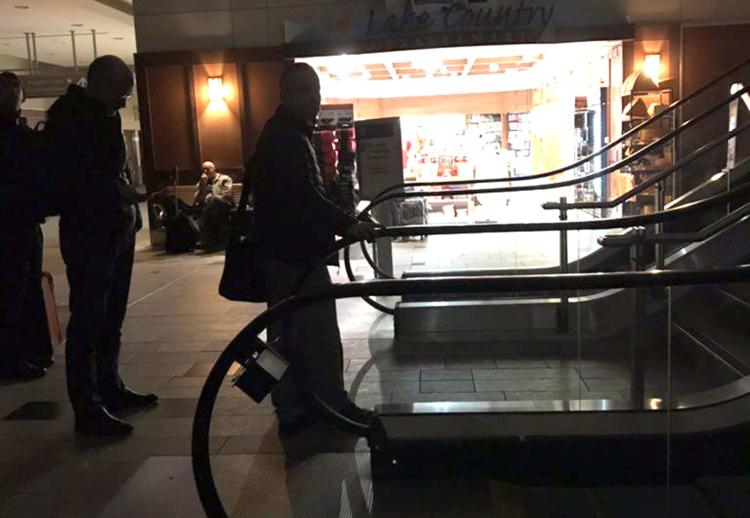 The airport tower was not affected by the outage, and planes not operating on airline schedules were able to take off and land.
In a Monday afternoon tweet, airport director Kim Jones said she wanted to "personally thank our passengers, customers, staff, TSA, airlines, rental cars (and) tenants impacted by the power outage for your patience (and) understanding. Everyone worked together to get our passengers on their way as quickly as possible."
Early reports that the airport's generator didn't work were erroneous, Kyser-McHenry said.
"The generator operated correctly, but internal checking systems shut the power down so sensitive equipment wouldn't get damaged," he said.
The approximately three-hour delay was the longest in the airport's history, Kyser-McHenry said.