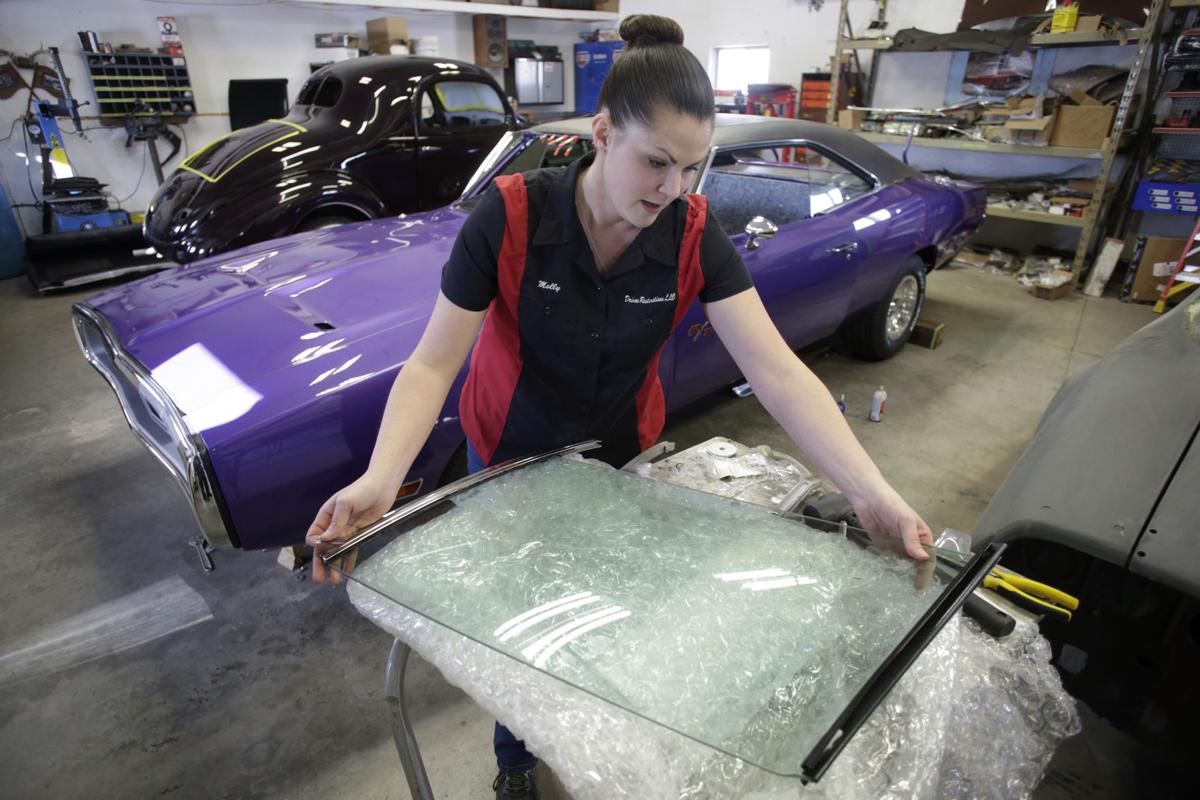 RANDOLPH — This is corn country.
Most of the paychecks here come from the land where the wind blows unabated and, at least this year, there hasn't been enough snow to cover the stubble from the fall harvest.
Steve and Molly Gursky have found their niche on four acres along Cemetery Road in the town of Courtland, only it doesn't involve tractors, grain bins or spring plantings.
Their modest spread in eastern Columbia County is just enough for a couple of horses, three dogs, a rabbit, a cat and a front yard with a trampoline for their two young children.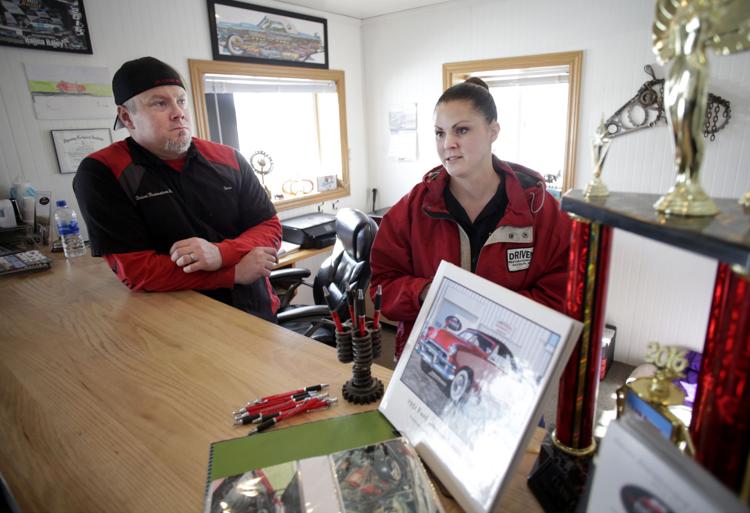 The Gurskys' livelihood comes from within their 4,300-square-foot Driven Restorations workshop where they fulfill sentimental dreams by transforming worn, forgotten and sometimes neglected vehicles into rolling art with high-powered engines, chrome and custom paint jobs.
The work has included a 1949 Chevy pickup, a 1965 Ford Galaxie 500 XL fastback, a 1969 Chevy Nova SS and a 1976 Chevy El Camino with only 26,000 miles on the odometer. Their current line-up, in various stages of restoration, includes a 1977 Pontiac Trans Am, a 1970 Dodge Charger and a 1936 Buick with a wood frame interior. The rebuilds can take up to three years so that the owners can spread out the prepayments for the work that typically can cost between $75,000 and $150,000.
"We're building high-quality and it's meant to be driven," said Molly Gursky. "The ones that sit, die."
"You shouldn't be afraid to drive your car," said Steve Gursky. "They should all be driven."
That philosophy has been well received and their business model is flourishing.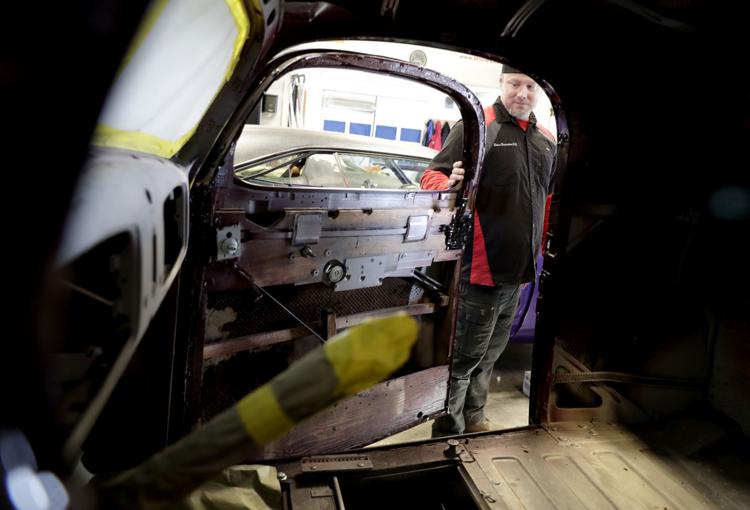 The Gurskys, who founded their company in 2009, are about to begin a major expansion of their shop. The $70,000 project scheduled to begin in a few weeks will add three mechanics' bays, LED lighting, a new paint booth, provide more room for custom body work and create a dedicated metal and welding room. The project will also provide heat to the half of the workshop that currently is like an ice box.
The upgrades will allow for more work and better working conditions but there is one aspect to the project the Gurskys haven't quite finalized, although they have a few ideas.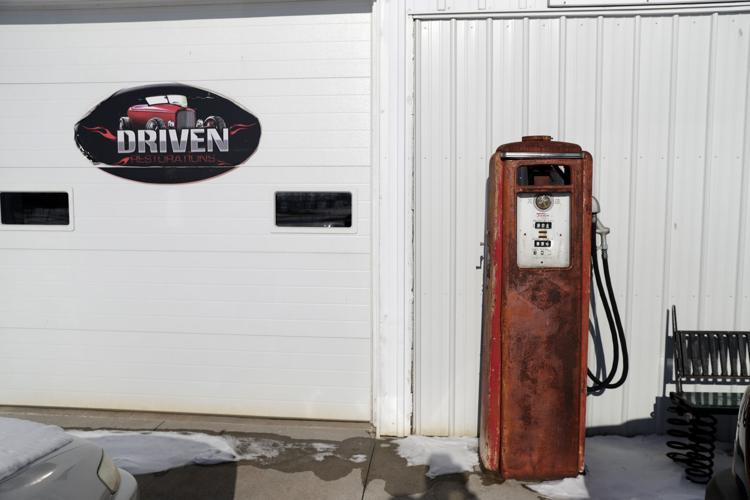 They want to add staff but finding the right person for their shop who is willing to learn the trade has been a challenge. Technical schools teach collision repair and auto mechanics and most wind up in body shops repairing damages from deer, fender benders and major crashes. The mechanics typically go to car dealerships or smaller independent shops while others gravitate to quick lube shops. The Gurskys assumed, that because of their rural location, they might be able to attract candidates with mechanical aptitude but that hasn't panned out either.
That's why the Gurskys want to try to recruit current or recently graduated high school students and train them from the ground up. They had an employee who started out strong but later faded.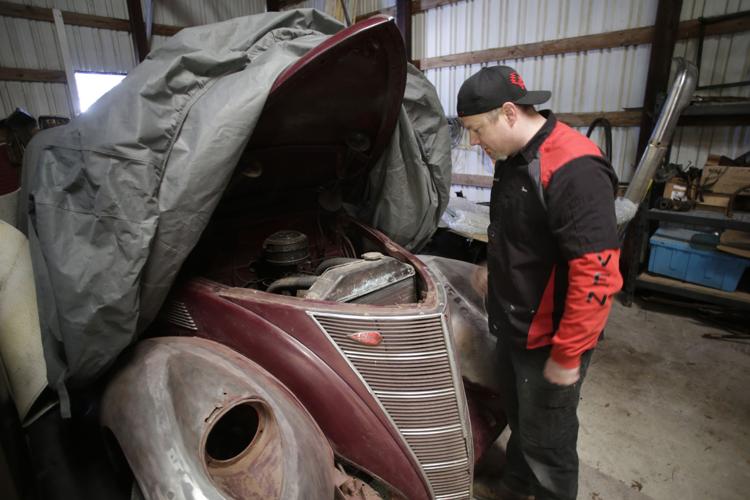 You have free articles remaining.
"These aren't quick projects," Molly Gursky said. "He got bored and so the quality suffered and that's something we will not compromise on."
Wisconsin's unemployment rate is at a historic low of 3 percent and virtually every industry in the state is struggling to find qualified employees. The Gurskys are in that boat but besides needing people with an aptitude for restoration work, they're looking for employees with an interest in classic cars. The Gurskys have one high school student, Hanna Raley, 16, who attends nearby Cambria-Friesland High School and who has worked in the shop the last two summers while also driving a stock car at Wisconsin Dells Raceway Park.
"She does great and we try to give her stuff that we know she can do and then at least 25 percent of the time we're teaching her something new," Molly Gursky said. "If you want to make more profit, you need to invest in them."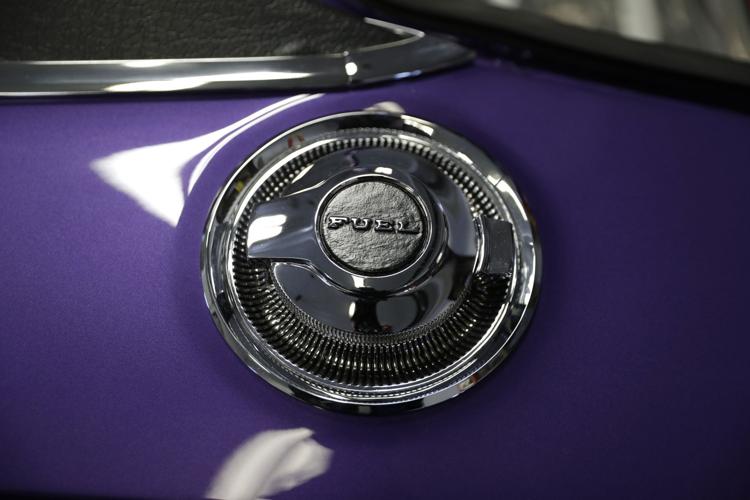 Molly Gursky said she will be speaking next month to students at Hanna's school, located a few miles west of the shop, and wants to make arrangements to speak with students at Randolph High School to the east. Gursky is hoping students could take part in a course for credit that would expose students to their shop, which could, in turn, lead to possible candidates.
"We want people to be successful in this like we are," Steve Gursky said. "We love the old cars but unless the younger generation starts picking it up, these are going to be gone."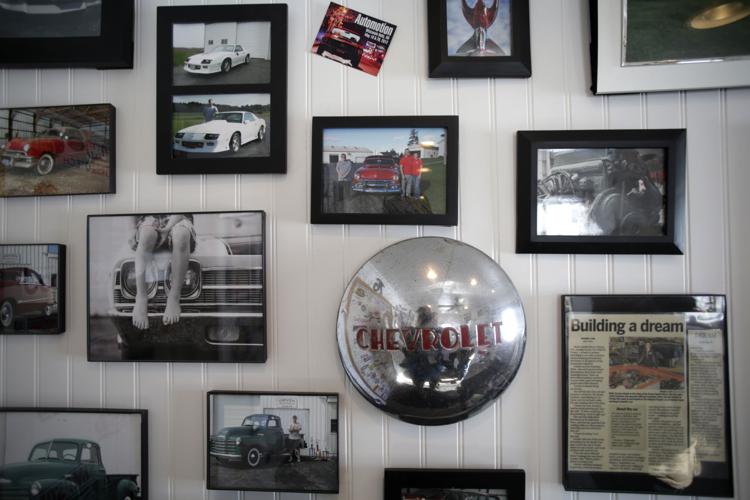 Steve, 36, grew up in Chetek just north of Eau Claire where his father was a highly skilled laborer "who could fix anything." Steve's first rebuild was in high school on a 1977 Chevy pickup. He briefly considered playing football and studying physical therapy at UW-La Crosse but instead headed west to WyoTech, a technical school in Laramie, Wyoming, that is scheduled to close in June but specializes in automotive technology. After the one-year course, he returned to Wisconsin to rebuild cars on the side and work full time at a traditional body shop in Eau Claire but left after a year because of unstable management. After three years building trusses at a plant in Chetek, he took a job with Dick's Auto Body just north of the Mississippi River community of Hager City, south of Ellsworth. The shop served as a valuable training ground.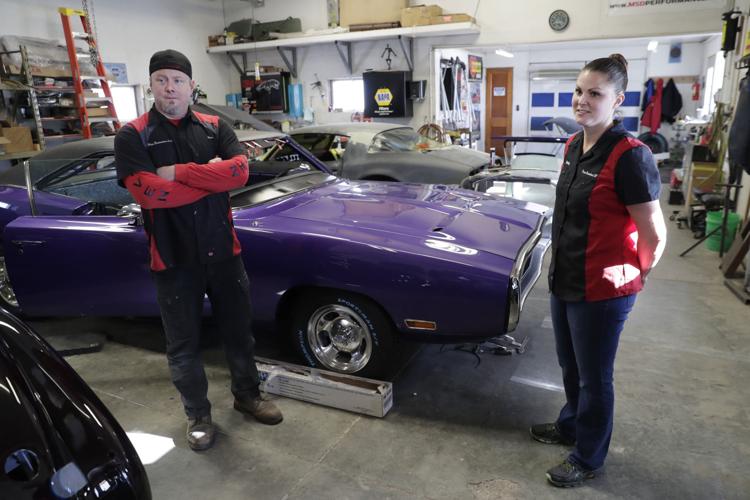 Molly, 33, grew up in Madison's Dudgeon-Monroe Neighborhood, took auto shop at West High School, read Chilton repair manuals and learned how to work on her 1981 Honda Civic and later a 1993 Honda Accord. She met Steve in 2002 at a party in Madison while she was in high school and graduated from UW-River Falls with a degree in animal science. She worked for a time in New Richmond for a company doing dairy nutrition before moving back to Madison, with Steve, whom she married in 2006, for a position with Landmark Services Cooperative in Cottage Grove.
The move pushed Steve to go out on his own. Five years later, in 2014, Molly, who had been doing the books and marketing for Driven Restoration on the side, quit her day job to devote full-time hours to the shop where she also specializes in metal repair, refinishing and interior work.
"She's really a quick study," Steve said. "I think I taught her how to weld in like five minutes. She's kind of jack-of-all-trades."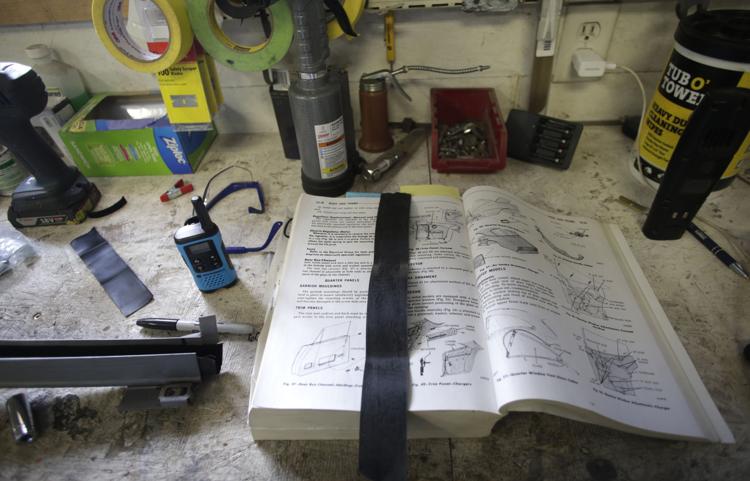 Molly has also worked on two nationwide all women's builds designed to promote the industry. In 2014 she helped rebuild a 1969 AMC AMX and in 2017 was a part of the Chevy Montage project with Bogi Lateiner of "All Girls Garage" in which a 1957 Chevy pickup was restored.
Most of the customers for Driven Restoration are in their 40s on up, have some disposable income and a desire to recreate a memory from the past.
One of the best examples of sentiment is a 1951 Ford Custom convertible owned by the same Poynette family since it was purchased new from Grinde Motor Co. in DeForest for $825 after the trade-in of a 1949 Mercury. The car was driven until 1963 when it was then stored in a farm shed and driven only one other time before it was restored by the Gurskys.
Other projects underway include a stripped-down 1949 Buick in need of $30,000 worth of chrome and $8,000 of interior fabric, while under a canvass tarp in a corner of the shop is a 1938 Lincoln Zephyr that when it came out of the factory had a V12 engine.
From 2005 to 2011 Steve Gursky was active in the demolition racing circuit where he destroyed cars he now wishes he could have back to restore. He now drives a 2016 Chevy pickup truck but in warmer months drives a restored 1970 Ford station wagon with posi-traction and a 500-horsepower engine.
"I have a thing for kind of oddball cars," Gursky said. "I see the Chevelles, the Mustangs and MOPAR stuff and I love the cars. When I envisioned this I really thought it would be muscle cars but I love the odd stuff."
Barry Adams covers regional news for the Wisconsin State Journal. Send him ideas for On Wisconsin at 608-252-6148 or by email at badams@madison.com.