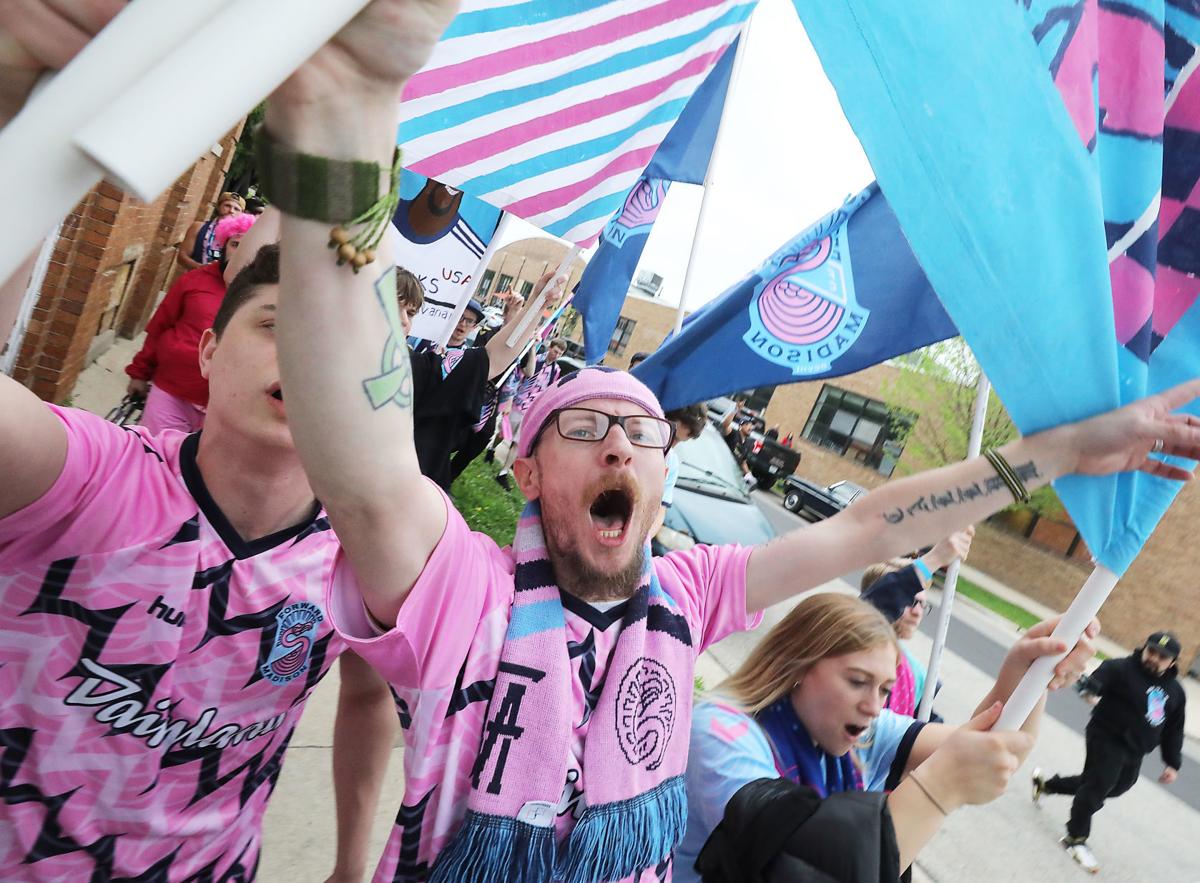 As the beat of drums rang out on East Main Street, patrons on the patio of Old Sugar Distillery put down their drinks Saturday to cheer on and record the parade of chanting people donning pink and blue apparel.
The destination of the marchers was not some rowdy gender-reveal party, but rather Breese Stevens Field to support Madison's newest sports team, Forward Madison FC.
The march to the stadium is one of several traditional soccer trappings that contribute to the overall experience of a Forward Madison game, where casual observers of the sport and ardent fans alike found enjoyment last weekend, despite the team losing its first home match.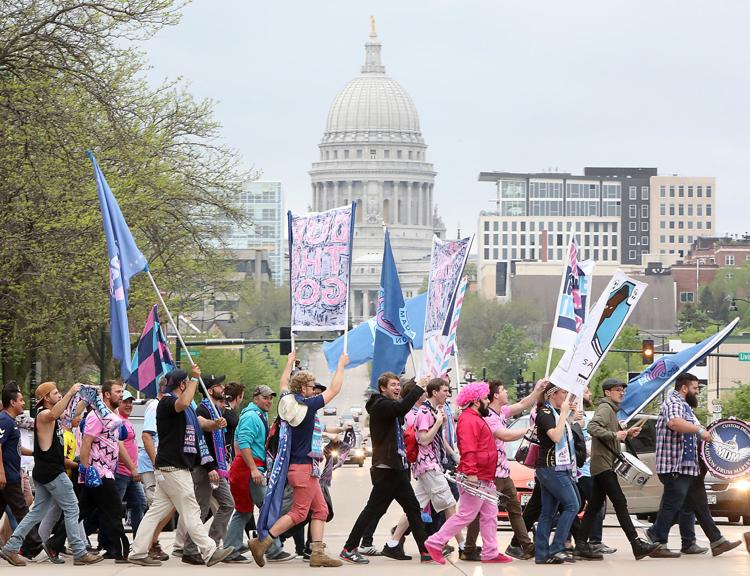 Erik Kenseth pays attention to the FIFA World Cup, but he doesn't wake up early on weekend mornings to watch English Premier League matches. Regardless, he purchased Forward Madison season tickets.
"I'm not a huge soccer fan, but it's about the local team support and, just in general, something new to do in Madison," said the 34-year-old Kenseth.
For last weekend's game, Kenseth wore a pink Forward Madison shirt, a blue Milwaukee Brewers baseball cap and pink tennis shoes, matching the colors of the club, which is nicknamed the Flamingos.
"It feels like a Madison experience," he said. "It feels like a nice, energetic, go there to have a good time, and something a little different than sitting on the Terrace or going to a Mallards game."
Game day atmosphere
Flamingo-themed decorations can be found throughout the stadium, including two massive inflatable flamingos that were pulled across the field by spectators as part of a halftime competition.
On the eastern end of the field, fans chanted team-specific cheers to the rhythm of bass and snare drums, waved flags, and spun traditional soccer scarves in the air for the duration of the match.
The contagious energy was coming from jam-packed bleachers where members of Forward Madison's fan groups spend much of the match.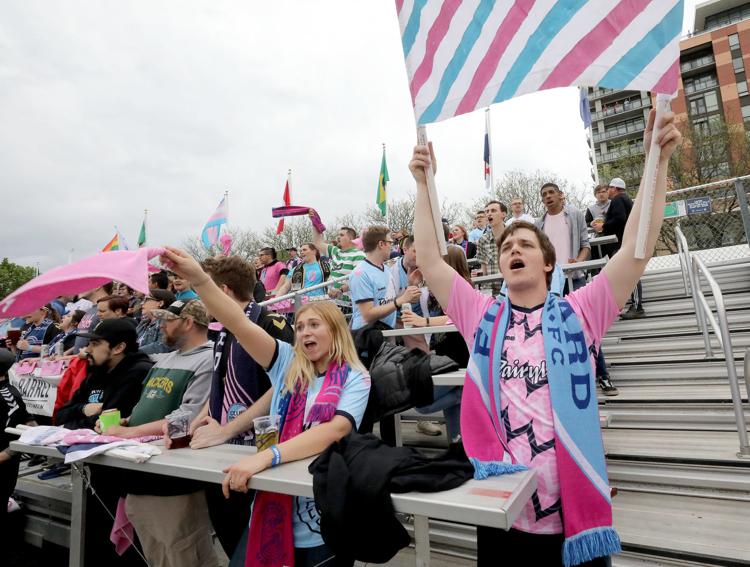 Even before Forward Madison competed in the inaugural season of USL League One — the third tier in the American professional soccer system — the club had gained a group of hardcore fans organized under an independent association, known as The Flock, which acts as an umbrella organization for smaller subsets of fans.
Konnor Arnaud-Leblanc helped found Forward Union, a supporters group within The Flock that celebrates the roots and traditions of soccer.
He said his passion for the team comes from the ground-up building of the club by its operator, Big Top Sports and Entertainment, which also operates the city-owned Breese Stevens Field and the Madison Mallards baseball team.
When deciding on what to be called, the club looked to fans to source potential names, receiving roughly 1,000 submissions, before settling on Forward Madison FC, which stands for football club.
"The fact that we have our own club, that we can call our own, that we can put our energy toward, we're going to take that seriously," said Arnaud-Leblanc, who plays the snare drum at matches. "Everything's been crowd-sourced. We felt like this is our team even before a ball had been kicked."
Other supporter groups within The Flock are tailored to women, Latinos and African Americans.
"The energy just builds on itself off of everyone else cheering and singing and screaming," Kelly Ferguson, a member of the group Mingo Ladies, said of the supporters section. "The amount of community and enthusiasm is singular."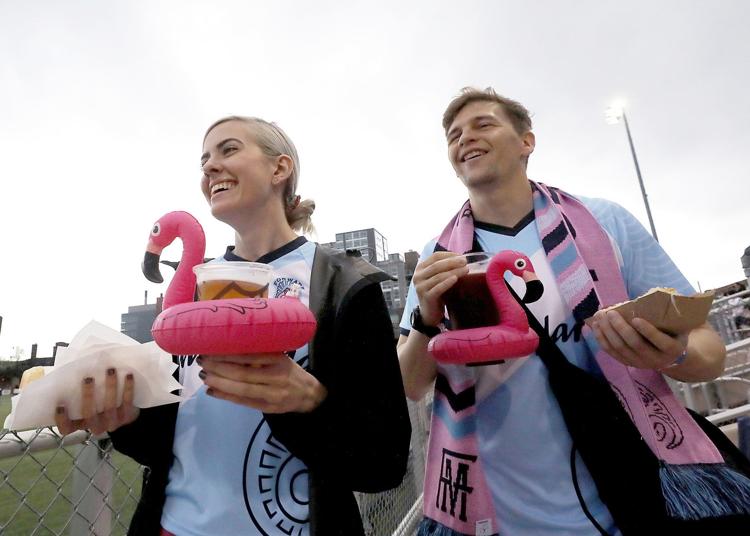 The team even went to fans to get advice on what to name its official dairy calf, a 3½-month-old Holstein that will be at home games. They settled on Lionela Bessi — a play on Argentine soccer superstar Lionel Messi.
"She's doing great. The noise doesn't bother her, she loves it," said Logan Havens, who with his wife, Sarah, owns Havens Petting Farm in Blue Mounds, where Lionela Bessi lives when not at Breese Stevens for home games.
As children came up to pet the calf in her pen — which was next to a giant inflatable dartboard game where participants kicked a special soccer ball at the Velcro-covered surface — Havens explained that he's hoping to get Lionela Bessi a personal trailer.
"She'll have her own little private tour bus," he said.
While traditional game-day foods, such as hot dogs and cheese curds, are available, chef-created dishes are served, including an "Ostrich Dog" topped with Caribbean chow-chow.
Varying views
New at Saturday's match was the Madison.com Rooftop section of the stadium where a ticket comes with free food and three beer and wine drink tabs, similar to the all-inclusive Duck Blind at the Mallards' stadium in Warner Park.
The rooftop is on top of the permanent concessions and restroom facility, which is nestled in front of the 1925 covered grandstand and was part of a stadium rehabilitation and renovation project. It features an open layout with tables and chairs, food offerings including a chili bar, burgers and desserts, and a private drink bar.
With an exhaust pipe from the concessions poking through the roof, though, the section can get a little smokey.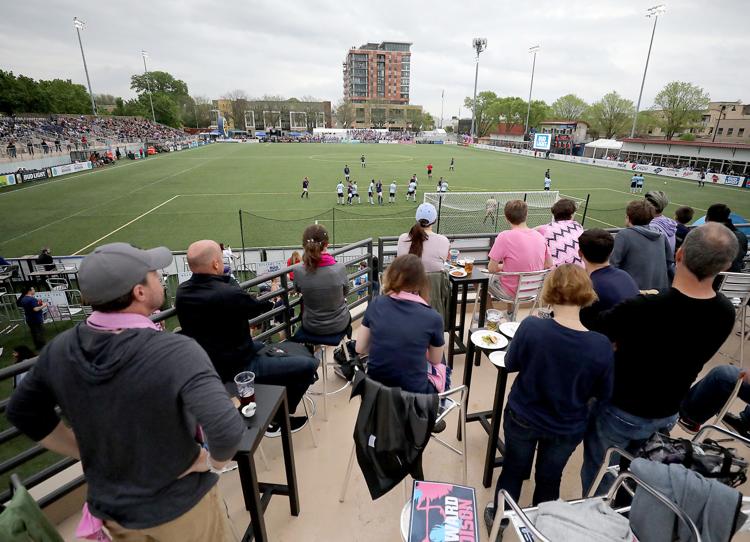 Jackson Gabriel and two friends all have birthdays within a couple weeks of each other, so a group of nine got together to celebrate.
"The bleachers look great, but you're kind of all just facing one direction. Here you can socialize, we can be on our feet, we can be sitting down. It's just a little more casual," said Gabriel, who recently turned 28. "We figured that it would be a really fun way to just celebrate all of our birthdays at once and soak in a new Madison experience."
For those looking to get up close, fans can get within feet of the pitch on both end lines of the field, offering a personal and dramatic view of scoring drives and corner kicks.
Dane County Clerk Scott McDonell and Lt. Gov. Mandela Barnes took in Saturday's action from the western end line. Despite owning season tickets in the grandstand, McDonell said he prefers, as a former UW-Madison goalie, to watch the match from behind the net.
The close proximity to the goal, though, requires fans to be attentive as a ball shot off target can find its way into the spectator areas.
Ethan Brower put up his hand in the first half to shield himself from a ball deflected left of the goal, calling it both surprising and exciting.
"You get immersed a little," he said.
Perhaps some of the most dramatic views of the action go to those who didn't even buy a ticket.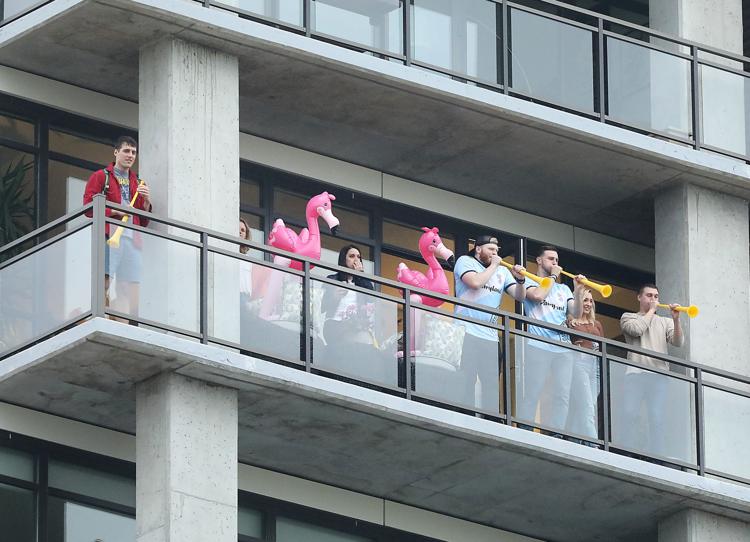 People in the Lyric building — one of the two high-rise buildings flanking the ends of the stadium — watched the match from an apartment balcony doubling as a pseudo skybox seat. They made their support and presence known with vuvuzelas, plastic horn instruments, with a monotone sound some find grating, that was made popular during the 2010 World Cup in South Africa.
Anapaula Strader attended her first Forward Madison match Saturday. By halftime, the atmosphere and action had the Brazilian native in love and considering buying a season ticket.
"I felt a little nostalgic, because it brought me home to how I grew up," the 51-year-old Strader said. "To me, this is everything, because I never even dreamed of having a soccer team in Madison, and now we do in the heart of town."
Be the first to know
Get local news delivered to your inbox!