As shoppers make their slow, counterclockwise shuffle around Capitol Square on farmers market Saturdays, a smaller group gathers on the vast green lawn.
But they're not here for the tomatoes, zucchini and cheese bread. They're here to "fly."
Although it might look like they've escaped from the circus, the group are practitioners of "acro-yoga," a fusion of acrobatics and yoga that traditionally involves one person serving as the "base" by lying flat on their back while another, known as the "flyer," is lifted into the air on the first person's feet and hands.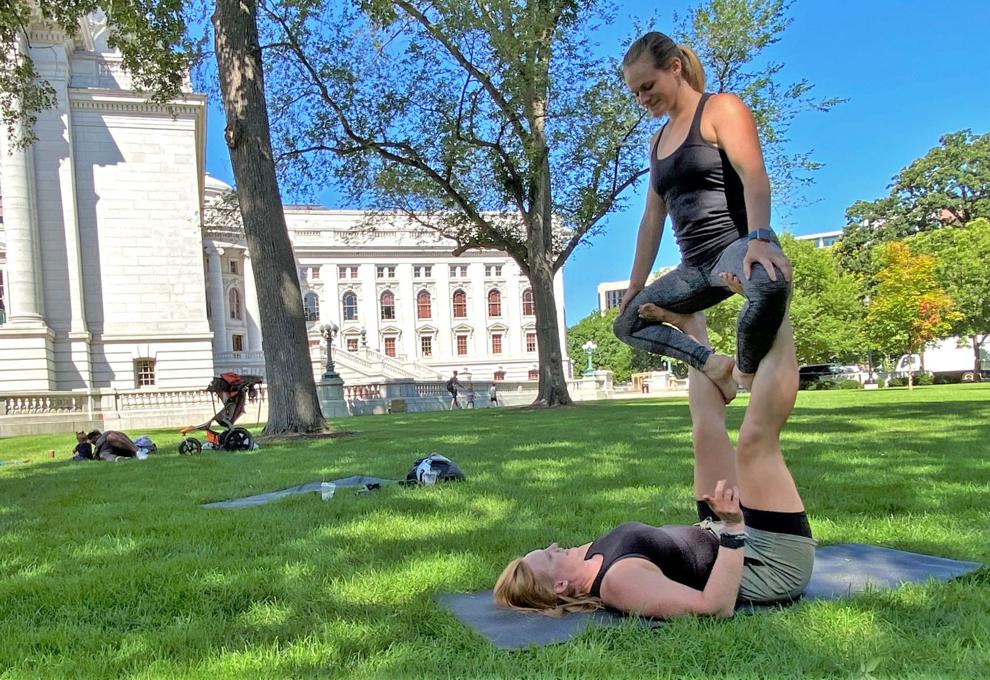 Often referred to as simply "acro," it resembles a more advanced version of adults lifting young children with their feet to imitate an airplane. Practitioners learn a series of lifts and maneuvers that take flyers through different poses as they balance on the other person's limbs.
The unconventional activity draws a lot of eyes from passersby, said Richard Barker, who is the creator of a popular Facebook page for people in the acro community. During the free-form, informal practices known as "jams," Barker encourages the curious to give it a shot.
"When you're in the parks and in Downtown Madison, you get a couple of people doing it," he said. "With a little bit of encouragement, more people are willing to give it a try."
The weekly jam during the Dane County Farmers' Market was how Kelsey Stanczak and Soren Ormseth came across the activity earlier this summer. Ormseth said they have enjoyed learning acro from others in the "laid-back and friendly" group.
"It's not hard, and it doesn't require a lot of strength," Stanczak said. "It just requires trust."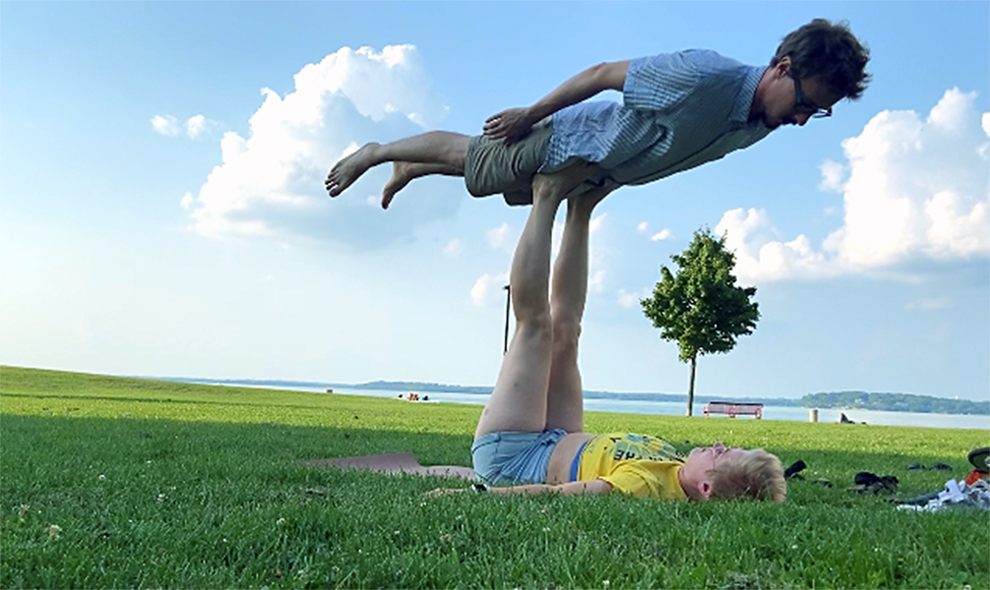 Ryan Ruenroeng, who discovered acro-yoga after he moved to Madison in 2014, likens it to dancing. Requiring a steady tempo and body awareness, he said acro movements ebb and flow into each other like an elaborate routine.
Peak moments
Barker said the pinnacle moment of practicing acro is the "flow state," where partners know the moves well enough to maneuver without speaking and use other cues to seamlessly go from one position into another.
"They can always just look in each other's eyes and know the combination that they're going to go through," he explained. "Trying to get into that flow state is difficult, but when you get there, it's awesome."
Though the COVID-19 pandemic interrupted many Madisonians' acro-yoga routines, Ruenroeng was one of the leaders who started reorganizing the tradition of Saturday farmers market jams on the Square and Thursday jams at James Madison Park.
Ruenroeng said people only need a few sessions to become proficient at basic moves that serve as the foundation for many others.
"There's a depth to acro," he said. "It's not like you come and learn 10 skills and you're just doing those 10 skills forever. It's like hundreds and hundreds of different things that you can do."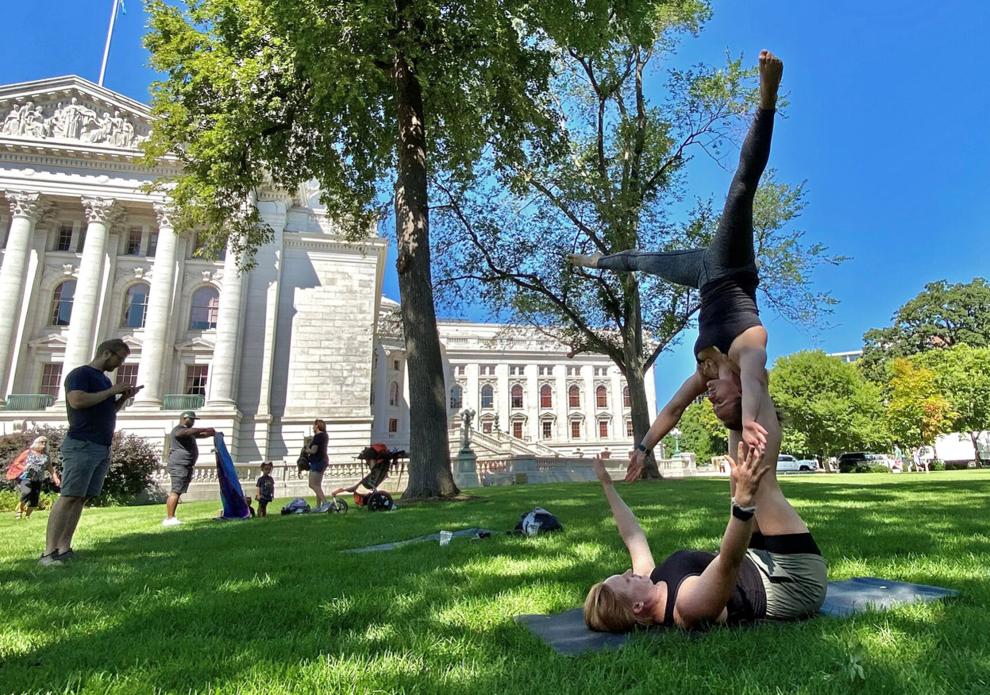 It's part of the reason Emily Graham, who has done acro for six years, sticks with the activity.
She remembers looking at experienced people practicing acro when she started, thinking she could never do some of the higher-level skills. But over the years, she said acro has shown her people can surprise themselves with what their bodies are capable of doing.
"It looked impossible to balance upside down on another person's feet," she said. "I think it took like two weeks and I was doing that and so much more."
No experience required
Ruenroeng said acro can look intimidating from afar, and many people mistakenly think they need yoga experience, a certain body type or flexibility to participate.
Graham said all you need to do acro-yoga is another person, and more experienced members are often willing to step up and "play" — an acro term for experimenting with different moves — with new members.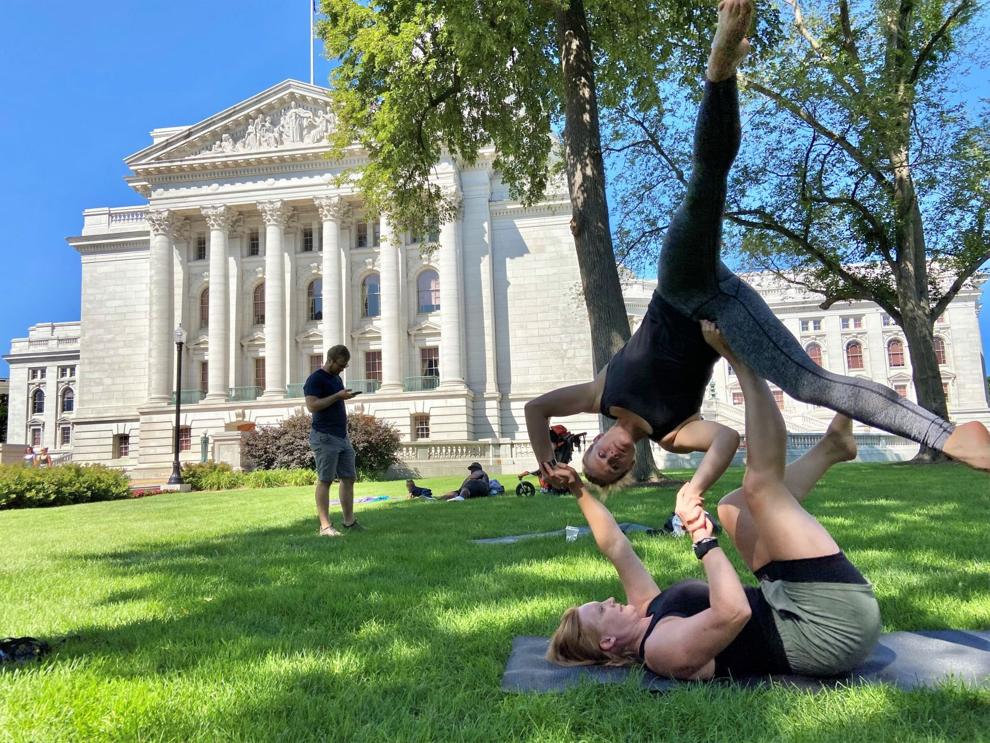 Whether people wander over at the farmers market or meet up with others at the Madison Circus Space, which in the winter hosts an open jam session on Saturday for a $5 entry fee, Ruenroeng said the easiest way to learn is to just try it.
Although, as the pandemic persists, he said the group asks that people come vaccinated so they can "play" with peace of mind.
"We try to build a culture of it being really open and inviting to people who are coming by, kind of on the periphery, and seem unsure," he said. "(Acro) is something that we want to be open for anyone."
[Editor's note: This story and a photo caption have been updated to correct the spelling of Soren Ormseth's last name.]
"It's not hard, and it doesn't require a lot of strength. It just requires trust."

Kelsey Stanczak, a participant in acro-yoga