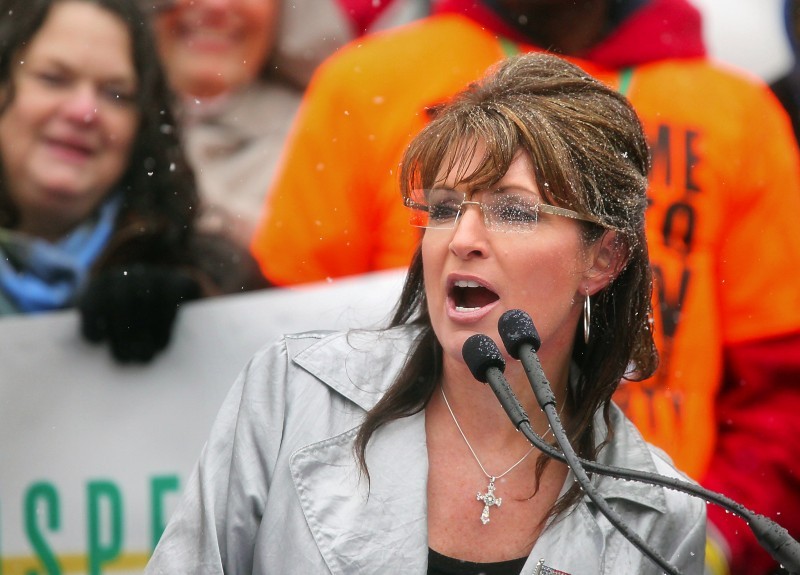 You've probably already read the coverage, seen the video and maybe even been unlucky enough to hear the spin on FOX and MSNBC. So now I'll give you all you really need to know from the throwdown Saturday between the tea party and Madison's Left:
The best protest sign: "Is this the line for Justin Bieber tickets?"
I went to the Capitol out of a vague notion that standing amid a screaming, class-baiting, made-for-cable-TV exercise in democracy might be somehow instructive — rather than just cold, wet and loud. Turned out it was mostly cold, wet and loud.
Near where the tea party crowd gave way to the larger anti-tea party crowd, a married couple and their 1-year-old daughter there to hear Sarah Palin had the misfortune of standing next to an anti-tea party protester with a very loud cowbell.
Her husband briefly grabbed the bell, the man pulled it away, words were exchanged, and, as if by magic, a photographer appeared to document the drama.
"I asked him to stop ringing the bell, and he said 'I can't hear you,' " Christina Sunwall, 32, told me later.
Soon after, I met 60-year-old Conlee Cox. Yelling at one another to be heard over the sound of bells, bullhorns and at least one vuvuzela, we had a brief exchange about Cox's contention that the tea party protesters were being paid — information gleaned, he said, from "the Internet."
"There's all kinds of information out there if you just look," he said.
The wisest person I encountered was a very cute, somewhat chubby character named Wyatt. He wasn't yelling or holding a sign. In fact, he wasn't conscious.
But then it was nap time, his father, Jeff Lefan, 32, told me, and Wyatt is only 2.
I also happened upon one of those rare individuals amid the scrum who was not making his views on Gov. Scott Walker, Palin, corporate America or unions crystal clear to anyone within shouting distance.
Roger Brady, 65, said he had mixed feelings about Walker's anti-union bill, which has sparked the last two months of all-out political warfare. Mainly, he complained that most of the people there probably don't even vote regularly.
And he was none too happy with the muddy mess they were making of the Capitol lawn.
There are "no rights to destroy property," he said.
Apparently, even Madison's middle-of-the-roaders are starting to get angry.
Somewhere around the time the lefties were booing and flipping off tea party speaker Andrew Breitbart, a conservative blogger, and Breitbart was, in turn, telling the lefties to "go to hell," I pulled out a religious tract someone handed me earlier.
I won't waste your time on its fire-and-brimstone message, but its photo gave me pause.
Taken from outer space, it showed the sun — massive and reddish-yellow — and the Earth — about the size of a pinhead. Above the Earth, identified by a large arrow, were the words: "You are here."
On a cold, wet day full of mud (and mud-slinging), a reminder of our place in the universe warmed the soul.
Be the first to know
Get local news delivered to your inbox!