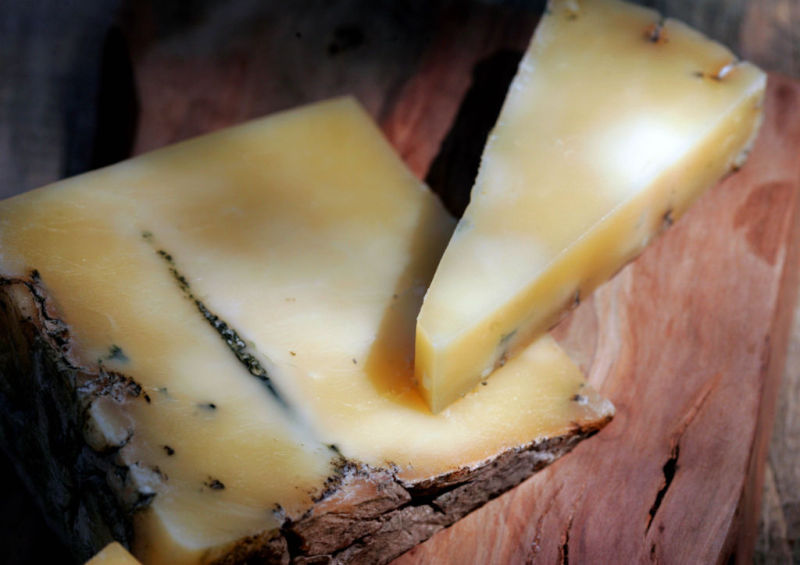 The future of many cheese operations in Wisconsin and elsewhere and the unique tastes of popular cheeses like aged cheddar and Parmesan are hanging in the balance after a recent decision by the U.S. Food and Drug Administration that alters how cheeses are aged, industry experts say.
Wooden boards, which have been an integral part of aging a wide variety of cheeses by producers around the world for more than a century, were called unsanitary by an FDA official after the agency cited several New York operations for using them.
What is sending shock waves through the industry is that the FDA cited the New York operations despite state laws that permit wooden boards. There also have been no recalls nationally of cheeses because of contamination from wooden boards.
"It's a potential game-changer for the face of artisan cheeses in the United States," said Chris Roelli, owner of the Roelli Cheese Haus in Shullsburg, which uses wooden boards to age 85 percent of its cheeses. "I obviously have a lot riding on this because my niche is on cellar-curing cheeses (on wooden boards), so I'm worried about it."
Wisconsin allows cheese operations to use wooden boards if they follow protocol approved by the state Department of Agriculture, Trade and Consumer Protection. DATCP officials were still seeking clarification from the FDA on its ruling before making any statements, according to spokesman Jim Dick. "Until then, there will be no change in Wisconsin's inspection policy," Dick said.
Unlike manufacturers of fruits, vegetables and meats, dairy producers have had few incidents of listeria outbreaks over the years, said Marianne Smukowski of the UW-Madison Center of Dairy Research. "And none have been traced back to aging cheese on wood boards," she added.
Smukowski said she believes the FDA made its finding partly in response to the enactment of the Food Safety Modernization Act that was signed into law by President Barack Obama in 2011. The law shifts the focus from responding to contamination crises to preventing them and that can create overreactions from the FDA, she said.
"It's a major overhaul of our food safety laws," she said. "But things will pop up that they need to take a second look at and this might one of them."
The FDA used two reports, published in 2010 and 2011 respectively, that said small amounts of the bacteria listeria monocytogenes could survive on wooden boards after they were cleaned and sanitized. But another report, written for the UW-Madison Center for Dairy Research that was published last year, disagreed with those findings and used one of the reports used in the FDA report for its conclusion.
You have free articles remaining.
Monica Metz, the branch chief for the FDA's Center for Food Safety and Applied Nutrition's Dairy and Egg Branch, wrote in her analysis to the New York Department of Agriculture & Markets' Division of Milk Control and Dairy Services that the reports showed that porous structure of wood made it susceptible to the colonization of bacteria on the surface and inside the wood.
But Metz's analysis, made public by the American Cheese Society, didn't include the entire findings of one of the reports. The UW-Madison Center for Dairy Research analysis, co-written by professor emeritus Bill Wendorff and French researcher Benedicte Coude, said that report concluded that while some wood can hide some bad bacteria, it can be eliminated as long as a thorough cleaning procedure is followed.
"There are some woods that are recommended in that report that are safe and sound," Smukowski said.
Cheese's unique taste comes from aging on boards with cultures that have been on wood for generations, said Myron Olson, the owner of the Chalet Cheese Cooperative in Monroe that is the only American producer of Limburger cheese.
The bacteria on the wood plays a big role in creating the smell and taste of the cheeses aged on it. "It overpowers everything," said Olson. "It's entrenched and it doesn't give itself up to other bacteria. It's very hardy."
Olson said there is no alternative to wooden boards to achieve the same taste.
"Without the boards, it will be the end of Limburger cheese made in the United States," he said.
A minimum of 20 million pounds of cheese rests on wooden boards in Wisconsin, according to John Umhoefer, the executive director of the Wisconsin Cheese Makers Association. "This is not a fad. This is the way that it's done," he said.
Umhoefer said cheese producers from around the world are concerned because the FDA ruling also will limit all cheese imported into the United States. He added that U.S. Rep. Ron Kind, D-La Crosse, already has contacted him to express his concern and support for the cheese producers. Roelli said that representatives from the office of U.S. Sen. Tammy Baldwin, D-Madison, contacted him.
"I'm hoping if it comes to the point where we need to fight this, that we won't have to work too hard to lobby it," Roelli said. "The political powers should get behind us because it's so important to the state's dairy industry, which is a very powerful industry in this state with the jobs and the economic impact it has. This is very serious stuff."