Madison-area Catholics chose their words carefully Sunday as they mourned the death of Bishop Robert Morlino, whose outspoken conservatism over 15 years as head of the Madison Diocese drew praise from fellow traditionalists and dismay from more liberal church members in an area of the country known for its left-leaning politics.
Morlino, 71, died Saturday night following what the diocese described as a "cardiac event" Wednesday during a routine procedure at St. Mary's Hospital in Madison. Diocese spokesman Brent King confirmed that Morlino never regained consciousness.
"His passing is very sad for me," said Jan Schmelzer, a 72-year-old member and usher at St. Bernard Parish on Madison's East Side, "but my emotions are just a bit mixed."
Morlino quickly became a polarizing force after his installation on Aug. 1, 2003, gaining a national reputation for vigorously opposing abortion and same-sex unions. Under his tenure, more young men studied to become priests, Latin masses made a comeback in some areas and priests were encouraged to use only boys and seminarians as altar servers.
In announcing his death, the diocese said Morlino's three priorities were to "increase the number and quality of the men ordained to the diocesan priesthood, to instill a greater sense of reverence throughout the entire diocese … and to challenge Catholic institutions in the diocese to live out their professed faith in Jesus Christ … through their ministry in the secular community."
John Wiesman, 57, a pianist and member of Saint John the Baptist Church in Waunakee, said he "totally respected what (Morlino) was trying to do."
"That rubbed a lot of people badly," Wiesman said. "Otherwise he was certainly kind of counter to the — I'll throw out that German term — the cultural zeitgeist."
Morlino's leadership was tested relatively early on in his tenure when on March 14, 2005, the 150-year-old St. Raphael Cathedral in downtown Madison was destroyed by fire. A mentally ill homeless man was later sentenced to 15 years in prison for setting the blaze.
In 2007, Morlino announced plans to build a $14 million cathedral on the site that would incorporate the St. Raphael steeple that had been installed just months before the fire.
Those plans were shelved in 2008, however, with Morlino citing a poor economy and a desire to convince more people that a new church was needed. In 2012 the diocese turned the site into a park featuring a walking path with the Stations of the Cross commemorating Christ's final hours. The diocese has yet to establish a timeline for construction of a new cathedral.
The diocese in other years made news when Morlino suggested Catholics be mindful of traditional Catholic teachings when at the ballot box, and sought to explain the reasons behind the broader church's sex abuse scandal.
The weekend before Election Day in 2006, he ordered all priests to play, without comment, a recorded message from him at Mass in which he voiced opposition to same-sex marriage, the death penalty and embryonic stem-cell research. Some parishioners walked out or stood with their backs to the altar when the message was played.
Most recently, in a letter sent to members of the diocese in August, Morlino claimed that a homosexual subculture within the Catholic Church's hierarchy is mostly to blame for the church's ongoing sexual abuse scandal that a grand jury in Pennsylvania recently found to include decades of sexual assaults against children by hundreds of priests.
Chris Mallon, 51, also a member and usher at St. Bernard, said Morlino "was kind of old school and going backwards in the direction of the church instead of forward."
As one example, he pointed to Morlino's push to remodel diocese churches, including costly changes to St. Bernard.
"A lot of people thought that that didn't really help the parish or the diocese," he said.
He and others declined to say whether they thought Morlino was a good fit for Madison.
"We're all individuals," Schmelzer said. "We all have our own thoughts. That's not to say that my thoughts are better than somebody else's or more correct than somebody else's. And anytime somebody's in a leadership position, they're always going to be in a position to be criticized."
Despite the negative attention he regularly drew in Madison, Morlino had plenty of supporters in a diocese with parishes located as far west as the Mississippi River and as far north as Neshkoro in Marquette County.
In his homily Sunday at St. Mary of Pine Bluff Catholic Church in Cross Plains, the Very Rev. Richard Heilman told parishioners that Morlino readily accepted — and met — the difficult challenge of leading a diocese in an area dominated by liberal politics.
"He was totally dedicated in helping us to encounter the Lord through sacred, reverent liturgy. This was the truth that was foremost in his mind," Heilman said.
Heilman said the only time Morlino grew frustrated was when he saw division or elitism among Catholics.
"He wanted us to be attractive to others," Heilman said. "He wasn't forming fringe parishes or a fringe diocese. That wasn't how we were going to get there. We had to mainstream this. We had to help others to know what this means for us."
Morlino upset many parishioners at St. Maria Goretti — which is located on Madison's Southwest Side and is one of the diocese's largest parishes — when he ordered Burke to retire for health-related reasons. Some thought he was using Burke's health problems as an excuse to remove a priest who didn't agree with him philosophically.
Burke said he didn't understand Morlino's rationale for removing him at the time but learned following several conversations with him later that Morlino was trying to help him get healthy again.
"He didn't want me pushing the envelope so hard that I just did myself in with work — when you get tired, you get no sleep and everything was coming unraveled," Burke said. "He said he was trying to protect me."
Stephen Schneck, former director of the Institute for Policy Research & Catholic Studies at The Catholic University of America, said Morlino had in recent years become "a prominent culture warrior bishop who favored a more militant stance against liberals both inside the church and in secular society," and "was associated with the American bishops who were the least enamored with Pope Francis."
He pointed to Morlino's public praise of Archbishop Carlo Maria Viganò, who this year publicly criticized Francis for allegedly allowing a sexually abusive priest who had risen through the church ranks, Theodore McCarrick, to remain in ministry.
The announcement of Morlino's death followed a series of increasingly urgent messages over the weekend on Facebook and elsewhere for prayers after Morlino suffered an apparent heart attack.
King, the diocese spokesman, said late Friday that "the decision was made not to trouble people for Thanksgiving Day, but at this time it is appropriate to notify the faithful and all people of good will, and to request your prayers."
By early Saturday evening, the diocese was seeking "urgent prayers" for Morlino, adding "our hope lays in a miracle" for the bishop's recovery.
"Whereas yesterday morning held a number of good reasons for hope for the recovery of the bishop, today has been filled with a number of disappointments in that regard," the diocese's vicar general, Monsignor James Bartylla, said in a post on Facebook Saturday.
"Unfortunately, matters have continued to turn for the worst and it is likely that our hope lays in a miracle at this point," Bartylla said, adding, "I would ask that in addition to prayers for a miracle, you would also pray that if and when the time comes, the Bishop would be given the grace of a happy death and look soon upon the face of our God."
An all-night prayer vigil of adoration had been called for Saturday night into Sunday morning at Holy Name Heights, the diocese's headquarters. After the announcement of Morlino's death, the vigil continued, "now for the repose of his soul," the diocese said.
Tom Evans, 83, attends St. Dennis Catholic Church on Madison's East Side but was raised in St. Bernard and was attending Mass there Sunday morning.
"You either loved him or hated him," Evans said of Morlino. "I think you need to let everybody come into church" and Morlino "was pretty exclusive."
"I'm so sad to see him die so young," she said.
State Journal reporter Chris Hubbuch contributed to this report.
Morlino at St. Maria Goretti
BISHOP ROBERT MORLINO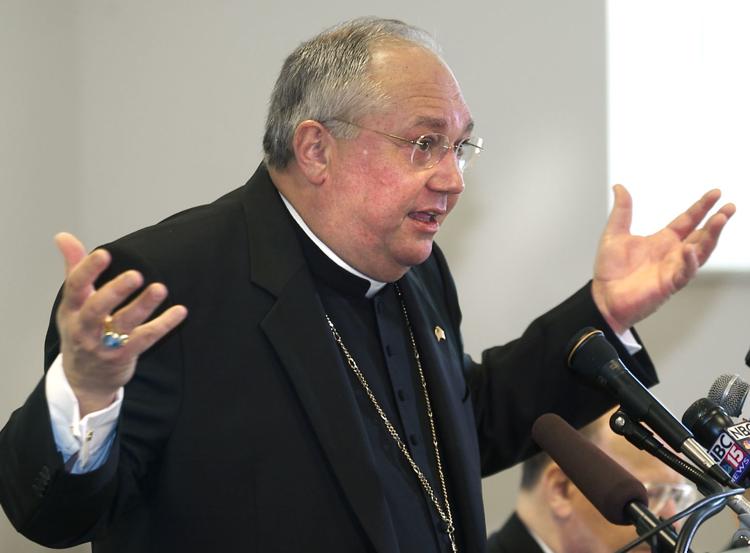 Morlino and Bullock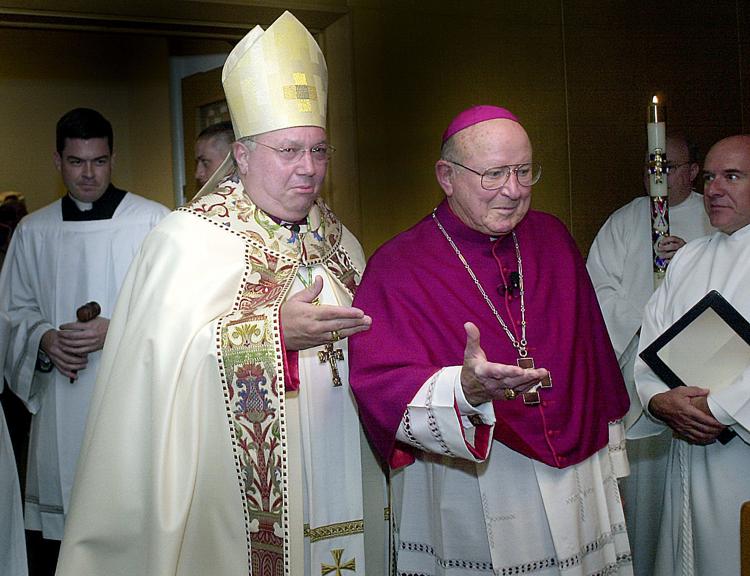 Morlino installation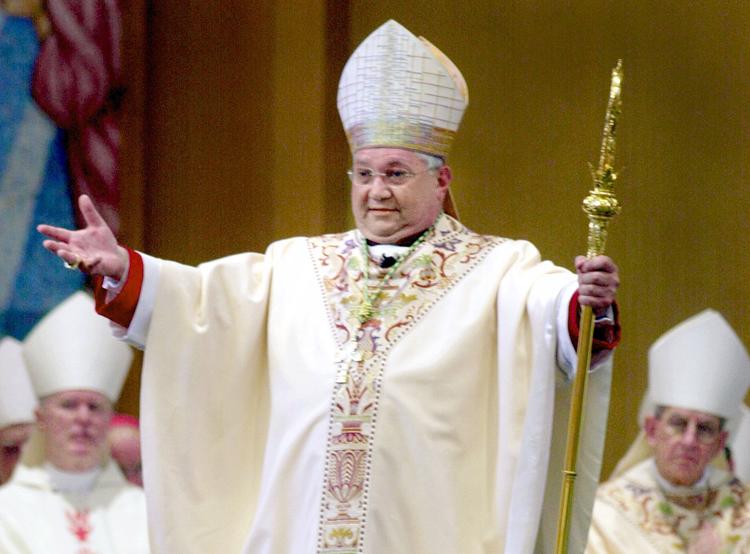 PEACE ACTIVISTS
Cathedral fire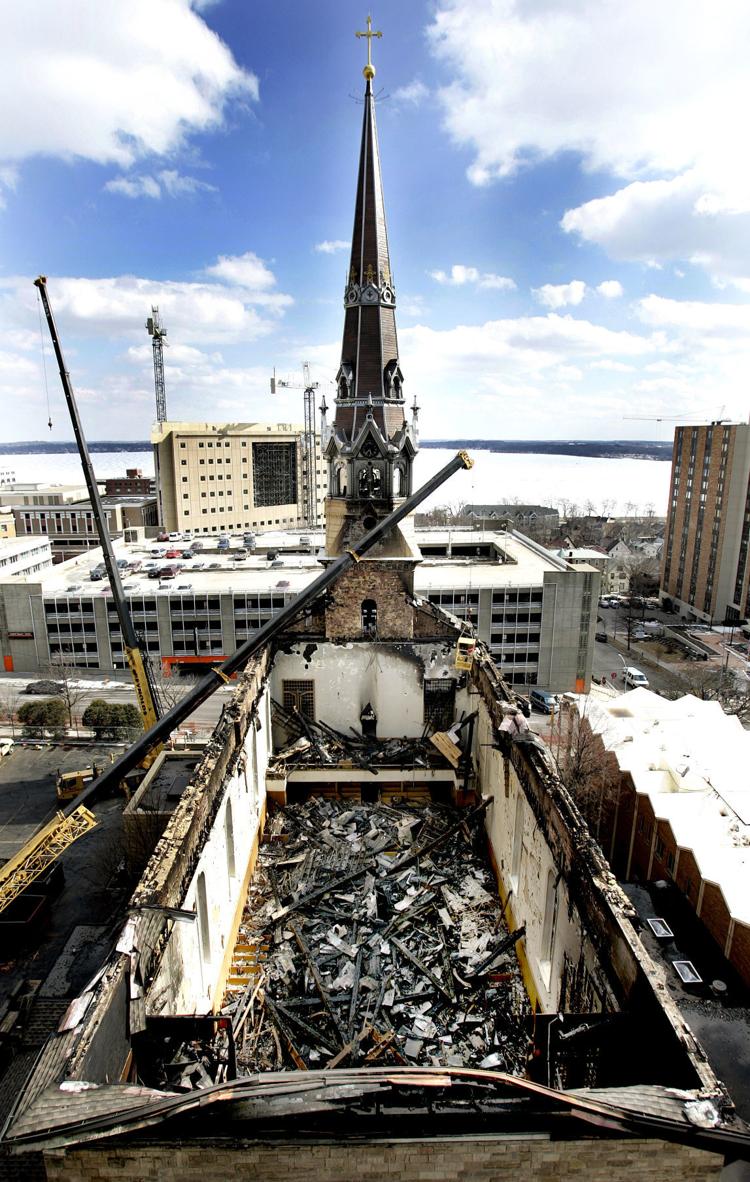 Morlino with firefighters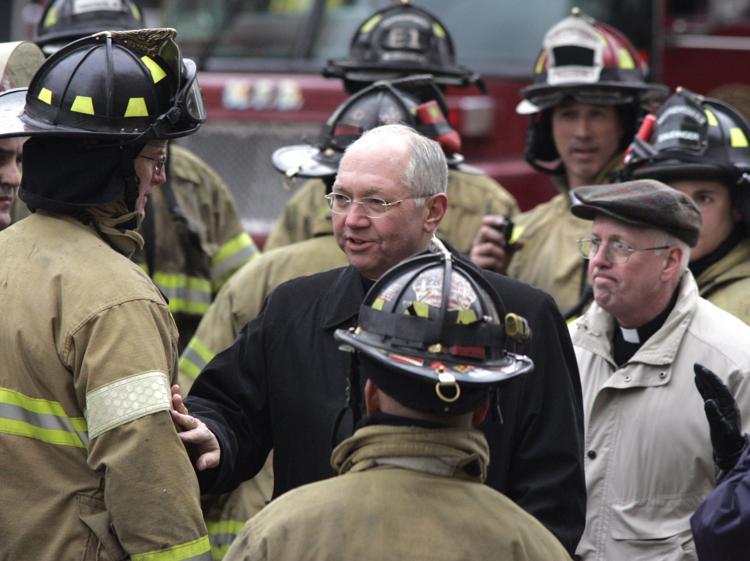 Cathedral fire anniversary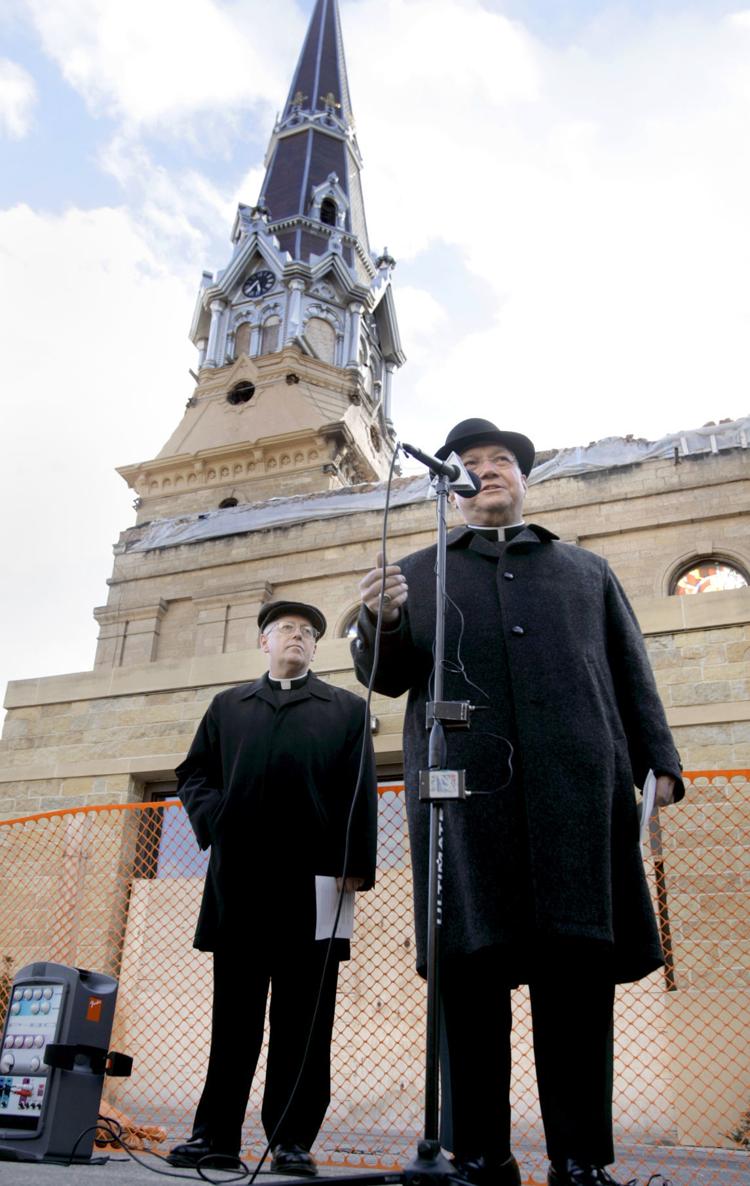 Morlino at immigration rally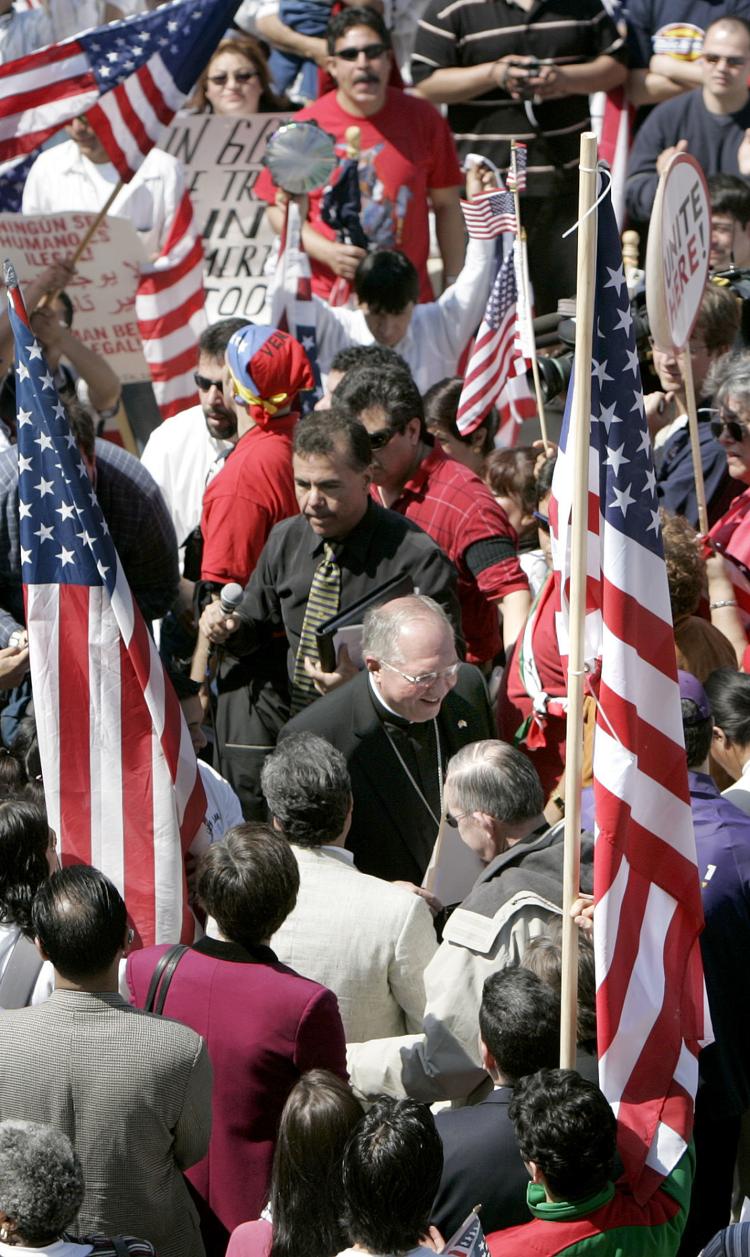 Morlino religious freedom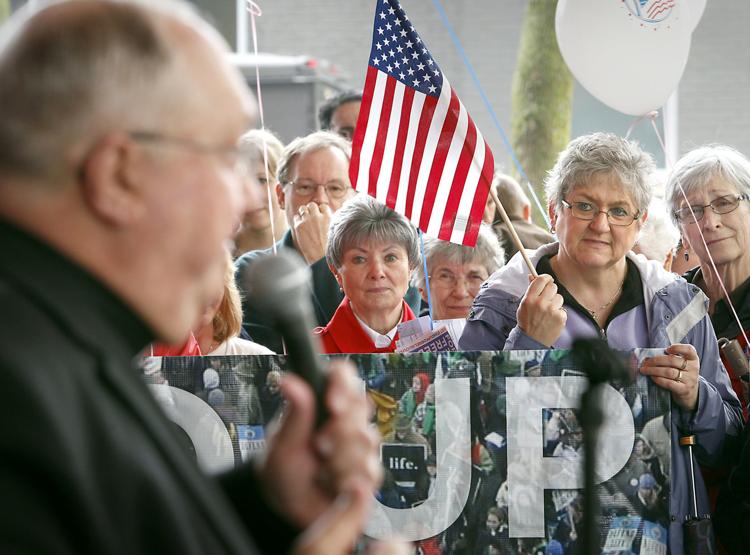 Morlino school Mass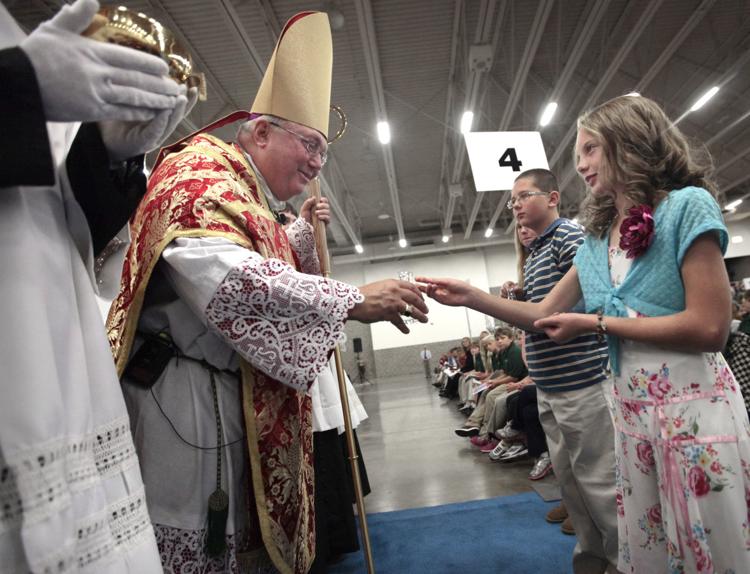 Morlino at farmers' market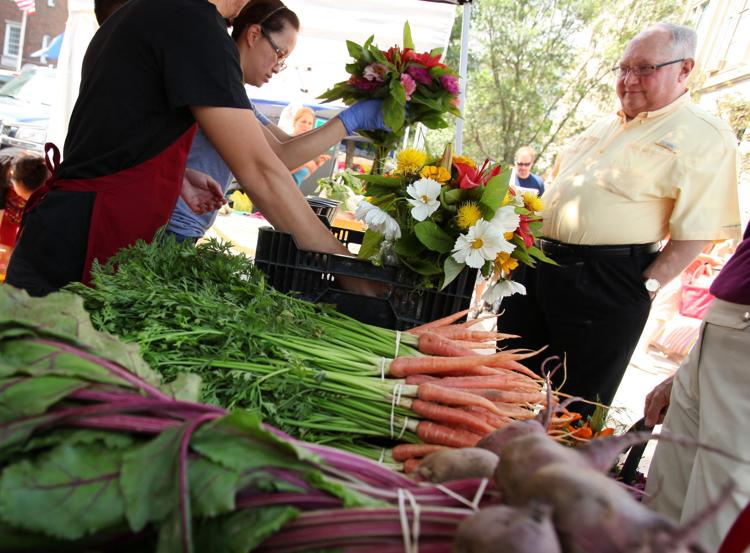 Bishop Robert Morlino points out family photographs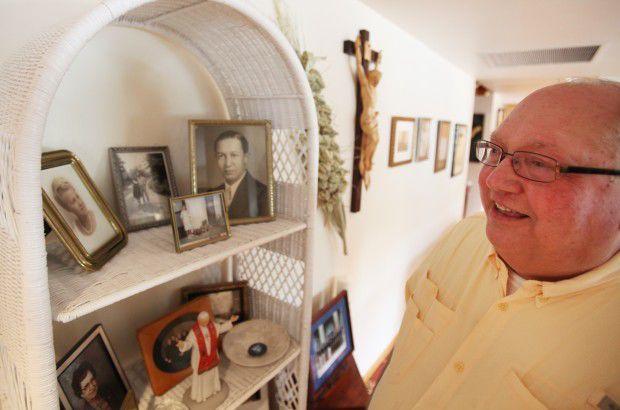 Bishop Robert Morlino and Pope Francis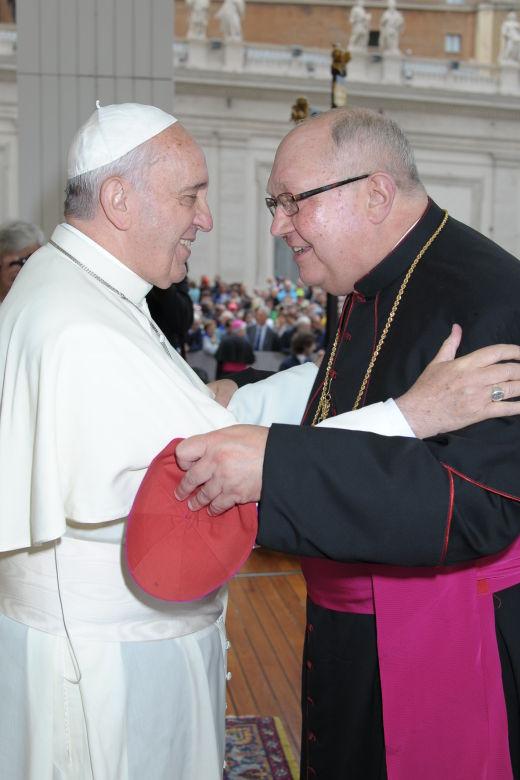 Morlino portrait 2013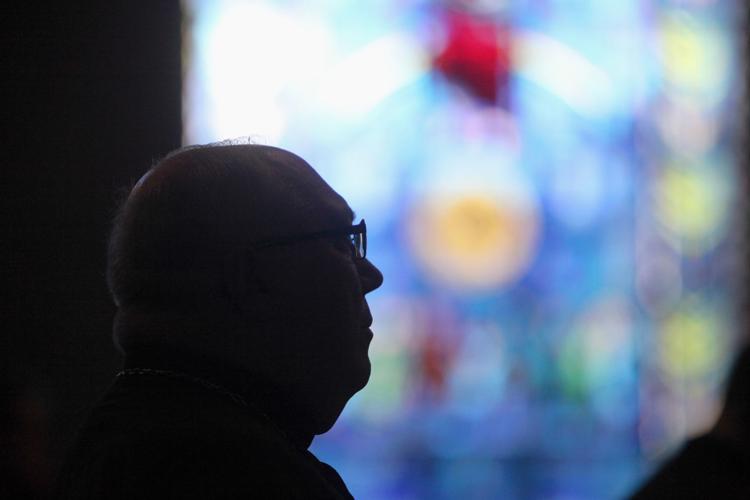 Morlino ordination Mass 2015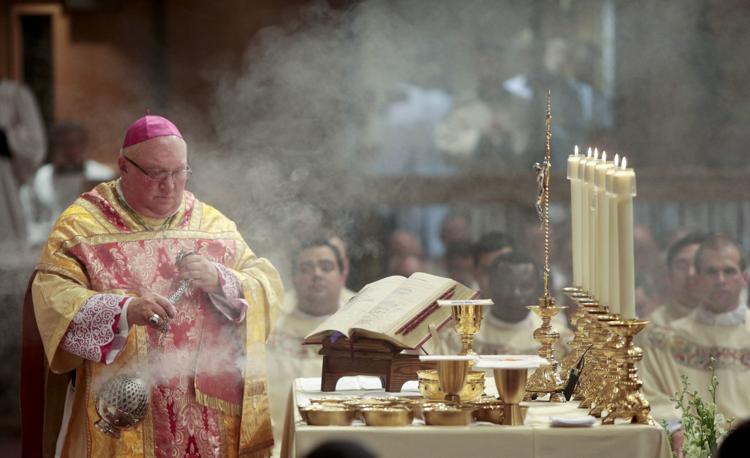 Morlino ordination Mass 2015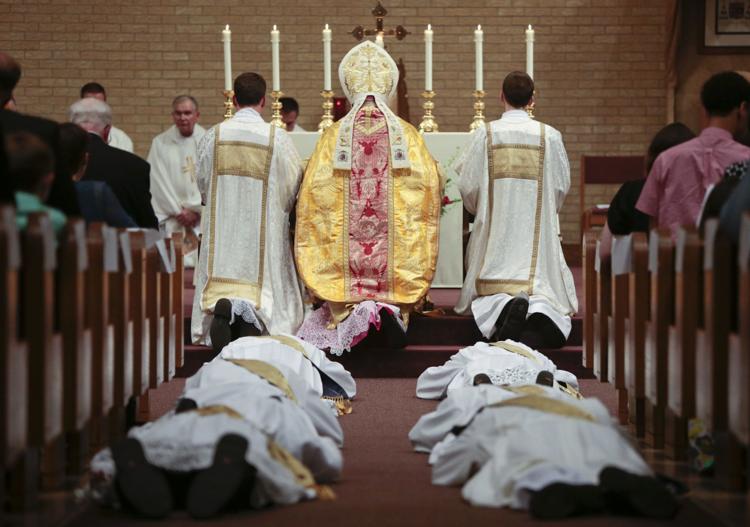 Through the halls