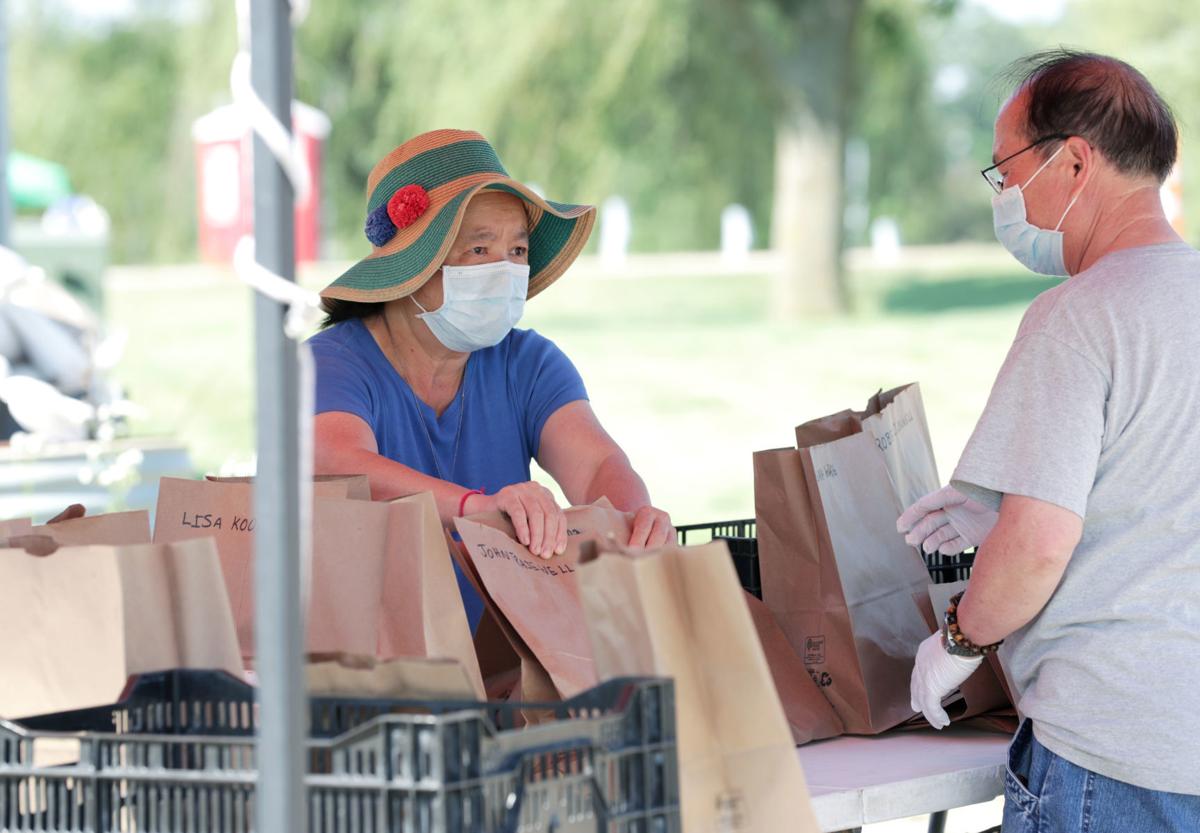 The Dane County Farmers' Market won't be coming back to Capitol Square for the remainder of its 2020 outdoor season. But buyers will soon be able to shop in a more natural, walk-up way at the alternative market at the Alliant Energy Center.
"I think that people are disappointed, but many people anticipated that it was probably an announcement that would be coming soon," she said.
Elliott said the walk-up model will happen on Saturdays but at a separate time from the Saturday drive-thru market at the Alliant Energy Center's Willow Island; there won't be a walk-up option on Wednesdays.
She said other details of the walk-up component will be revealed in coming announcements.
"There'll be a lot of (details), the same as the way that our local food pickups have a lot of instructions," she said. "That's part of doing business in the COVID environment."
Elliott said while many customers are happy supporting the largely drive-thru food pickups, it's nothing like shopping at a regular farmers' market.
The "Local Food Pick Ups" at Alliant, which started in April, will continue to offer drive-thru service on Saturdays and Wednesdays, and run through the remainder of the market's outdoor season, Nov. 7.
The last half-hour is reserved for bicyclist and pedestrian orders, so buyers have been able to walk up, but their orders need to be placed in advance.
Customers will still be able to order from many farmers and pay in advance through one transaction using the WhatsGood app or website.
Elliott said by adding walk-up shopping, customers will be able to look at the available products and make purchasing decisions on the spot.
"While we do see impulse shopping on the WhatsGood platform, we also know that a lot of people really like to come to the market with a loose plan or maybe a couple items that they know are on their shopping list, but then their interest is just piqued by other things that they see," Elliott said. "So we want to be able to provide kind of that element of spontaneity."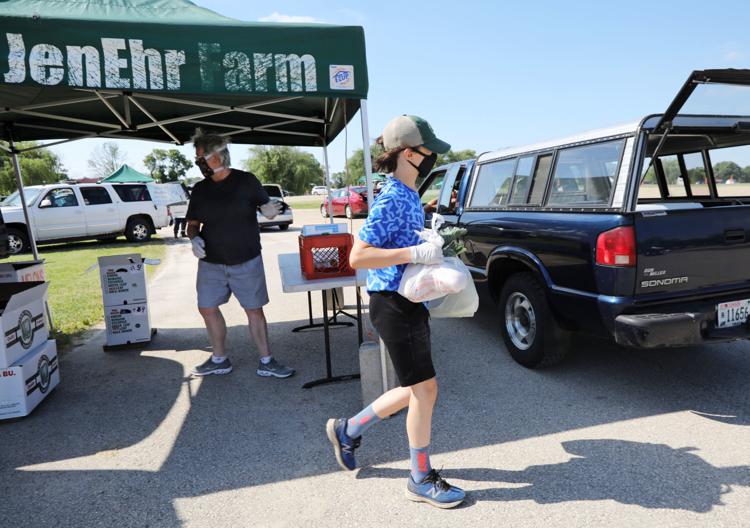 The Saturday Farmers' Market around the Capitol Square has been a Madison tradition since 1972. Each Saturday from mid-April through mid-November, 12,000 to 20,000 people buy from more than 150 local farmers and small food producers.
The market attracts locals and tourists alike. While some use the farmers' market for their weekly groceries, others view it as a social gathering place, something prohibited in large numbers under the county's Forward Dane reopening plan.
"The Dane County Farmers' Market is one of Madison's jewels and attracts the attention of visitors from across the region and country," Deb Archer, president and CEO of Destination Madison, also known as the Greater Madison Convention and Visitors Bureau, said in a statement.
"COVID has certainly changed how the market operates this year, but the safety of the market purveyors and patrons is foremost at this time," she said. "We hope vendors will see significant support under the innovative format that has been designed and the potential new ways the market may evolve over the next weeks."
Most smaller markets in the area remain open, including the Eastside Farmers' Market at McPike Park; the South Madison Farmers' Market with three locations, including two on South Park Street; the Hilldale Farmers' Market; the Monroe Street Farmers' Market at Edgewood High School; the Westside Community Market on University Row; the Fitchburg Farmers' Market on East Cheryl Parkway; and the Monona Farmers' Market on Broadway.
The Capitol View Farmers Market, in the Grandview Commons neighborhood on Madison's Far East Side, isn't opening in 2020.
Elliott said in discussions with Public Health Madison and Dane County, Capitol Police and others, it was clear that there was no way to safely and responsibly host the Saturday market on the Capitol Square this season.
"In general, our farmers kind of share the sentiment of the general public that they are also disappointed that our permit has been revoked, but they understand why," she said. "I think that many of them are looking forward to adding a walk-up element."
Elliott said reopening the Wednesday market on Martin Luther King Jr. Boulevard may become an option once construction is finished there and office workers begin working Downtown again.
The market at Alliant has about 30 vendors participating at each pickup, with more than 70 vendors signed up. The number of customers at each pickup ranges from about 300 to 650.
Parking for the walk-up market will be available in one of the Alliant lots and Elliott said there may be space for additional vendors.
Besides visiting the market, Elliott said customers can also purchase directly from many vendors and small food businesses through models including home delivery and community-supported agriculture (CSA) boxes.