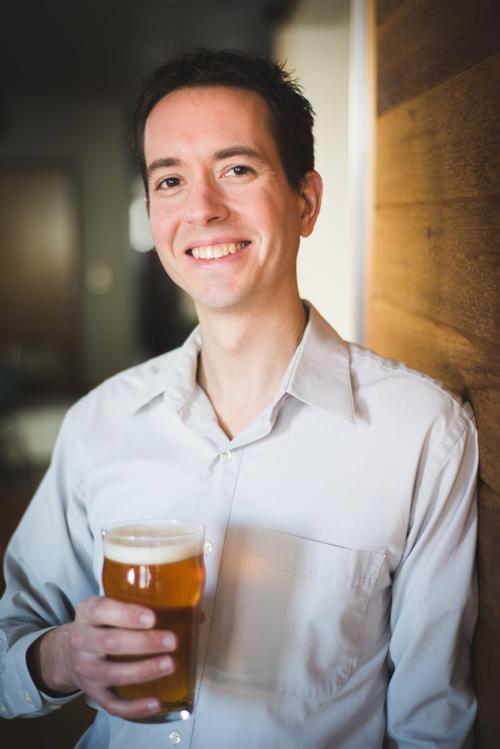 Lane's Bakery has moved south to the Villager Mall but yeast and grains may be returning to the bakery's former site in the shape of the Rockhound Brewing Co.
Nate Warnke, a Madison native and homebrewer for the last 10 years, has proposed a 4,000-square-foot brewpub at 444 S. Park St. that will serve food and brew 15 to 20 barrels of beer a week.
If the plan meets the approval of the city's Alcohol License Review Committee on June 17 and the City Council on July 7, Warnke believes he could open by December or January and become the latest addition to the state's growing craft beer industry that shows few signs of slowing.
"I focused on this part of the city from day one," Warnke said. "I want to make it an asset to the neighborhood. It's not the kind of bar that has been on Park Street in the past."
Wisconsin ranks ninth nationally in craft beer production and in 2014 produced 850,874 barrels of craft beer. Nationally, craft brewers produced 21.7 million barrels in 2014, a 17.6 percent increase over 2013. That represents an 11 percent share of the overall beer market, according the Colorado-based Brewers Association.
Brewpubs, as a sector, also continue to grow in popularity. In 2014, 159 brewpubs opened nationally to bring the total to 1,412, a 10.3 percent increase over 2013. And with 615 new breweries opened across the United States in 2014, there are now 3,418, a level approaching the peak of 4,131 breweries in 1873.
"This is not a fad. This is slow, steady, stable growth," said Julia Herz, craft program director at the Brewers Association.
Warnke, 38, is trying to do his part.
The East High School and UW-Madison graduate has an MBA from UW-Whitewater and spent 12 years at American Family Insurance, the last five in sales and marketing.
You have free articles remaining.
He and his wife of eight years, Tracy Harris, live just six blocks from the proposed site that has been under construction since last year. The $5 million project by JD McCormick Development includes 40 apartments and underground parking.
The site is also near three other new apartment buildings that cater to young professionals, is along one of the city's most well-traveled corridors, near two major hospitals and brings another dining choice to a neighborhood flush with ethnic cuisine.
"It is, generally, the type of project I would like to see activating Park Street," said Ald. Sara Eskrich, who represents the Greenbush Neighborhood. "It's trying to grow, and we're hoping that things like this will really continue to create vibrancy with the big employers in the neighborhood."
Lane's, founded in 1954, had been at its South Park and Drake street location for 25 years before moving in 2014 to 2304 South Park St. The brewpub, if approved, would return locally made fare to the site and join other brewing projects recently opened, proposed or under construction in the region.
They include Octopi Brewing Co. and Lone Girl Brewing Co., both in Waunakee; the Parched Eagle in the town of Westport and a plan by owners of Vintage Brewing Co. in Madison to open a brewpub along the Wisconsin River in Sauk City. Madison-based Mob Craft announced in April plans for a 14,000-square-foot brewery in Milwaukee but also said it was looking for a space in Downtown Madison for a tasting room with a one-barrel brewing system.
Warnke won't disclose the cost of his project, only to say it is less than $1 million. He has investors and bank financing to fund the brewpub that will seat up to 100 people, include outdoor seating and use a brewing system capable of producing four or five barrels at a time. His business plan calls for selling up to 2,000 pints of beer a week out of 16 taps, most of it his own but also from other craft brewers.
Rockhound-produced beers will include 10 to 12 types of lagers and ales that got their start out of Warnke's homebrewing efforts. His hobby began by watching his brother, Keith, homebrew, followed by kits purchased from the Wine & Hop Shop on Monroe Street. One of Warnke's signature beers at Rockhound will be a Balanced Rock Rye IPA, he said.
Food will include cheese curds, house-made chips, salads, Rueben sandwiches, hamburgers, walleye sandwiches and venison and chicken pot pies.
"I'm nervous, but I'm also extremely thankful to a lot of people and pretty excited," Warnke said. "The excitement outweighs the nervousness, and I'm not going to let fear get in the way."
The Associated Press contributed to this report
'I'm nervous, but also extremely thankful to a lot of people and pretty excited. The excitement outweighs the nervousness, and I'm not going to let fear get in the way.' NATE WARNKE