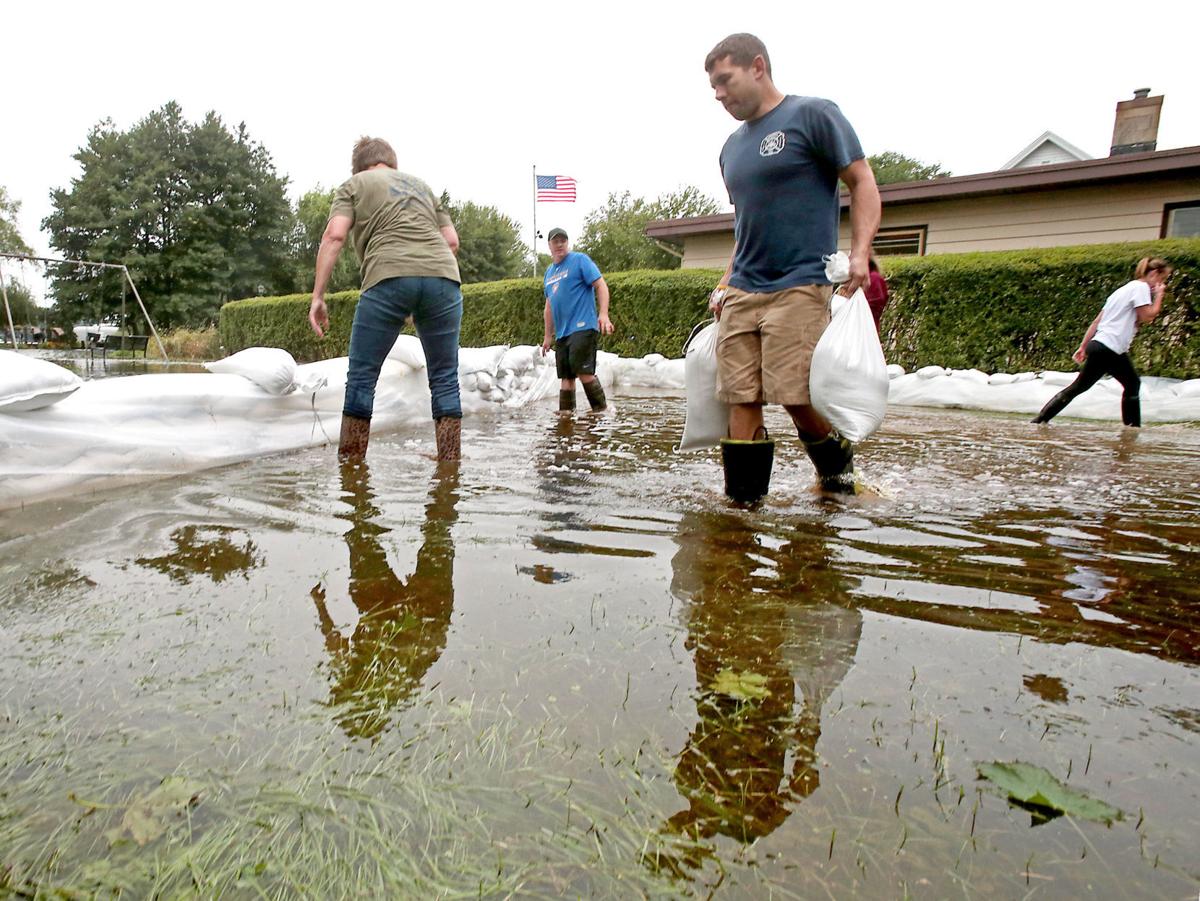 Now that Monday's chaotic flash floods are yielding to slower and surer lake and river flooding, residents in Madison and Monona are evaluating their options, from sandbagging to evacuation.
"This is the time to prepare," Madison Mayor Paul Soglin said of the flooding, which has already caused over $100 million in damage countywide.
Madison on Friday issued maps detailing which streets and parcels of land on the Isthmus are most vulnerable to flooding this weekend. The city also distributed bright orange flyers to some 1,700 residents on the city's Isthmus that their properties are at risk.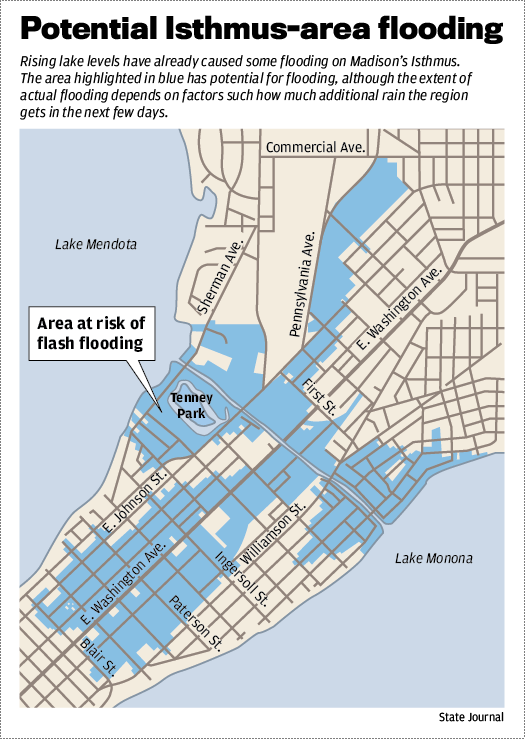 Similar maps were put out by the city of Monona covering vulnerable areas around Lake Monona, where dozens of neighbors were helping fill sandbags against the rising waters. Mayor Mary O'Connor said the city is concentrating on the Belle Isle neighborhood, which was hard-hit in previous floods.
Lake Monona is already at historic levels, at 847.92 feet above sea level Friday, surpassing the historic high water mark of 847.86, set in June 2008. With the flood gates upstream in Lake Mendota opened all the way, Monona was expected to rise half a foot more by Sunday, Monona city officials said.
While the heavy flow is a result of the historic rainfall that hit western Dane County on Monday — in some places between 11 and nearly 15 inches — the biggest concern now is additional rain this weekend.
The Madison area dodged a bullet Friday when some of the predicted rain failed to materialize. Only 0.03 inch of rain had fallen at the Madison airport by 4 p.m.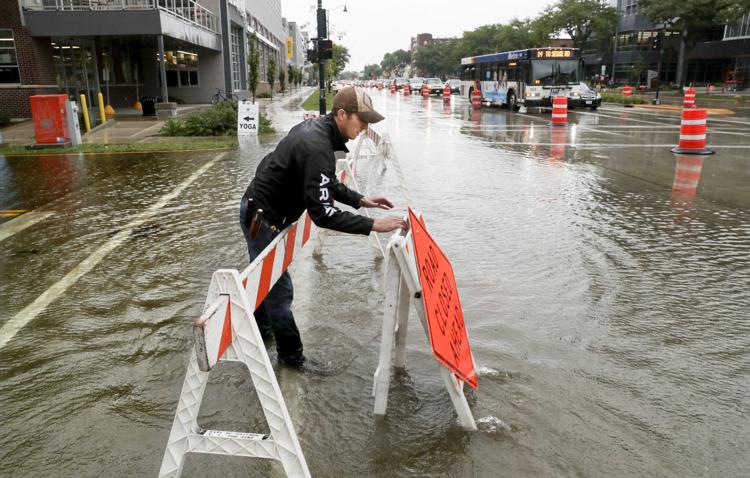 "Luckily we kind of under-achieved with this morning's round," said John Gagan, a meteorologist with the National Weather Service in Milwaukee. "We'll take any relief we can get."
The National Weather Service was still predicting storms overnight, which could produce ¼ to ½ of an inch of rain. The next expected round of storms will come Sunday through Tuesday and could produce between 1 and 3 inches of rain.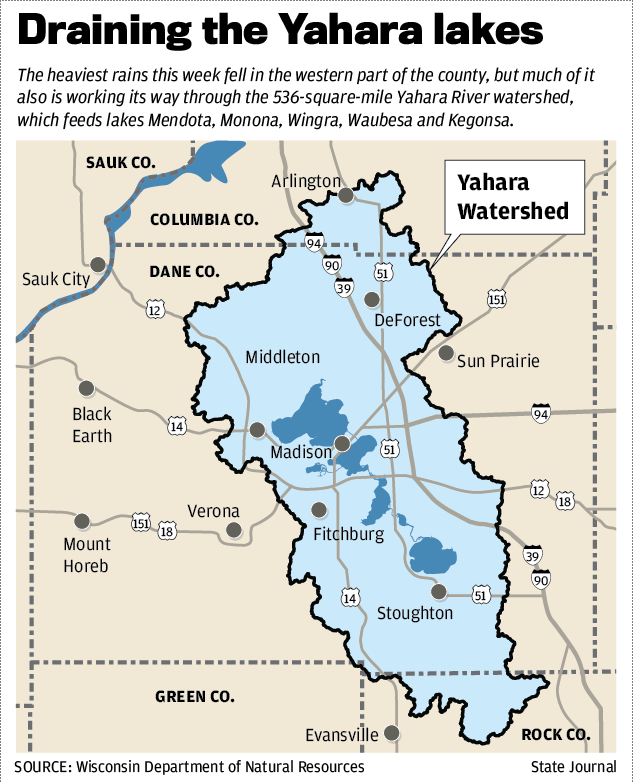 "There will be multiple rounds of rain somewhere nearby if not overhead," Gagan said.
1,068 damage claims
Earlier Friday, County Executive Joe Parisi said initial damage assessments from Monday's storm, which hit areas of western Dane County including Mazomanie, Black Earth and Cross Plains especially hard, have topped $108 million. About two-thirds of that damage was to private homes and businesses, while the rest was to public property.
So far, 1,068 damage reports have been made to 211, the phone number used by the United Way of Dane County to gather damage reports from citizens and business, Parisi said. An earlier tally of the reports totaled $69 million, while damage to public infrastructure has been estimated at $38 million.
County officials are urging homeowners to report damage using the 211 system "as soon as possible."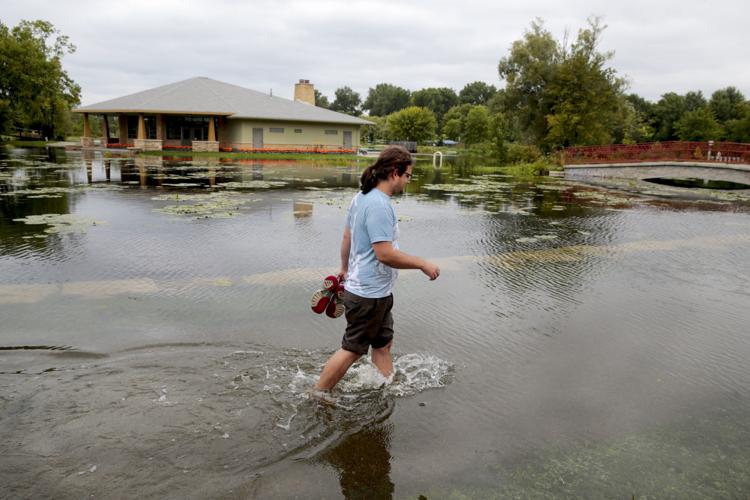 As the county rushes to draw down Lake Mendota in preparation for additional rain next week, areas along the Yahara River and the downstream lakes, notably Monona, are experiencing a second round of flooding.
Several streets on Madison's East Side are expected to be closed for an extended period — from one to two weeks or more — as rising lake levels cause water to back up through the city's storm sewers. Additional streets are expected to flood in coming days.
Soglin urged motorists to use alternative transportation or to avoid the Isthmus by taking routes around the lakes such as Stoughton Road and Monona Drive. He said those with jobs on the Isthmus who can work from home should try to do so early next week.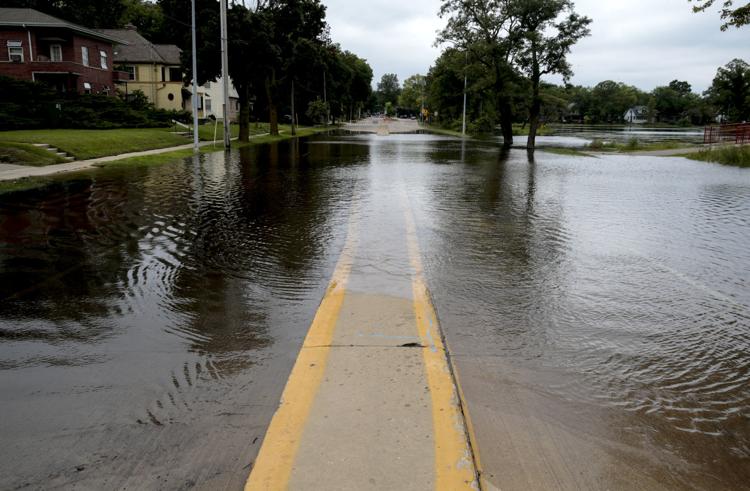 The Dane County Sheriff's Office is requesting boaters to avoid Dane County lakes over the weekend "due to increasing lake levels and substantial amounts of floating debris." A strict slow-no wake restriction is in effect.
'Way worse' than 2008
For now, residents are waiting — and filling sandbags.

"This is way worse" than 2008, said Sue Manning, whose lakefront home on Nishishin Trail on Lake Monona survived that flood and was staying dry behind an earthen berm and a wall of sandbags holding back nearly 18 inches of water.
Residents and teams of volunteers in her Belle Isle neighborhood were filling more bags as quickly as city trucks could deliver sand.
More than 100 homes are at risk of flooding, said Monona Public Works Director Dan Stephany.
Ryan Behnke of Oregon saw a memo from his employer, 1901 Inc., that help was needed, so he texted his brother Taylor Behnke, who took the day off work in Janesville.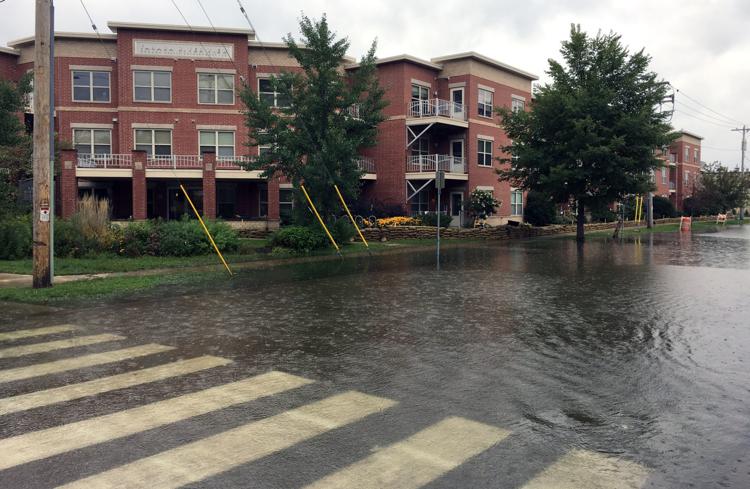 "I figure we've got a truck, why not?" Taylor said as they unloaded sandbags.
Leslie Reinke, 20, and her friend Marra Andreas drove an hour and 20 minutes from Elkhorn to help. Reinke said she planned to stay "till the sand is gone."
Stephany said the city of 7,533 residents had consumed about 40 truckloads of sand through Thursday and was awaiting more to support bagging efforts through the weekend.
Wary of more rain in the forecast, officials put out calls for volunteers Friday afternoon to fill and distribute sandbags. In Madison, where roughly 40,000 sandbags have been filled already, a dozen Dane County Jail inmates helped fill bags, as did about 15 National Guard troops.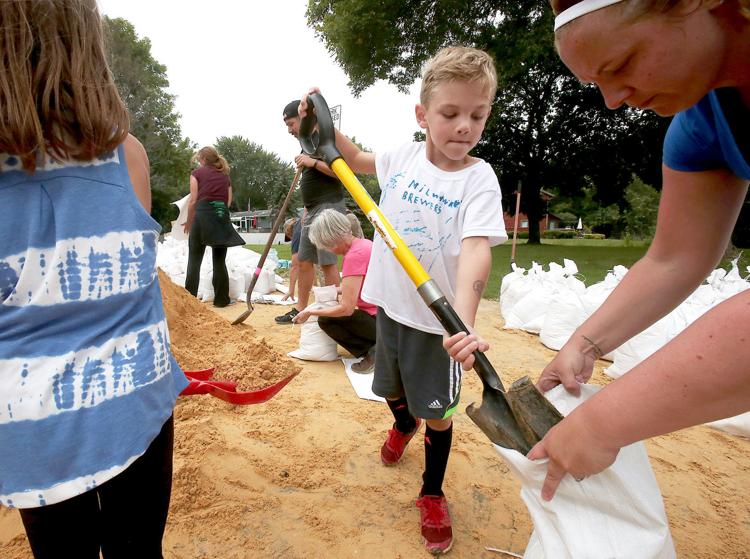 In Monona, volunteers assembled at Oneida Park, Interlake Drive, Winnequah Road and Healy Lane and at the end of River Place to fill bags.
The work, along with a combination of public and private projects including berms and storm sewers completed since 2008, is succeeding so far, Stephany said.
"We need people to stay positive," he said. "It's working. If it wasn't working we'd already have water in the road."