The Boys & Girls Club of Dane County announced Thursday the organization is distributing more than $1 million worth of sports gear to local youth courtesy of Under Armour.
Football, baseball and track cleats and gloves from Under Armour were donated to the youth organization after the NFL Combine, where the gear was initially headed, was canceled, said Michael Johnson, president and CEO of the local Boys & Girls Club.
The organization gave away 740 pairs of cleats and gloves Thursday out of a total of almost 5,000 pairs of cleats and 3,000 pairs of gloves, Johnson said. Leaders from area sports clubs and groups, such as Madison's Southside Raiders, picked up some of the equipment, and gear was also distributed at a "Mini Skills & Drills Clinic" for youth Thursday at Breese Stevens Field hosted by the organization's Sports Academy.
Johnson said 80 children ages 6 to 18 participated in the clinic, which was split into two sessions. The clinic was led by Zach Otting, Boys & Girls Club of Dane County director of sports, recreation and fitness, and Tiffany Loomis, vice president of operations.
"It was just beautiful to see all the kids out there," Johnson said. "We've been stuck in this pandemic and just to see kids running around and laughing and being excited, it was a wonderful feeling."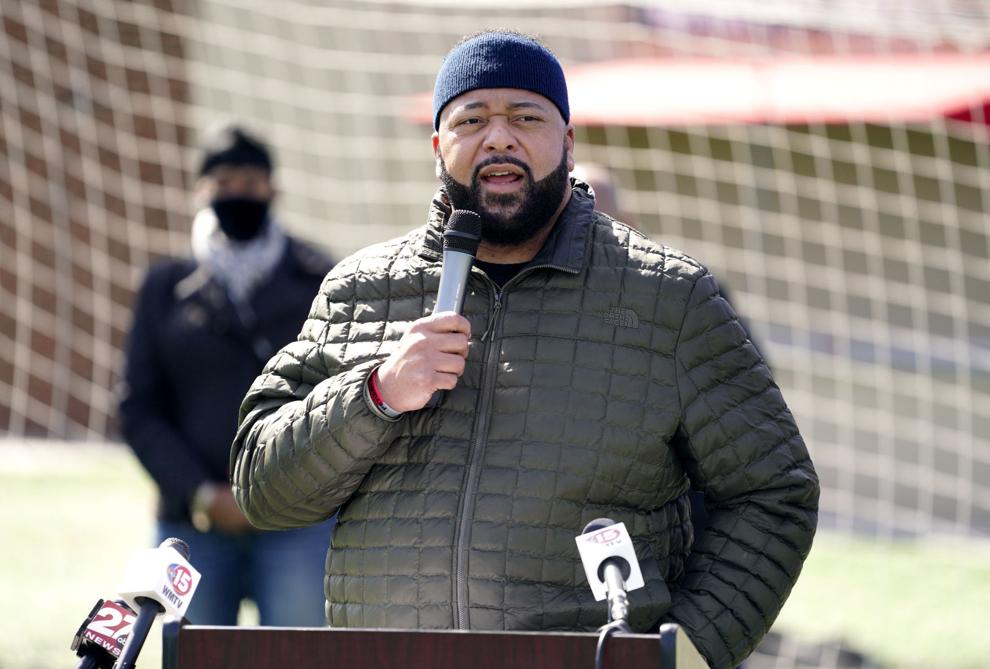 Johnson said the organization will continue to distribute the gear, with plans to give items to more Boys & Girls Clubs throughout the state. He expects to have all the donated gear given away by the end of summer.
The organization's sports and recreation programs are meant to educate and motivate youth to stay physically active every day, he said.
"Our out-of-school programs uniquely support youth to mitigate opportunity gaps and help provide them with the resources and experiences needed to reach their full potential," Johnson said.
---
Get to know the Wisconsin Badgers' 2021 men's basketball recruits
Get to know the Wisconsin Badgers' 2021 men's basketball recruits
Chucky Hepburn
Hepburn was named the Gatorade Player of the Year in Nebraska last season after helping Bellevue West go 21-3 and win the Class A state title. A two-time first-team all-state pick, Hepburn averaged 17.7 points, 6.1 assists, 4.6 rebounds and 3.1 steals as a junior. Off the court, Hepburn earned the HomeSchool Papillion TeenService Award and was a Special Olympics Volunteer Award winner.
UW coach Greg Gard: "Chucky is a proven winner. Our staff watched as he led his Bellevue West team to a state championship last winter. A true point guard, Chucky brings everything we look for at that position. He leads by example, always giving maximum effort on both ends of the floor. He has tremendous vision and feel for the game, combined with the ability to score from all three levels. As much as he is able to carry his team on offense, what makes Chucky a great fit here at Wisconsin is that his defense and toughness is where he hangs his hat. A leader and role model in the community and a motivated student, Chucky is the kind of person we are excited to add to our Badger Family. We're excited to get to work with him and to help him reach his potential as a Badger in the years to come."
Chris Hodges
Hodges, who played in the same Illinois Wolves AAU program that produced former UW standout Frank Kaminsky, was named Mid-Suburban League West Player of the Year after helping Schaumburg go 25-7 and winning the MSL title while advancing to the regional finals. He averaged 15.5 points, 8.0 rebounds and 2.0 blocks per game to earn second-team Class 4A all-state honors in Illinois.
Gard: "Chris is an excellent addition to our program and member of another strong recruiting class. He impressed our staff immediately during our advanced camp and has continued to improve since. Chris has tremendous potential with his large frame and natural strength, paired with an eagerness to get better. He will immediately bring both physicality and tenacity to our program. Chris fits in well with the work ethic and culture that our program has established. He comes from a great family that has clearly taught him to value hard work and education first. We are excited to welcome both Chris and his family to the Badger Family."
Matthew Mors
Mors is the reigning back-to-back Gatorade Player of the Year in South Dakota and has been named all-state four times during a career that began when he played on the varsity in the seventh grade. He averaged 19.4 points, 8.2 rebounds, 2.9 assists and 2.1 steals per game as a junior and enters his final season as South Dakota's Class AA all-time leading scorer with 2,127 points.
Gard: "We are very excited to add Matthew to our program. He has challenged himself as a student-athlete year in and out to become as well rounded a competitor as possible, both on and off the court. As a state champion in basketball and a successful multi-sport athlete in Yankton, Matthew has gained valuable lessons that will help him become the best leader and player possible. On the court, he plays with a certain level of toughness and physicality that fits our style of play, specifically in the Big Ten. He has a versatile skill set that will allow him to be effective in the post, off the dribble and is a terrific shooter from outside. Matthew's skillset, combined with a championship mentally, has us excited to begin working with him. We're excited for Matthew to join our Badger Family and we can't wait to begin working with him to help him reach his goals as a Badger."