For Jim Turk, going blind was an isolating experience. When his vision began to deteriorate about 20 years ago and then when his eyes were eventually amputated, he lost confidence going out on his own. Navigating a newly dark world was daunting.
It wasn't until he began learning Brazilian Jiu Jitsu — a martial art focused on grappling and ground fighting rather than kicks and punches — that he began to feel confident once again, and he almost immediately decided that he wanted to teach other blind or visually impaired people self-defense. He founded Fight Back Self-Defense in 2015, and in the time since then, he's taught well beyond the limits of Madison or even Wisconsin to help others learn to defend themselves.
"I get feedback from students who get such a confidence boost," Turk, 41, said.
That mission to help others earned him an award this year from the Wisconsin Council of the Blind and Visually Impaired. The Excellence Awards are given to individuals or organizations that have been dedicated to those who are blind or visually impaired for at least three years.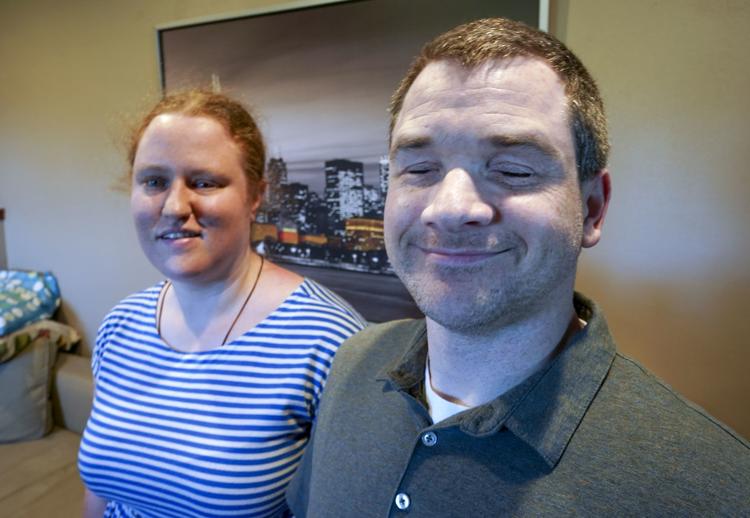 One of Turk's Madison students Katherine Corbett, 30, who is blind, said learning from Turk didn't just make her feel safer, it also made her feel more empowered.
"I wanted the confidence and poise that comes with knowing self-defense," Corbett said about why she began taking lessons with Turk.
Different lessons
Turk's lessons are different from typical classes out of necessity. Most instructors for sighted students, Turk said, teach "stun and run" techniques, such as a jab to the eye or kick to the groin to temporarily incapacitate an attacker so the student would have enough time to flee.
That method doesn't quite work for blind or visually impaired people — running away poses its own risks when a person can't see obstacles such as curbs or traffic.
Instead, blind and visually impaired people must fight more closely and try to disable their opponent long enough for help to come. That could involve pinning an attacker, flipping them over or even breaking limbs, Turk said.
"One of the first tenets of self-defense is attempt to disengage," Turk said. "We always start as non-aggressive as possible and escalate as necessary."
But the techniques taught for self-defense aren't the only difference between Turk's lessons for blind students and a typical instructor's classes. Typical self-defense classes are very visual, with an instructor at the front of a room demonstrating moves meant to be copied by sight. Without sight, a student needs a detailed description of moves, hands-on instruction from a teacher or both.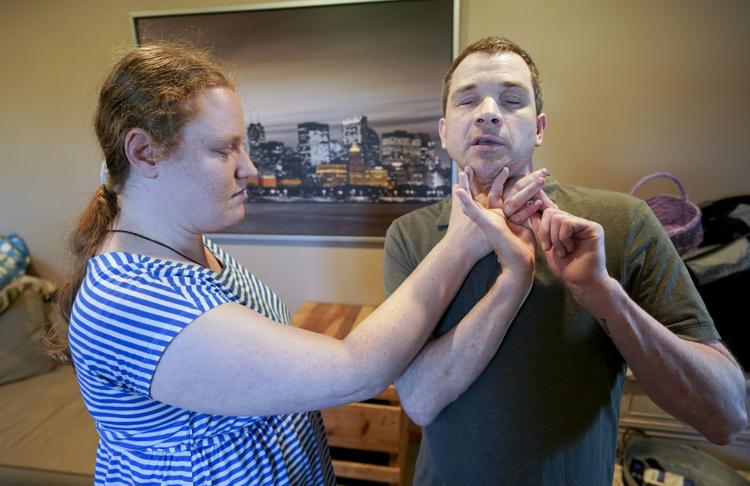 Turk teaches both one-on-one lessons as well as workshops with multiple students, but even those workshops include time for Turk to walk around to each student to check that they're doing the moves correctly.
Restoring dignity
Not all of Turk's self-defense moves are to stop an attack. Sometimes, the moves are to make clear that a blind person doesn't need help.
Both Turk and Corbett have had strangers grab their wrists or elbows unannounced to "help" them cross the street or get to a destination. That isn't just unnecessary, they said, it's also unsettling.
"A sighted person would never go up to another sighted person and grab their wrist and walk them down the street, but that happens to us all the time," Turk said.
Corbett said that just a few weeks before she began taking lessons, a man walked up to her and wrapped his arms around her shoulders and then guided her across the street before he walked away. She didn't need to cross the street.
Corbett said she felt very insecure in situations like that and didn't know how to stand up for herself. Turk's lessons gave her that confidence.
"In many ways, it restored my dignity as a person," Corbett said.
When someone grabs her wrist, Corbett can now make it clear that the gesture is unwanted with a press from her elbow and a quick, firm twist of her wrist. If someone grabs her elbow, she'll do a full rotation of her arm to make her "helper" lose his or her grip. If someone wraps his or her arm around her shoulders, she can grab their hand and twist their arm.
You have free articles remaining.
Register for more free articles
Stay logged in to skip the surveys
Even more than with "helpers," she knows that she's not vulnerable to attackers on the street. Anyone who sees her as an easy target would have a fight ahead of them.
"They're not expecting us," Corbett said of herself, Turk and other blind people who know self-defense.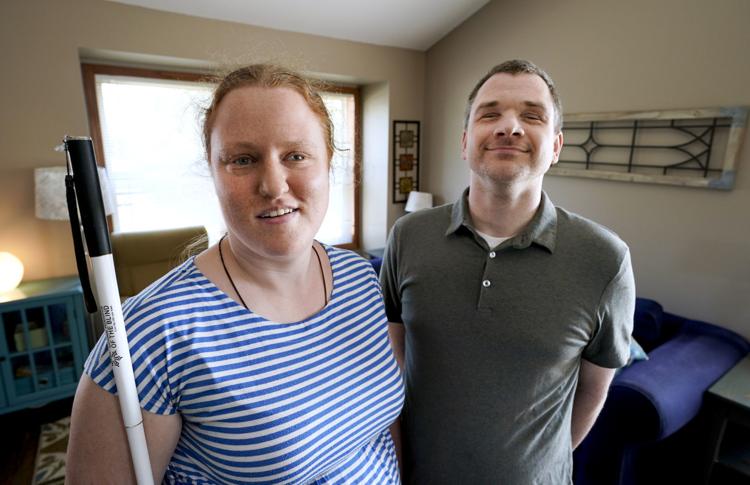 Finding confidence
Turk understands that lack of confidence because he felt the same way when he lost his own sight about 10 years ago.
Turk lost his eyes to diabetic retinopathy, a condition in which blood vessels in his eyes repeatedly burst, eventually filling his eye with blood. The process started when he was about 20 years old and it took around 10 years. Both of his eyes have now been amputated.
Losing his sight was a depressing and isolating experience, Turk said. He didn't feel confident or even safe walking outside his home.
"I got nervous just about the functional part of traveling — how am I going to get out and about every day? — and the safety," Turk said. "You know, I have a cane and it's going to be obvious that I'm blind and people are going to say, 'Oh, there's an easy target.'"
But his now-wife, Vicky, bought him a set of classes in Brazilian Jiu Jitsu. Knowing how to defend himself brought back his confidence, and Vicky said the change was almost instant.
"It kind of became a catalyst of getting out more and feeling more safe and learning more Jiu Jitsu and feeling more safe and getting out even more," Turk said. "It became a cycle."
And Turk wanted to give others that sense of confidence too.
"He right away was like, 'I want to teach other people about this,'" his wife said. "I was thinking locally, and he was thinking a lot bigger. He knew what he was doing."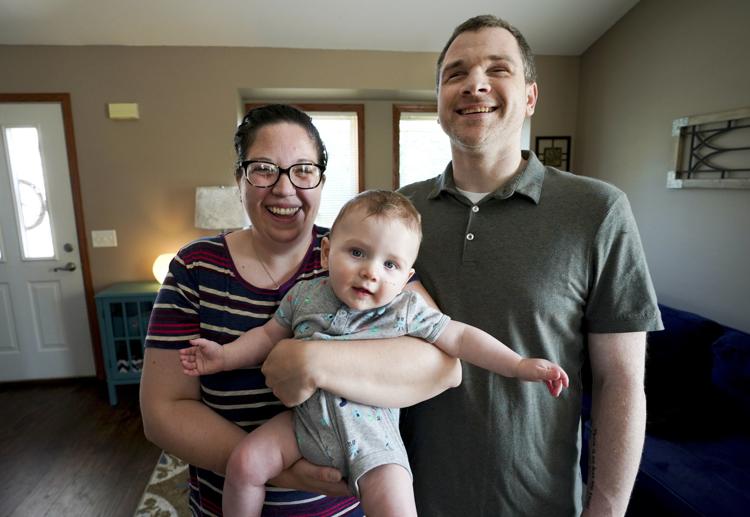 Teaching across the country
Vicky Turk was right in that Madison doesn't have a huge demand for self-defense classes for the visually impaired, but by traveling around the country, Turk has been able to find success.
Turk travels to centers catering to the blind or visually impaired and teaches one- or two-day workshops. Sometimes an organization will reach out to him to ask him to teach, but typically, he said, he does a lot of cold calling — his least favorite part about the job.
Through his work, he's taught everywhere from New Mexico to Massachusetts and Louisiana. He doesn't imagine his traveling is going to stop anytime soon, although his home base won't be Madison much longer.
After welcoming their son Eli in January, Turk and his wife have decided to move to the Chicago suburbs to be closer to Vicky's family.
Having a small child at home is a new experience for Turk, but a very welcome one.
"It's been exhausting, rewarding and gross," Turk said. Because of the challenges with changing a diaper without sight, Turk said Eli takes a lot of baths while he's watching him.
Not only will he be closer to family who can help with the baby, but Turk will also be closer to other Brazilian Jiu Jitsu students and teachers. He said he hopes the move will help him advance as a student himself.
"A sighted person would never go up to another sighted person and grab their wrist

and walk them down the street, but that happens to us all the time." Jim Turk, self-defense instructor who is blind