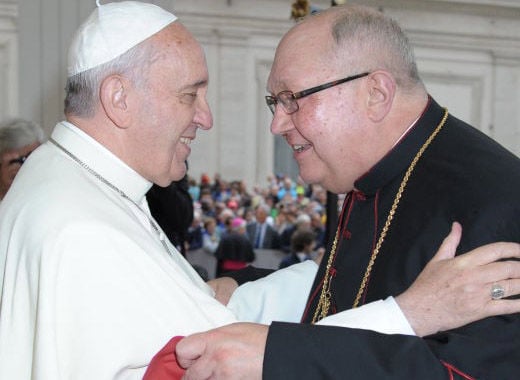 Madison Catholic Bishop Robert Morlino over the weekend claimed that a homosexual subculture within the Catholic Church's hierarchy is mostly to blame for the church's ongoing sexual abuse scandal that a grand jury in Pennsylvania recently found to include decades of sexual assaults against children by hundreds of priests.
In a five-page letter to members of the diocese on Saturday, Morlino took exception with efforts to blame much of the scandal on priests who victimize young children "despite clear evidence to the contrary."
He said the problems involve both pedophiles and homosexuals within the priesthood.
"To fall into the trap of parsing problems according to what society might find acceptable or unacceptable is ignoring the fact that the Church has never held any of it to be acceptable — neither the abuse of children, nor any use of one's sexuality outside of the marital relationship, nor the sin of sodomy, nor the entering of clerics into intimate sexual relationships at all, nor the abuse and coercion by those with authority," Morlino wrote in his letter.
Morlino's comments drew a strong rebuke from Peter Isely, a founding member of a global support group for victims of the church's sexual abuse scandal called ECAGlobal.com. Isely, a survivor of childhood sexual assault by a Wisconsin priest, said Morlino wrongly linked pedophilia with homosexuality.
"Let's be extremely clear about this: Most pedophiles are heterosexual, so there's no link there (with homosexuality) whatsoever," said Isely, who is acting as spokesman for the new support group.
Diocese spokesman Brent King said Morlino was not trying to equate pedophilia and homosexuality. "He's putting a name on the current scandal, which has much more to do with homosexuality than pedophilia," King said. "We're talking about pedophilia but we're (also) talking more about homosexual sins on the part of priests and on being a predator and abusing their power."
To back up his claim that most of the priests guilty of sexual abuse weren't pedophiles, King cited a 2004 study by the John Jay College of Criminal Justice that showed that 80 percent of the victims of sexual abuse by priests were older than age 11.
"No matter what psychologists in the world you want to listen to, that's not pedophilia. ... Those are pubescent and post-pubescent boys being preyed upon by other men," King said.
Isely believes that's another suggestion that the guilty priests' behavior is rooted in homosexuality. "If you're looking for a name to call it, let's call it criminal behavior. That's the only criteria that matters," he said.
Morlino wrote that the Church's teaching is clear that the homosexual inclination is not in itself sinful, "but it is intrinsically disordered in a way that renders any man stably afflicted by it unfit to be a priest. The decision to act on that inclination is a sin so grave that it cries out to heaven for vengeance, especially when it involves preying upon the young or the vulnerable."
The letter was sent to all priests in the diocese, and parts of the letter were read to parishioners at Mass during the weekend."Pastors were not asked or encouraged by the diocese to read the letter (at Mass), although priests asked for permission to do so," King said.
Isley believes Morlino is part of the problem plaguing the Catholic Church. "Like all bishops, he gets to determine whether a case is going to be handled or not. There's no oversight or review whatsoever of any claims made against priests or anybody else within the Church. He gets to determine whether it's substantiated, whether it's credible. That needs to be changed," he said.
Morlino urged anyone with knowledge of child sexual abuse by someone in the Church to contact law enforcement, "as we have done consistently."
He will hold a public Mass of reparation this Friday at Holy Name Heights, and asked all pastors in the diocese to do the same.
He also asked all priests, clergy, religious and diocesan employees to join him in observing the Autumn Ember Days, Sept. 19-22, as days of fasting and abstinence, "In reparation for the sins and outrages committed by members of the clergy."
"Some sins, like some demons, can only be driven out by prayer and fasting," the bishop said.