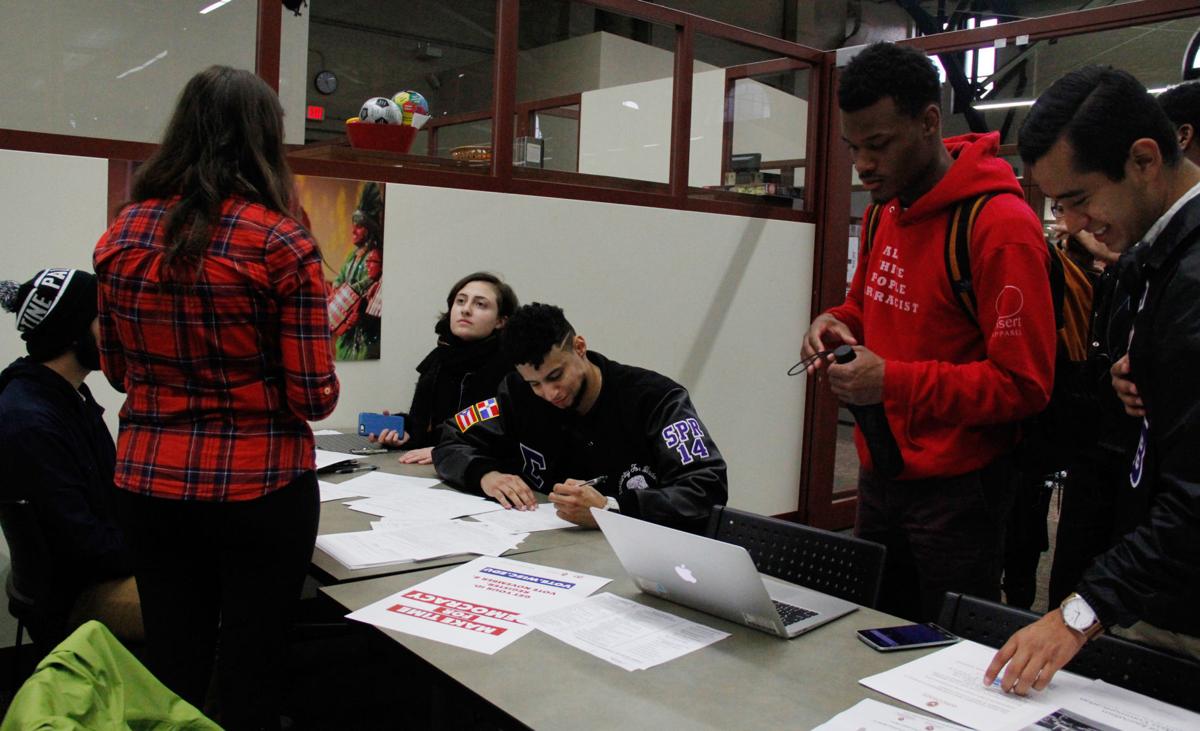 Madison residents who aren't registered to vote will have ample opportunity to do so on Tuesday.
The city clerk's office will have voter registration drives at about two dozen locations throughout the city, as part of the nationwide National Voter Registration Day.
New residents to Madison who've already updated their name and address with the Division of Motor Vehicles can go online to register at https://myvote.wi.gov.
Residents who need to prove their address should head to one of the in-person voter registration sites.
Proof of address includes a utility bill covering the past 90 days; current and valid Wisconsin driver's license or Wisconsin ID card; paycheck or stub; document or check issued by a unit of government; affadavit from an agency providing homeless services; or other official documents with your name and address on it.
The registration drives will be at:
City Clerk's Office, 210 Martin Luther King Jr. Blvd., Room 103, 8 a.m. to 4:30 p.m.
Warner Park Rec Center, 1625 Northport Dr., 8 a.m. to 8 p.m.
Oakwood Village, 6205 Mineral Point Road, 9 a.m. to 11 a.m.
Bridge Lake Point Waunona Neighborhood Center, 1917 Lake Point Dr., 9 a.m. to 5 p.m.
Alicia Ashman, Central, Pinney and Sequoya Libraries, 9 a.m. to 9 p.m.
Lussier Community Education Center, 55 S. Gammon Road, 9:30 a.m. to 11 a.m. and 3 p.m. to 6 p.m.
SSM Health St. Mary's Care Center, 3401 Maple Grove Road, and Attic Angel Place, 8301 Old Sauk Road, 10 a.m. to 11:30 a.m.
Senior Center, 330 W. Mifflin St., 10 a.m. to 1 p.m.
Neighborhood House Community Center, 29 S. Mills St., 10 a.m. to 2 p.m.
Goodman South, Hawthorne, Lakeview and Meadowridge Libraries, 10 a.m. to 8 p.m.
Monroe Street Library, 10 a.m. to 6 p.m.
Olbrich Botanical Gardens, 3330 Atwood Ave., 10 a.m. to 3 p.m.
Oakwood Village, 5565 Tancho Drive, noon to 2 p.m.
Ian's Pizza, 319 N. Frances St. and 100 State St., noon to 6 p.m.
Hy-Vee, 675 S. Whitney Way, 1 p.m. to 7 p.m.
Eastside Farmer's Market, 202 S. Ingersoll St., 4 p.m. to 7 p.m.
Boys and Girls Club Allied Family Center, 4619 Jenewein Road, 6 p.m. to 8 p.m.