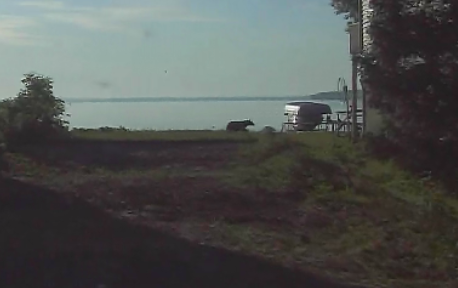 The Dane County Sheriff's Office said a resident near Brandywood Trail in Windsor around 10:45 p.m. Sunday reported seeing a black bear in their backyard. A sheriff's deputy last saw the animal walking north toward Token Creek Conservatory, 6394 Portage Road, Lt. Jessamy Torres said in a news release.
The state Department of Natural Resources was notified, Torres said.
Middleton police said residents there saw a 150- to 200-pound black bear prowling the city near Lake Mendota on Wednesday, and also the day before in the Pheasant Branch Conservancy.
Julie Widholm, a DNR wildlife biologist, said last week there likely are bears west and north of the Madison metro area, and it's unusual but not unheard of for one to reach a more urbanized area such as Middleton.
She estimated the bear is a little more than a year old and likely just wandered out of its more rural environs while foraging for food. No action was planned to remove it because it will likely go away on its own.
The Sheriff's Office also said young bears can travel long distances, especially during their mating season of June and July.
Authorities didn't speculate Monday about whether the Windsor bear was the same bear seen in Middleton.
The DNR said bears usually avoid humans, but anyone encountering one should give it a clear escape path and make a lot of noise. Don't run. Instead, slowly back away from it. If a bear attacks, fight back — do not play dead.
Bear sightings can be reported to police or to the DNR at 888-936-7463. The DNR website has more information.