Turns out it was nothing more nefarious than some bad handwriting and the inability to distinguish one Japanese carmaker from another — uncovered by SOS and Rice's refusal to, as he put it, "shut up and just pay this ticket."
Rice, a Milwaukee resident, said his first inkling of the ticket he allegedly received from West Allis police on Feb. 25 for parking in a handicapped spot was the late notice that showed up in his mailbox in mid-March. The city wanted $310.
The problem, he said, was that he wasn't in West Allis on Feb. 25, and his black Toyota had been in a parking garage in Milwaukee while he was at work. But the even bigger problem was that all the information on the ticket appeared correct: correct make, correct color, correct license plate number.
"I basically have no evidence and am going to lose this case," he told SOS. "Clerks at the court say it is impossible that a mistake was made. When they look at me, their expressions clearly read: 'Shut up and just pay this ticket.' At the first court date, I think they offered to reduce the ticket if I paid it on the spot. I refused and we're going to court in early June."
The ticket did have one little nugget of information worth probing: Next to a space for the officer to write "other" details was scribbled "also suspended DL female."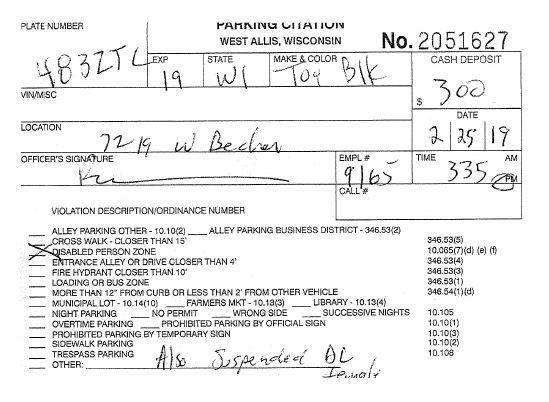 You have free articles remaining.
Register for more free articles
Stay logged in to skip the surveys
Rice isn't female and doesn't have a suspended driver's license, and despite not knowing the identity of the "suspended DL female" referenced on the ticket, West Allis Municipal Court personnel were less than ready to believe he hadn't lent her his black Toyota.
SOS figured someone with the authority to help Rice had to know who the woman was, given that the authorities knew her well enough to know she was driving on a suspended license. So after getting no response to an email to police and voicemail messages left with the court, SOS went to police command staff on Thursday, May 2, and Deputy Chief Bob Fletcher promised to look into the situation the next Monday, May 6.
True to his word, Fletcher contacted SOS on Tuesday to say the city would be withdrawing Rice's ticket.
"This boils down to a handwriting error, poor documentation, a bad coincidence and poor communication," he said.
In short, the police officer who issued the ticket was checking on a part of the city where there are regular parking violations around a school. He mistook a black Mazda parked illegally for a black Toyota, and the plate number he wrote down — 483-ZTC — became 483-ZTL when transferred into court records, apparently because the officer's "Cs" tend to look like "Ls."
What's more, the black Mazda was indeed registered to a woman with a suspended license, and it was she who apparently didn't pay the ticket West Allis is no longer demanding Rice pay.