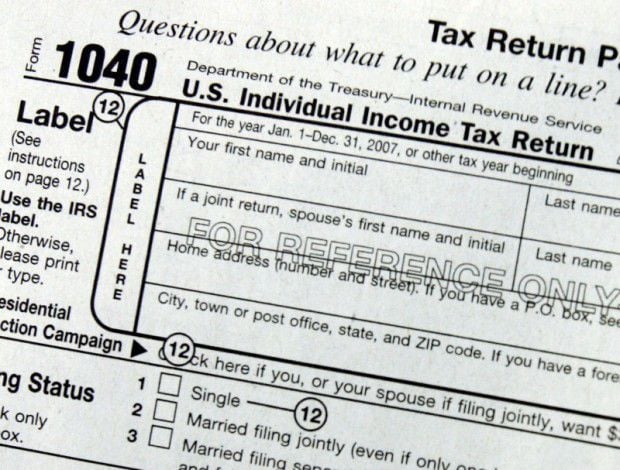 A Verona couple will still have to pay nearly $5,000 in back taxes after H&R Block botched their 2018 joint return, but at least the company — after some prodding — is promising to pay for some of the associated penalties.
Phil and Stephanie Mendel filed their taxes Feb. 6 at the H&R Block office on Odana Road in Madison. Longtime customers of the tax-prep behemoth, they were told they'd be getting a $5,357 refund.
That they did, in late February or early March, but then in May, they got a second, less-welcome communication from the IRS — this one saying they owed $4,897.
Phil said the Mendels later learned that when H&R Block filed their taxes, it failed to include one of Stephanie Mendel's two W-2 forms. Stephanie hadn't switched employers in 2018, but she had moved to a different site within the same organization, and this generated a second W-2. When the IRS saw that her employer had filed two W-2s for her, but the Mendels had only filed one, they were flagged for under-reporting their income, Phil said.
It would have been easy enough for the Mendels to use their refund to pay Uncle Sam, but they needed a new car, so before they got the May notice from the IRS, they'd used their refund to purchase one.
And "suddenly, I owe a whole bunch of money I don't have," Phil said.
The IRS allowed them to set up a payment plan, at a cost of $225, and the Mendels were told they had to pay interest on the $4,897 until it was paid off, which the couple hopes to do when it gets its 2019 tax refund. Phil didn't have an exact amount he and his wife will have to pay in interest, but said their monthly payments are $149 and that as of Sept. 25, they'd paid $125.91 in interest.
You have free articles remaining.
Mendel knew H&R Block promises to pay any penalties and interest that result from the company's botching of a customer's tax return. So he said that shortly after getting the bill from the IRS, he went back to H&R Block, and a company official assured him the penalties and interest would be covered as part of the company's "standard guarantee."
That helpful attitude waned, however, over the next three months, and after multiple calls and emails to multiple H&R Block officials, the couple got a letter on Sept. 4 saying their losses were not covered.
"H&R Block told us we would be reimbursed, and we provided all necessary documentation," Mendel wrote to SOS on Sept. 22. "Now H&R Block is telling us they will not pay and too bad for you."
SOS took the Mendels' concerns to H&R Block on Oct. 7, and H&R Block senior communications manager Lisa Patterson responded that same day, saying she couldn't "discuss a client's experience, but I will ask our resolution team to work with the client" and report back.
True to her word, Patterson emailed four days later to say the "district general manager worked with the client to resolve the situation."
Phil Mendel said he got a phone message on Oct. 10 from an H&R Block manager who said the company had "revisited" the Mendels' situation and would be reimbursing them for the $225 fee by way of a check to arrive in seven to 10 days.
The manager did not, however, "mention the reimbursement for all the interest we will have to pay," Mendel said.
So SOS further pestered Patterson and left a message with the manager who called Phil Mendel. On Friday, Patterson said in a statement that the company is "working directly with the client to resolve the situation and refund the tax preparation fees and interest due.
"We regret any inconvenience caused," she said.
SOS will follow up with the Mendels.