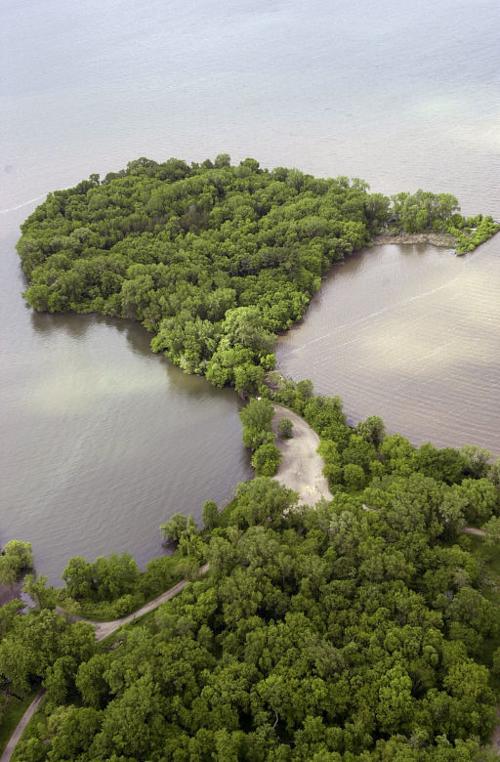 I am a frequent hiker and dog walker on Governor's Island. Last week, someone nailed "PRIVATE PROPERTY NO TRESPASSING" signs on trees along the path. Isn't that public property? Who authorized this?
Governor's Island, which is often spelled without the apostrophe, is really a teapot-shaped peninsula accessible only from Lake Mendota or via the grounds of Mendota Mental Health Center. It has been an attraction for hikers for more than a century.
It was part of the original park drive. The main walking path that rings the "island" on maps is still called "Governor's Island Parkway." Officially, it is the property of Mendota Mental Health Center, 301 Troy Drive, on Madison's North Side.
There is a triangular section, however, of the teapot's spout that is privately owned, by the Mautz family. That was once a tiny island to itself, and in the early 1900s it was covered by a lake home called "Rocky Roost," purportedly designed by Frank Lloyd Wright. It's official city of Madison address is 2 Governor's Island Parkway.
Officials at Mendota were not aware that "No Trespassing" signs had gone up along that path and had not authorized any. A state Department of Natural Resources official said a complaint had been made about the signs, but the matter was the center's responsibility. 
There are as many as four highly visible "No Trespassing" signs on trees along the path before a hiker gets to the small spout, or peninsula on a peninsula that is 50 percent privately owned, according to Access Dane. Hikers and those using the path to get an ice-fishing spot could easily get the idea that the signs are meant for walkers on that path.
The current owner, Fritz Mautz, it turns out, put up the signs just recently, he said, to keep people from entering his family's eight acres and destroying the habitat. He thought he had put the signs on his own property, but admitted there is currently no reliable survey of where that property line is.
"I have always kept that area as open to people as possible," Mautz said in a telephone interview Friday. He said his family has owned that section for "about 60 years," and now uses it for hunting waterfowl.
Lately, "people have been coming onto the property and blazing trails, cutting things back and cutting trails through our bamboo patch," he said.
"I talked with the police about it and they said I should educate the public," he said. And he did so by putting up the signs, which he claims are on his private property.
It was not his intent to keep people from hiking around Governor's Island, he said.
"I'll probably be taking those signs down in a little bit," he said. "It only takes a couple of bad apples, you know. I meet a lot of nice people out there. I like it that people can enjoy the outdoors, just don't start cutting paths, breaking bottles and leaving your trash."
 State law requires such signs to "carry an appropriate notice and the name of the person giving the notice followed by the word "owner" if the person giving the notice is the holder of legal title to the land." These did not.