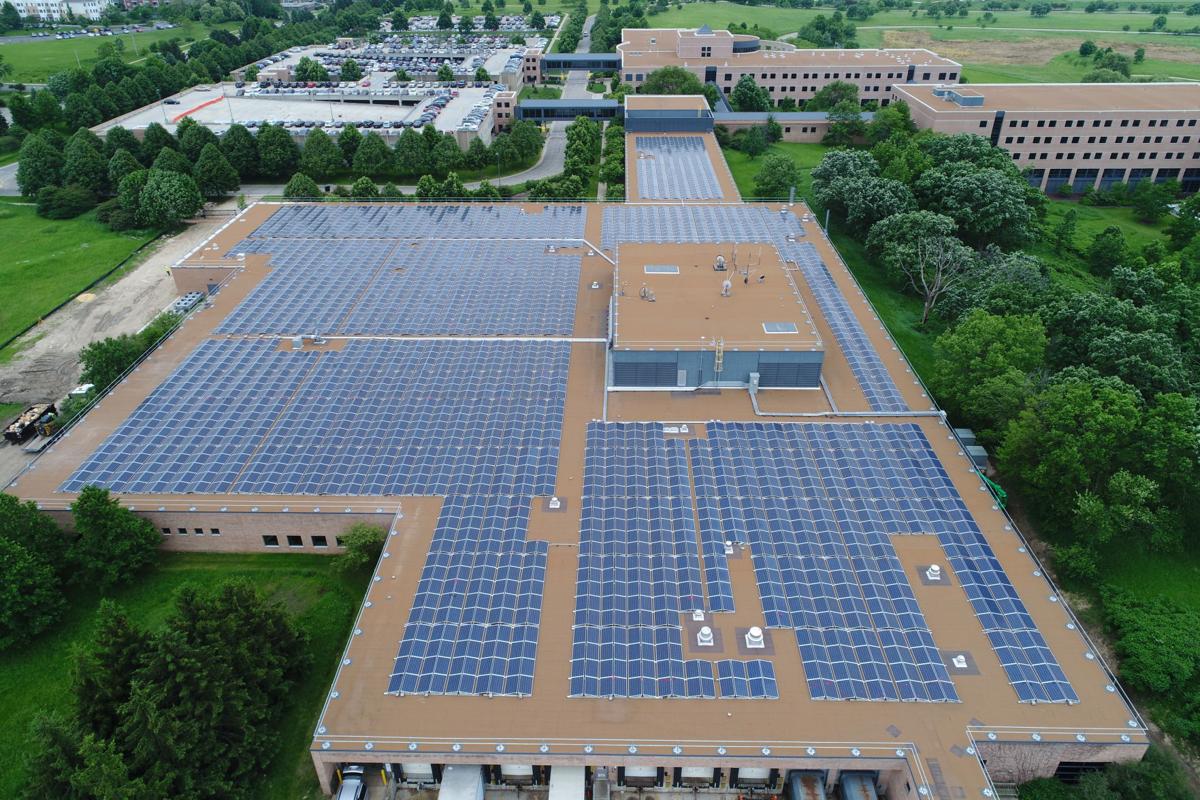 Construction is wrapping up on installation of what will be the largest rooftop solar array in Wisconsin — at least for now — at American Family Insurance headquarters, 6000 American Parkway.
Nearly 4,500 solar panels — 4,488, to be exact — have been affixed atop a utility building on the company's campus in a project that began in March.
Those panels will be able to generate up to 1.03 megawatts of electricity, reducing the American Family campus' use of power from the grid by 6 percent to 9 percent, saving about $191,000 a year in energy costs, the company says.
The cost of the project has not been disclosed.
All that's left is to integrate the voltage that will come from the solar units into American Family's existing electrical system, said Sean Hyland, facilities program administrator. The panels are to be hooked in and start delivering electricity in late October or early November.
"I'm super-excited by it (and) thrilled to have been part of it," Hyland said. "I'm looking forward to the potential of doing more."
While American Family's solar installation is the largest rooftop array in the state right now, it won't hold that distinction for very long.
Madison Area Technical College will attach 5,000 to 7,000 solar panels to the roof of its main Truax Campus building, 1701 Wright St., to create up to 1.4 megawatts of electricity.
That will offset 10 to 15 percent of the school's total electricity use, saving about $200,000 a year, said Kenneth Walz, MATC instructor and director of its Center for Renewable Energy Advanced Technological Education.
The project will take shape on about 70 percent of the building's roof, or about 100,000 square feet, Walz said. It won't begin construction until summer 2018 — after roof repairs are made — and it should be turning sunshine into electricity by December 2018.
Meanwhile, a solar field bigger than either of those began operating at ground-level in northwestern Wisconsin in June.
The Flambeau Solar project, in Flambeau — about 225 miles northwest of Madison — includes 9,969 panels and is capable of generating up to 3.4 megawatts of electricity.
Developers said they expect Flambeau Solar to produce about 5,000 megawatt-hours of energy during its first year, comparable to the electricity needs of 600 homes.
The installation, on 22 acres of leased farmland, is a joint project of groSolar; CMS Energy; Dairyland Power Cooperative; and Price Electric Cooperative. CMS Energy, of Jackson, Michigan, owns and operates the Flambeau Solar installation.