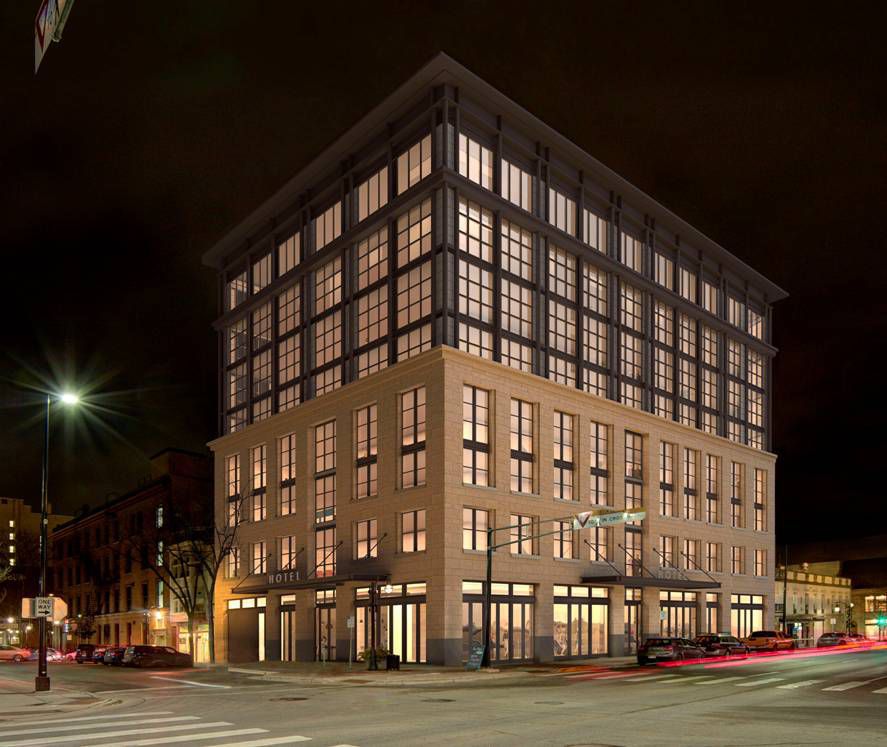 But the site remains a collection of empty buildings and storefronts on one of the city's prime blocks as the developer, Ascendant Holdings of Madison, continues to seek a capital partner to deliver the final financing piece to move the project forward.
"It's taking a little longer than we'd like it to," Ascendant principal Eric Nordeen said. "We do have a number of interested parties but we haven't been able to get to the finish line yet."
Ascendant, however, remains confident it will be able to break ground for the project sometime in 2019, Nordeen said.
"It does seem to me they're working very hard to secure the necessary financing to get it built," said Downtown Ald. Mike Verveer, 4th District. "(But) there's always a risk they won't be able to secure more financing."
The developer won council's approval to demolish two buildings and partially raze two others at 118-126 State St. for a 133-room hotel with a first-floor restaurant and a top-story bar and lounge. The council approved a zoning change for the hotel despite a negative evaluation from city staff over the building's height.
The hotel, which is on an angled thru lot, would have an up to four-story presence on State Street and rise to nine floors by North Carroll and West Dayton streets. The ninth floor would be smaller to make it less visible to pedestrians on the street. Madison staff recommended the project not be approved as the building exceeds the six-story limit called for at the site in a Downtown plan.
Ascendant has an option to purchase but still needs to acquire 118 State St. and already owns 122 through 126 State St. It must still secure final approval from the Urban Design Commission and the usual sign-offs from city agencies before securing a building permit, including proof of agreements for off-site parking for a valet service as no parking space would be provided at the hotel property.
A big downside to the delay is the series of vacant storefronts that can give an impression, especially for visitors, that the top of State Street on that side of the 100 block is run down, Verveer said.
"It is disappointing," Nordeen said. "It's not good for the 100 block."
But he added, "We've spent three years on this. We are very anxious to get going as quickly as we can and deliver what we think is going to be an amazing project."
MATC project
Meanwhile, another developer is poised to move forward with plans for a major hotel across the street from Ascendant's site.
Drury Southwest has won city approvals and only needs final agency sign offs to convert Madison Area Technical College's Downtown campus building into hotel space and build an eight-story addition to create a roughly 320-room hotel a block from Capitol Square.
The developer will renovate MATC's six-story Downtown education center, 211 N. Carroll St., into a 207-room Drury Plaza Hotel and replace an existing parking area along Wisconsin Avenue with a new structure with four levels of parking, one underground, first-floor commercial space, and 112 more hotel rooms on upper floors.
MATC, also known as Madison College, plans to leave the Downtown Education Center after spring semester concludes in June. To offset the loss of space and better reach an historically under-served part of the city, MATC will open a new campus on Madison's South Side in the fall.
Drury, which has leased the Downtown site from the college, hopes to begin construction in July and complete the project in 2021, senior vice president Herb Wedemeier said.
"We're hugely excited," he said. "We've been looking to find a way to bring Drury hospitality to Madison for a long time."
Be the first to know
Get local news delivered to your inbox!