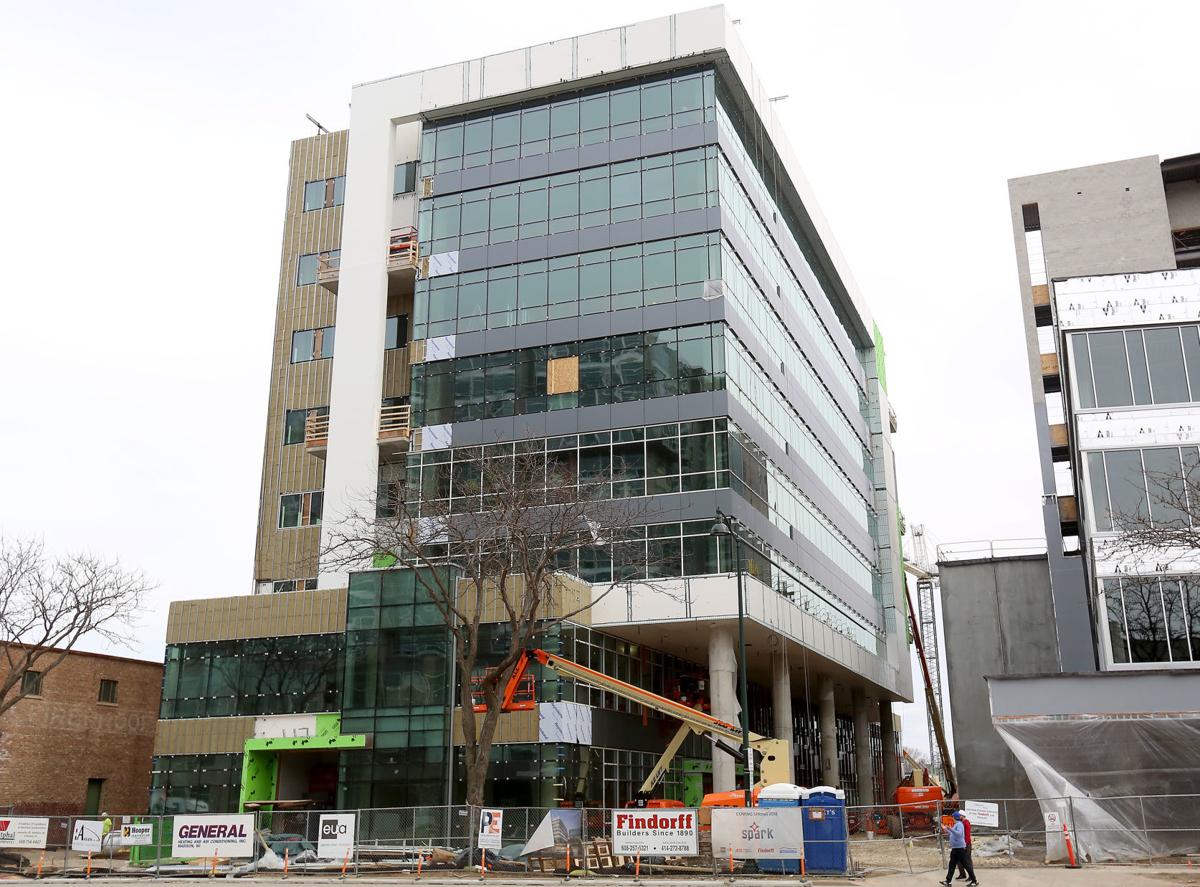 In two months, the hum of Madison's startup engine will be rumbling from new quarters: StartingBlock Madison will open its doors, an entrepreneurial hub that's been in the works for nearly six years.
StartingBlock and American Family Insurance's DreamBank will kick off the opening of the Spark building, 821 E. Washington Ave., in early June.
"It's very exciting. We have lots to do," said Chandra Miller Fienen, StartingBlock's director of operations.
StartingBlock will occupy the second, third and fourth floors of the eight-story building.
"I anticipate we will be full or near-full with all of the offices and anchor suites on June 1," Miller Fienen said.
While she is not yet naming which startups will take up residence in the building, several early supporters of StartingBlock still plan to move in. They include the gener8tor business accelerator; the Doyenne Group, which promotes entrepreneurship for women; and BunkerLabs, aimed at entrepreneurs who are military veterans.
Negotiations are in progress with the young companies that will fill the rest of the space.
"The whole goal of StartingBlock is to increase the number of new startups, incubate and grow them and allow them to fledge," Miller Fienen said. "We are looking for the companies looking to say, 'This would be great for the next 18 months or two years — or more — and then my company will be too big for this space.'"
Contrary to earlier plans, StartingBlock won't have a maker space or fabrication lab with equipment to prototype products, Miller Fienen said, as those are available at other locations. But it will have a video studio, an audio recording room, and shared technology development space.
She said, though, StartingBlock is not a co-working space.
"We are, fundamentally, building an ecosystem of startups," she said. "Programming for the community is going to be fundamental (and) having a recruiter on board to help a company grow."
The Spark is being built by American Family and in late summer, the insurance company will move about 300 of its employees into the fifth through eighth floors, including those involved in venture capital, innovation, data science and training. (More than 3,000 will remain at AmFam headquarters on the Far East Side.)
American Family's DreamBank will occupy the first floor, with a "soft opening" set for mid-June and "limited hours for the public to come in and check the space out," said DreamBank manager Amanda Tillman.
DreamBank will keep open its Capitol Square office, at 1 N. Pinckney St., until the end of September, and then it will move all operations to the Spark, Tillman said.
"We've really outgrown the capacity of our current space," she said. The bigger, new location will "serve the community in a much richer and larger way."
Since DreamBank opened five years ago with a goal of inspiring people to find their dreams, DreamBank has "achieved its dream," Tillman said. "Now, we have an opportunity to do it again, in a bigger space."
DreamBank has nine employees; a tenth will be added at the new location.
American Family has declined to disclose the cost of building the Spark, which will feature bicycle parking, a green roof, and a third-floor "outdoor patio/work space," real estate director LeeAnn Glover said.
"It's called Spark for a reason," American Family spokeswoman Linda Wagener said. "We're really embracing the entrepreneurial spirit. We think the community will embrace that spirit, too."
A grand opening for the building is expected in October.