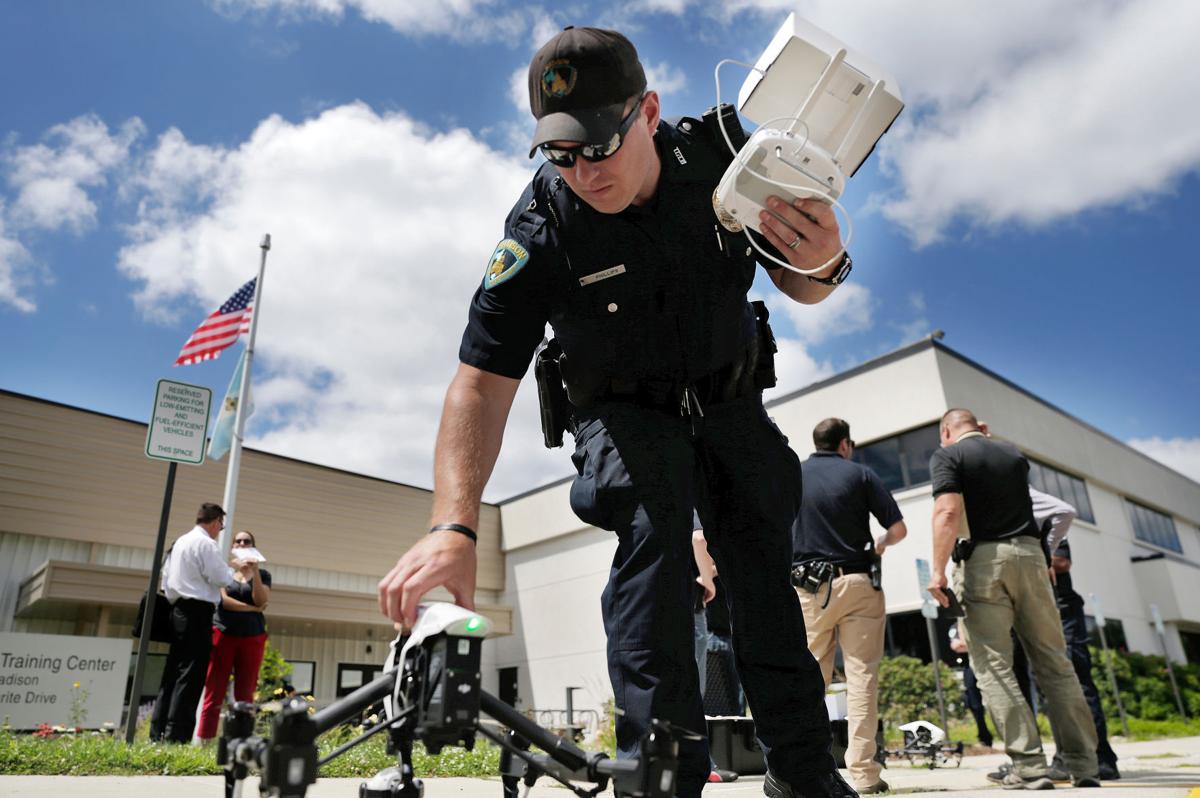 After about eight months, the Madison Police Department says its use of drones has so far been a success.
Since June, the two unmanned aircraft systems — commonly referred to as drones — have been used by the department in situations such as searching for a missing person or mapping a crime scene from above.
"We've been active," said Lt. Mike Hanson, commander of the department's 11-member drone team. "Everything we expected the (drones) to do … we've assisted with or trained for."
The drones, which cost $17,500, have been used to assist in situations like looking for missing vulnerable adults and children and to help map crime scenes, including a September house explosion on Stratton Way, Hanson said.
In one case, he said, the department used an infrared camera on a drone to see if anyone was ejected into a marshy area after a car crash.
The department also added a new tool to the drones this fall that allows them to pick up or drop off lightweight items.
Hanson said the attachment could be used in hostage situations to drop in a phone to negotiate or to drop a flotation device to a person struggling to stay afloat in a lake.
Madison is among a growing number of police agencies adopting drones as a law enforcement tool.
At least 347 state, local and county police, fire and emergency departments nationwide — including at least 18 in Wisconsin — have purchased a drone, according to an April 2017 report by the Bard College Center for the Study of the Drone.
Other area agencies that use the aircraft are Dane County Emergency Management and the Wisconsin State Capitol Police.
As public safety agencies increasingly purchase or use drones, groups like the American Civil Liberties Union have raised concerns about the drones invading privacy.
You have free articles remaining.
While the ACLU recognizes that drones can be a useful law enforcement tool in search-and-rescue operations, the group is worried drones could one day be equipped with facial recognition technology or microphones to pick up private conversations or track individual movements.
Hanson said the department considered those fears when writing policies for using drones. He said they won't be used to hover over yards and houses to try and catch someone breaking the law.
In addition, police in Wisconsin are required to get a warrant before they use a drone to gather evidence or other information during a criminal investigation at a place where an individual has a reasonable expectation of privacy.
"This is no more than a sophisticated tool to help find people, plot crime scenes and keep officers safe," Hanson said. "I think initially there's always fear."
Hanson said there's been few difficulties so far, and the team is still learning how to best use the drones. Overall, he said, things have gone well and feedback from the public and lawmakers has been positive.
The Madison team also has used their drones to help other departments, Hanson said.
"Other agencies are surprised that we have it and are glad and really appreciate it being out there," he said.
One challenge the team has dealt with is weather, Hanson said.
For example, cold weather grounds the drones because they're not supposed to operate in below freezing temperatures. They have also purchased battery warmers so they don't drain as fast in colder temperatures.
Drones can't operate in rain, snow or high winds, Hanson said.
"For us it's been a year of learning, training, testing," he said. "We know that we like this program. We want to see it grow over the years."