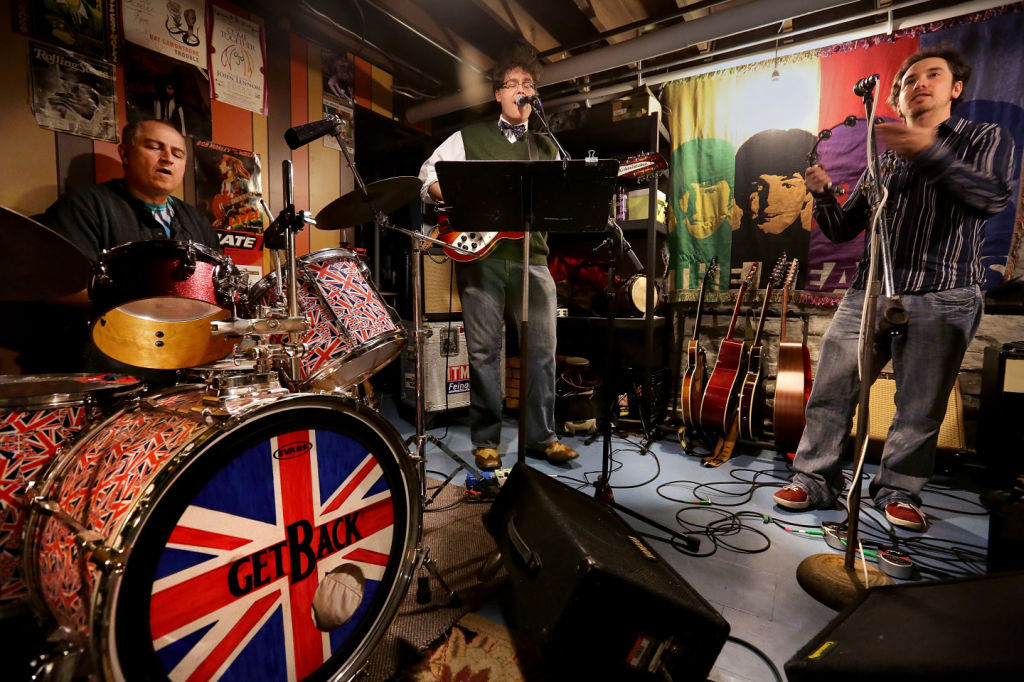 They made a promise to Madison — and with a little help from their friends, they're keeping it.
Get Back Wisconsin, the local band dedicated to re-creating every Beatles album live on the occasion of its 50th anniversary, vowed in print two years ago to perform "Sgt. Pepper's Lonely Hearts Club Band" in 2017.
They'll do that starting at 8 p.m. June 16, in a show at the Barrymore Theatre. (Tickets are $15; $18 day of show; see barrymorelive.com for details.)
Get Back Wisconsin is not your usual mop-topped cover band. It's made up of trained academic and professional musicians fascinated — and obsessed — with the musical nuances of every Beatles song.
The band already performed the UK editions of the Beatles albums "Please Please Me," "With the Beatles," "A Hard Day's Night," "Beatles for Sale," "Help!," "Rubber Soul" and "Revolver." Founder Aviv Kammay, a music teacher at Wingra School who got hooked on the Beatles during his youth in Israel, has presented scholarly papers at international Beatles conferences.
Other members of Get Back Wisconsin are Steve Morgan, Geoff Blake-Horst, John Nokovic and Sean Michael Dargan. For "Sgt. Pepper's Lonely Hearts Club Band," the band has recruited 20 extra string and wind players. Madison historian Stu Levitan will serve as emcee.
"As the Beatles' music progressed through the '60s, so did the complexity of their arrangements, and that required us to recruit guest musicians on a regular basis," Kammay explained. "This is going to be at its peak with 'Sgt. Pepper.' We're going to have a full orchestra, pretty much, because of what that album requires.
"It's a very, very fun challenge for me and Steve and other band members to transcribe all these parts, just listening really deeply into each song and figuring out what each instrument does and notating that, giving it to our orchestra to rehearse. It's a lot of fun, and it sounds amazing."
Kammay and Morgan, a retired music teacher and band director for West High School, do compare their transcriptions to other sources.
"Some are great, and we use those as references," Kammay said. "We read books about the songs and see what other scholars have thought of or heard, what the Beatles themselves or photographic evidence suggests about instrument keys, and things like that. But it boils down to the ear, what we actually hear, and that's what we try to replicate."
The band next will be working on "Magical Mystery Tour" for a performance around December, the 50th anniversary of that album's release in the UK.
The Beatles' "Sgt. Pepper's Lonely Hearts Club Band" was a cultural milestone not only for songs such as "Lucy in the Sky with Diamonds," "When I'm Sixty-Four" or "With a Little Help From My Friends," but also for its iconic album cover, with the band members in fanciful band dress flanked by other sundry celebrities. So will Get Back Wisconsin depart from its plainclothes tradition for this show?
Said Kammay with a laugh: "People will have to wait and see."