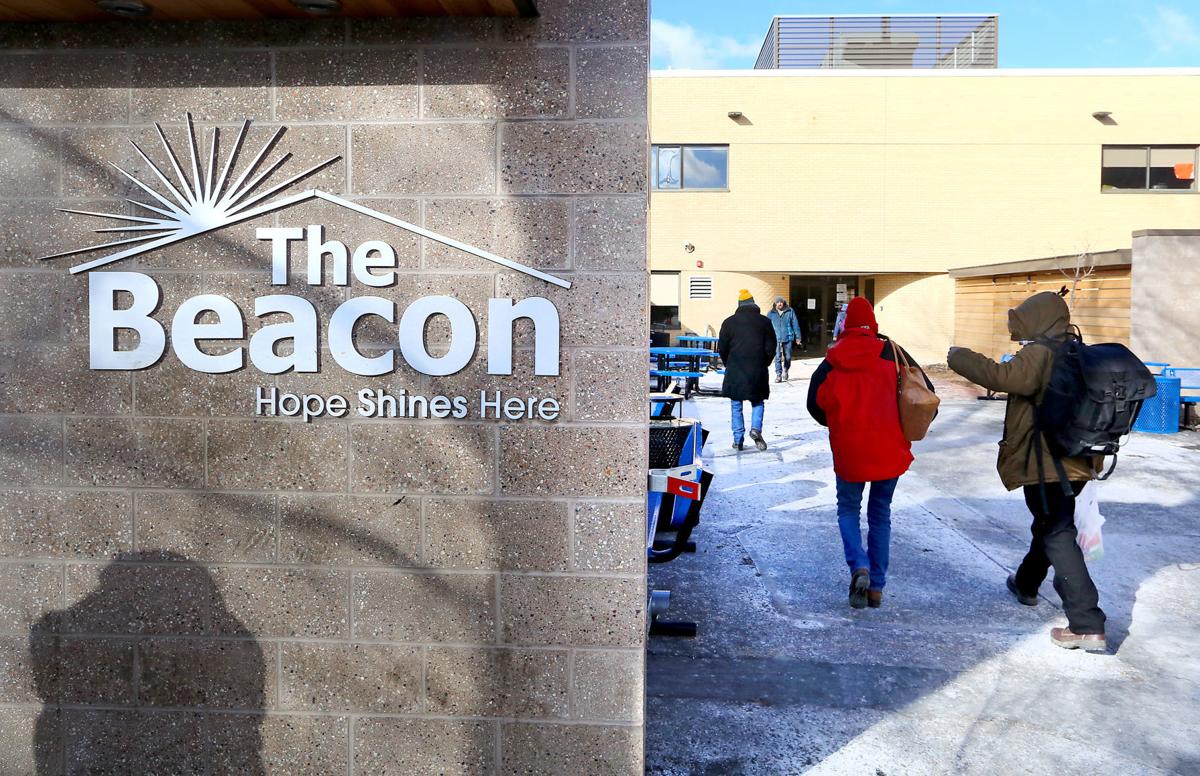 Despite some early challenges, demand for use of Madison's homeless day center has exceeded expectations as it passes its one-year anniversary.
When The Beacon homeless day center opened a little more than a year ago, the center's operators expected about 140 of the area's homeless to use the building every day.
But the number using the facility on a daily basis has exceeded those expectations. For the last five months, about 225 homeless individuals have used the center and its resources per day, said Jackson Fonder, president and CEO of Catholic Charities Madison, which operates the center.
"It's one of the best stories of all of 2018," he said. "People feel like they can get help here, and they are getting help."
The Beacon opened in October 2017 on the Near East Side as a safe place for the area's homeless population to eat a hot meal, take a shower, do laundry or check their mail during the day.
It also includes a computer lab, family area for the the approximately 25 families with kids that use the center a day and spaces for nonprofits and other organizations to provide resources.
Nearly 20 partners now occupy the building, giving users — from the chronically homeless to families and those looking to get back on their feet after losing a job or housing — a chance to get help, Fonder said.
Since The Beacon started tracking outcomes in January, about 125 clients have found housing and about 225 have found a job, he said.
Other clients that aren't ready to come up with a long term plan, Fonder said, just come in during the day to get out of the elements, clean up and drink a cup of coffee.
"Some just want to survive," he said. "We have to be patient with them."
Dealing with police calls
The center also has faced some challenges in its first year, Fonder said.
In The Beacon's first months of operations, the center and the Madison Police Department looked for ways to decrease police calls after concerns were raised over a high number of incidents in the area.
With such a high concentration of Madison's homeless population in one spot, it led to an increase in drug dealing, prostitution, noise complaints, littering and other problems, Fonder said.
Some of that was driven not by clients, but by those that prey on homeless people, he said.
But Fonder said calls to police have decreased since making changes, like increasing security and establishing a code of conduct.
"Those phone calls and incidents started to go down to manageable levels," he said.
Fonder said Madison may have a reputation as a prosperous city filled with new housing and commercial developments, low unemployment and a high quality of life, but "the chasm between the haves and the have-nots is growing by the day."
"We have a long way to go to tackle this issue around homelessness," he said.
In the next year, Fonder said he'd like to focus more on community outreach by spending time talking with the city's residents, businesses and neighborhood associations to increase awareness about the city's homeless population.
"It's the No. 1 social issue in the city," he said. "In 2019, we have to continue doing a better job educating the community."
And as the holiday season nears, The Beacon is planning its Thanksgiving meal, a Christmas celebration on Dec. 15 and is starting to collect cold weather clothing to give away, Fonder said.
The Beacon will also host a breakfast benefit, "Beacon and Eggs," at The Sylvee on Dec. 4.