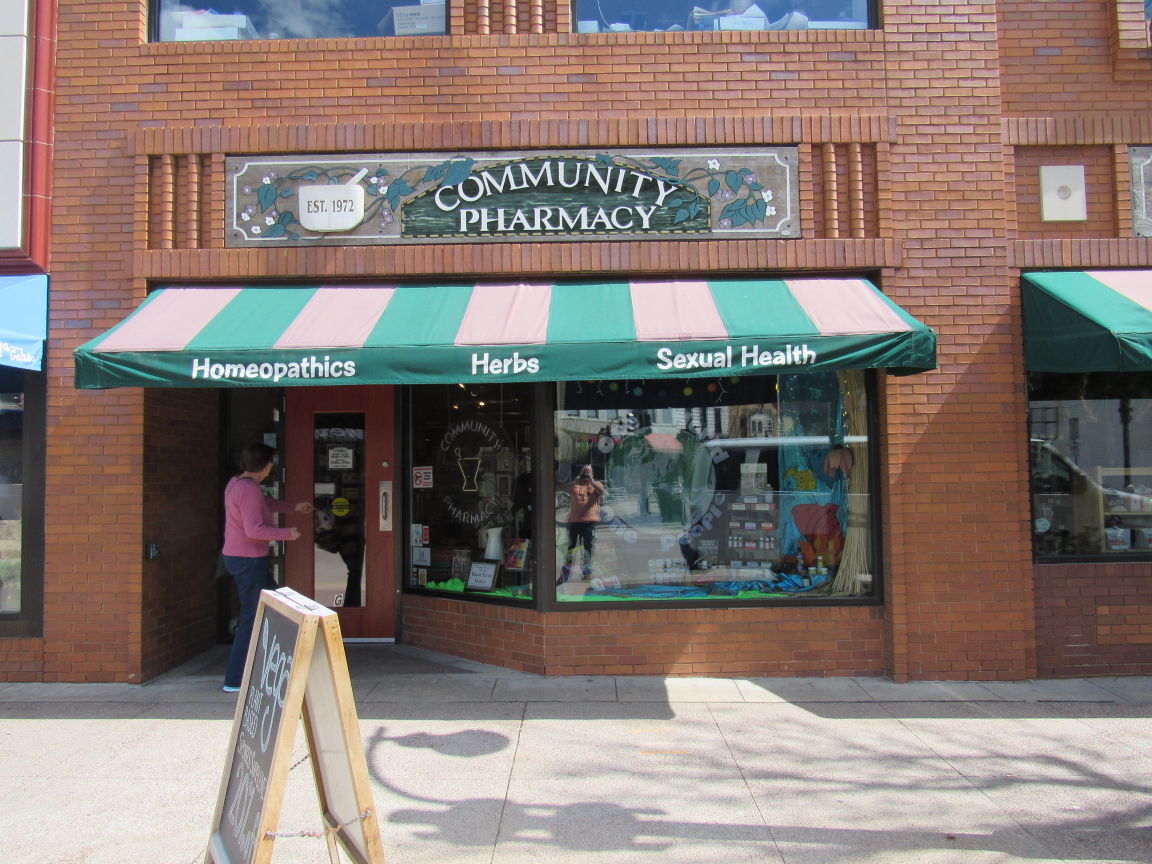 A public plea last spring for more business was briefly successful for Community Pharmacy.
Unfortunately, the excitement and boost lasted only about a month and the business, founded in 1972, continues to struggle while leaders look for ways to shave costs.
The 3,942-square-foot pharmacy has an address of 341 State St., but it fronts West Gorham Street. The shelves feature a range of products and the store promotes affordable options for prescriptions, herbs, supplements, body care and homeopathic remedies.
But customer counts have continued to drop and declining reimbursements from insurance companies are failing to cover costs. A lack of parking, an aging customer base, a shift to online shopping and the departure of other longtime retailers from the State Street area have added to the woes.
In May, employees began handing out purple pamphlets to customers asking them to buy more products. For about a month, the effort appeared to work, but since then, sales have dropped and the pharmacy continues to look for answers.
You have free articles remaining.
"We're still struggling. We're here and we're fighting tooth and nail to stay here," said Barb Brown, a pharmacy technician. "It's a tough market."
Earlier this month, Mallatt's, founded in 1926, announced it was getting out of the prescription business. It closed its locations in Waunakee and Lodi while its stores at 3506 Monroe St. and 1255 Williamson St. no longer have pharmacies but remain open as retail stores and costume shops.
The city is also highly competitive when it comes to pharmacies with national and regional retailers like Walgreens, CVS, Shopko, Hy-Vee and Costco flooding the market.
Community Pharmacy has laid off a pharmacist, not replaced employees who have left, reduced hours of operation and cut benefits in an effort to remain above water. It also negotiated with its landlord for a temporary reduction in rent on a lease that doesn't expire until 2022.
A year ago, the business opened a location in Middleton but a few weeks ago, hours for the store's pharmacy were reduced to just three hours a day, although the store at 6333 University Avenue has maintained its regular hours. Brown said there has been no talk of reducing the hours for the Downtown location but other cost-saving measures are being studied.
"We're committed to our customers so we're trying really, really, really hard to stay here," Brown said. "The irony of it is that our dispensary is very, very busy. We work very, very hard but we don't make enough money because we don't get paid enough from insurance companies to pay for the expenses."
The pharmacy was founded at 666 State St. as Wisconsin Student Association Pharmacy and switched to a workers collective model in 1974. The business moved to its current location in 1984 and became a worker cooperative in 1995.