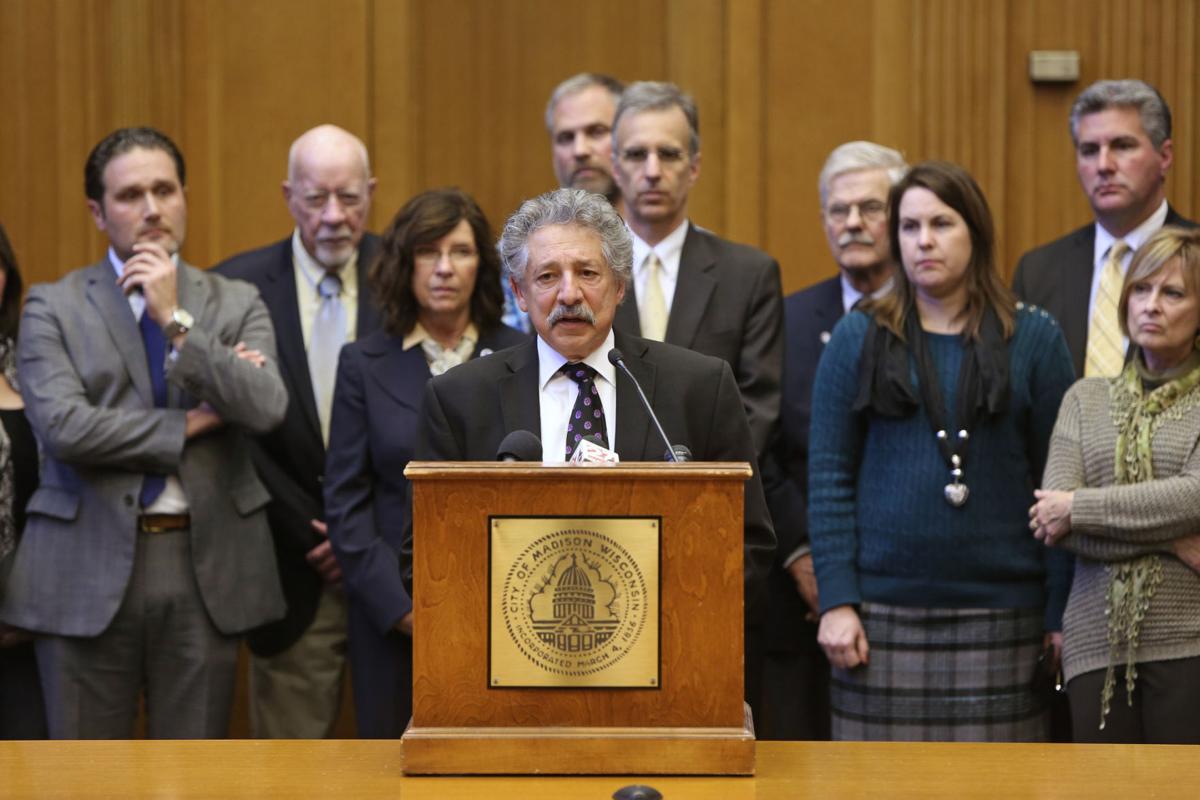 At a luncheon last month at Alliant Energy Center, community leaders taking part in a principal-for-a-day event watched a touching video about Oscar Mayer workers changing the lives of Madison East High School students.
The company had adopted the school, and its employees were doing everything from mentoring students in a club for African-American boys to paying for a record number of students in a business club to attend a state competition.
When news hit Wednesday that Oscar Mayer will be pulling out of Madison, East Principal Michael Hernandez thought of all of those connections, plus the sheer human toll.
"How many of our kids, our families, our staff members are connected with this?" he said. "We have to figure out a way to support them, because this ripple is going to be huge."
Ramifications big and small rumbled through the community, triggering shock and sadness. Oscar Mayer has been a presence in Madison since the early 1900s and a major corporate benefactor for many of those years.
The company was the third-largest workplace donor to the $19.3 million United Way of Dane County campaign last year. The corporation gave $85,000, and employees donated $435,000, for a total of $520,000, said Renee Moe, United Way president.
"Think about that. They're hugely generous," she said. "It's a huge hit."
Additionally, Oscar Mayer provides volunteers and in-kind services for countless other United Way events, Moe said. This was the 22nd year the company sponsored United Way's Days of Caring, which sends thousands of volunteers into the community for service projects. The company spent an additional $30,000 on that, Moe said.
United Way will look to fill the void with other resources, particularly from sectors of the county economy that are growing, she said.
"Our hearts go out to every single person affected by this," Moe said. "We want to turn our attention to supporting the folks who've supported us for so many years."
Oscar Mayer has been a significant contributor to The River Food Pantry, which is just a few minutes from the Oscar Mayer plant, said Amy Lord, pantry development director. Workers from the company volunteer in groups and as individuals, and the corporation donates products such as bacon to fundraisers, she said.
The pantry will now prepare for possibly needing to help some of those same volunteers, she said.
Madison Catholic Bishop Robert Morlino extended his sympathy through spokesman Brent King.
"We pray for all those individuals and their families affected by this," King said. "The church will be there to accompany them in this time of hardship."
The loss of the Oscar Mayer plant also could have a negative effect on Physicians Plus, the Madison-based HMO affiliated with Meriter Hospital and owned by Iowa-based UnityPoint Health.
The vast majority of the 650 union workers at the plant, plus many of their family members, are insured by Physicians Plus, said Doug Leikness, president of United Food & Commercial Workers Local 538.
Physicians Plus has a total of about 64,500 members, spokesman Scott Shoemaker said. He wouldn't comment on the impact of losing Oscar Mayer members.
The plant closure apparently will not affect one large source of community giving connected to Oscar Mayer. The Oscar G. and Elsa S. Mayer Foundation has been dispensing grants since 1965, many to Madison organizations.
In 2013, for instance, it gave a recurring $50,000 grant to the Wisconsin Council on Children and Families, according to government documents. Other recent recipients include the East High School Theater Fund and Big Brothers Big Sisters of Dane County.
Barbara Pope, secretary-treasurer of the foundation, said the foundation will continue to contribute to Madison because its relationship to the city is personal, not reliant on the continuing corporate presence. Many Mayer family members live in Madison, such as descendants of Eugenie Mayer Bolz, an heir to the Oscar Mayer wealth who took her civic responsibility seriously.
"The foundation operates based on recommendations from the family members," Pope said. "Those family members are not moving."
State Journal reporters George Hesselberg and David Wahlberg contributed to this report.
Be the first to know
Get local news delivered to your inbox!