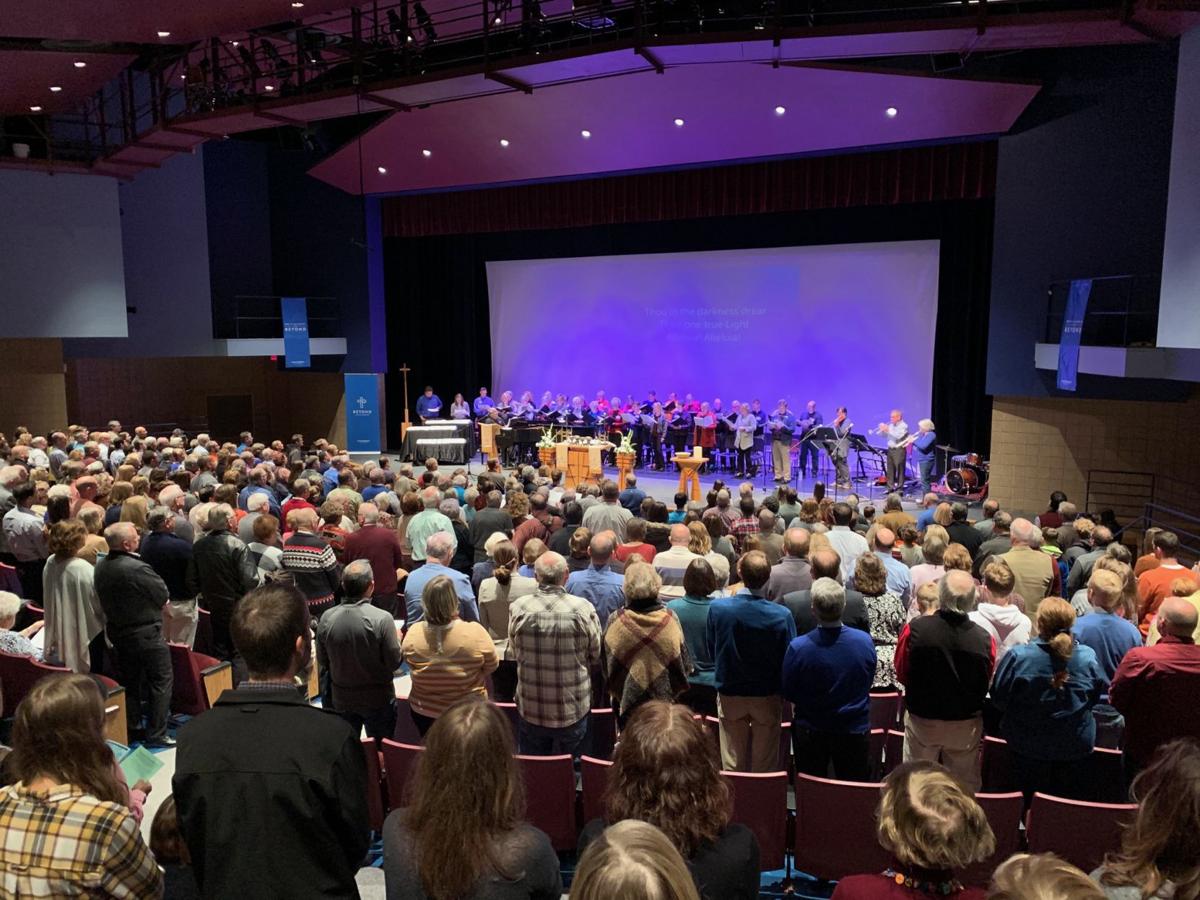 One local church is taking steps to build energy, excitement and commitment within its congregation, when religious organizations are seeing falling attendance in pews nationwide.
Good Shepherd Lutheran Church has an app, does a live stream, and on Sunday it held a giant service at a performing arts center.
The church, with locations on Raymond Road in Madison and on Highway PD in the town of Verona, drew about 550 of its members to the combined service at Verona High School's auditorium, which it rented.
It was the first time the 62-year-old church has held a joint service since the Verona location opened 15 years ago, said its lead pastor, Rev. Chris Enstad.
Sunday morning before church, his daughters asked him, "Should we dress Madison or should we dress Verona today?" the casually attired Enstad told congregants during the service.
"The laughter means you all had the same question," he told them.
Almost every seat was taken in the performing arts center, and the church's choir filled the stage. About 100 children attended Sunday school in the gym, and dozens of volunteers worked behind the scenes to make sure everything went smoothly.
After the service, congregants ate lunch in the cafeteria and heard Good Shepherd's fundraising pitch. Its "Beyond campaign" is designed to raise $3.3 million to pay off the church's mortgage and upgrade the Verona location.
The campaign started Oct. 6, and the church has more than $1 million in commitments, Enstad said before the service. "It's pretty cool. We have very generous people in this church. We really feel that our church exists to connect people to God, to each other and to the community."
According to the church's governing body, Evangelical Lutheran Church in America, in 2018 it had 3,798 baptized members, and an average attendance of 726, said Rick Blum, the church's director of administration.
A Pew Research Center survey of American religion that came out last month showed a decline in the rates of religious attendance. Over the last decade, the share of Americans who say they attend religious services at least once or twice a month dropped by 7%, the pollsters reported.
"In U.S., decline of Christianity continues at rapid pace," read the headline of the Pew study.
The survey's results showed that 65% of American adults (about 167 million) describe themselves as Christian, down from 77% a decade ago. Meanwhile, 26% (about 67 million) describe themselves as atheist, agnostic or "nothing in particular," up from 17% in 2009.
At the same time, a recent survey by Lake Institute on Faith and Giving at Indiana University bodes well for Good Shepherd. That study reported that nearly half of the 1,200 congregations surveyed, including churches, synagogues, mosques, and other houses of worship, say revenue from participants has increased.
On a typical Sunday, Good Shepherd hosts five services between its two locations, with at least four styles of worship, ranging from traditional music led by an organist to praise bands, Blum said.
The services draw more than 650 people a week. At the high school event, all those styles were combined. Congregants wore name tags and noted the time and location of the service they usually attend.
Blum said it was a big operation to take the show on the road, and it was specifically designed to promote the fundraising campaign, which the church won't do again for at least three years.
"We always say we're one church in two locations. That's our tagline," Enstad said before the service. "But we never had an opportunity for both of our campuses to come together to worship in one place."
Sunday was a chance to "dream and pray about where God is calling us to go next," he said.