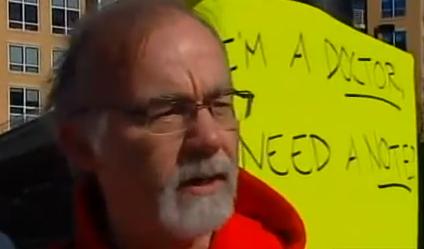 UW Health doctors who wrote sick notes for protesters at the Capitol in February face penalties up to a loss of pay and leadership positions, the UW School of Medicine and Public Health said Tuesday.
The medical school reviewed 22 UW Health doctors said to have been involved in writing medical excuses for protesters attending rallies over Gov. Scott Walker's budget proposals, according to a medical school statement.
"Several" of the doctors were found not to have participated, and among those who were involved "the nature and extent of involvement varied widely," the statement said.
"Personnel action will be based on the specific nature of the offense and the level of the physician's involvement," the statement said. "The consequences range from written reprimand to loss of pay and leadership position."
The statement didn't identify the doctors, citing public employee records laws, and said "the school will not comment on individual cases."
Lisa Brunette, UW Health spokeswoman, wouldn't say how many doctors were found to be involved.
The Wisconsin Department of Regulation and Licensing and the Medical Examining Board are investigating eight people who allegedly wrote notes, the agencies said last week.
The Wisconsin Medical Society criticized the doctors' actions, saying they threatened the public's trust in the medical profession.
The Madison School District told teachers who turned in fraudulent sick notes to rescind them by last month or face discipline. The district received more than 1,000 notes from teachers during the protests.
[Editor's note: An Associated Press story that first appeared in the Wisconsin State Journal Feb. 21 — and several stories that appeared subsequently — erroneously reported the number of doctors notes Dr. Lou Sanner said he wrote for Capitol protesters. Sanner said hundreds of people approached him and other doctors seeking medical excuses, but that he wrote just 18 notes.]